Medina magic: Palais Amani presents a touch of luxury in cultural Fes
By Katie Ann Wiseman
Palais Amani is an opulent fifteen-bedroom riad that is located within the walls of Fes, the ancient medina in Morocco. Formally a grand family home, it was renovated by its current English and French-Moroccan owners in 2006 in to the charming boutique property that it is today.
Situated down a tiny side street and accessed by knocking on the enormous gold studded doors, first impressions are that this is a hidden gem and a very impressive property.  A 600sq metre oasis courtyard greets you, where flocks of birds chirp away in the fruit and olive trees against the lapping sound of the central fountain. The peaceful serenity and greenery makes you forget that you are right in the heart of an incredibly busy city.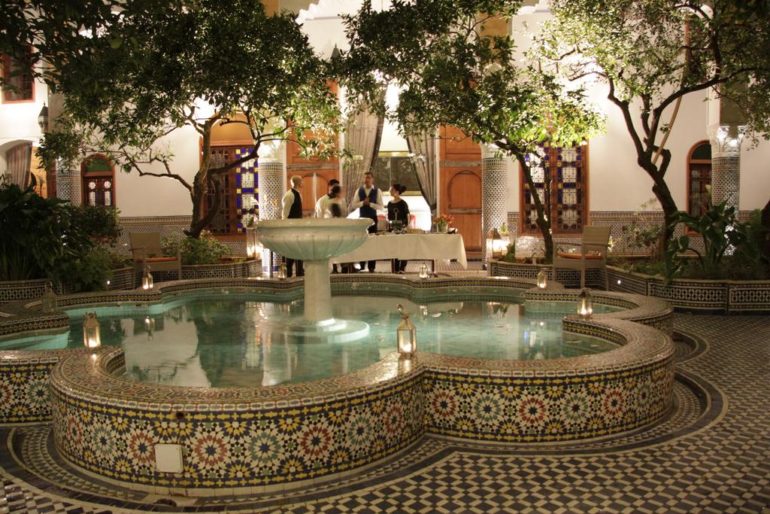 The hotel has nine suites in total. The Grand Suite is the most notable and this occupies the entire south wing of the first floor. It has enormous stained glass windows, which look down over the garden and there are also his and her walk-in wardrobes and a spectacular bathroom. It is the ideal romantic hideaway for a special occasion.
Each room at this hotel is uniquely different. Some have low beams and others boast high ceilings. Several have split levels, which adds an extra sense of space and luxury to the accommodation. All of the rooms share ornate mosaic tile work, along with carved wooden beams, original art work and beds that have crisp, hand embroidered linen. The bathrooms either have large tubs or tiled rain showers stocked with aromatic products.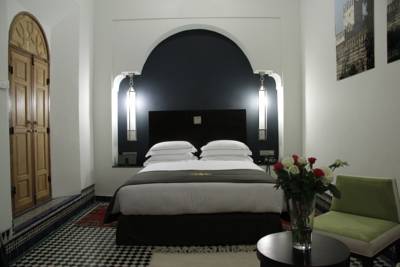 Fes is a fascinating place to explore and although it is close to Europe, the culture is very different. The flight from the UK is only three hours, but you could be a million miles away. I would strongly recommend starting your trip with a visit to Palais Amani's Spa and making the holiday a wellness escape.
A Hammam is an incredibly important part of Moroccan life and an experience that is not to be missed! It is something well worth trying. Palais Amani's traditional hammam is 45 minutes and begins with a hand and foot bath followed by a scrub with natural rose water and bran. A white clay ghassoul is then applied to your hair whilst you relax in a hot room. Finally, a black soap application and vigorous body scrub is provided alongside a refreshing homemade lemonade to complete your hammam.
In addition to the excellent spa treatments that are available, you can also enjoy delicious food at this hotel. Eden at Palais Amani is open for breakfast, lunch and dinner to residents and non-residents alike. The cuisine combines French and Moroccan flavours with emphasis on local produce. Breakfast is a generous affair including fresh fruit, yogurt, sultanas and nuts, Moroccan pancakes, bread and a selection of condiments, scrambled eggs and Bessara (a breakfast bean soup). At lunch and dinner there is an a la carte menu of Moroccan signatures such as tagines, briouates (crispy parcels filled with minced lamb) and bastila fassia djaj ou louz (light pastry filled with chicken). Alternatively, Eden have recently introduced a 'Market Moroccan' which is a weekly changing three-course menu reflecting seasonal and available produce.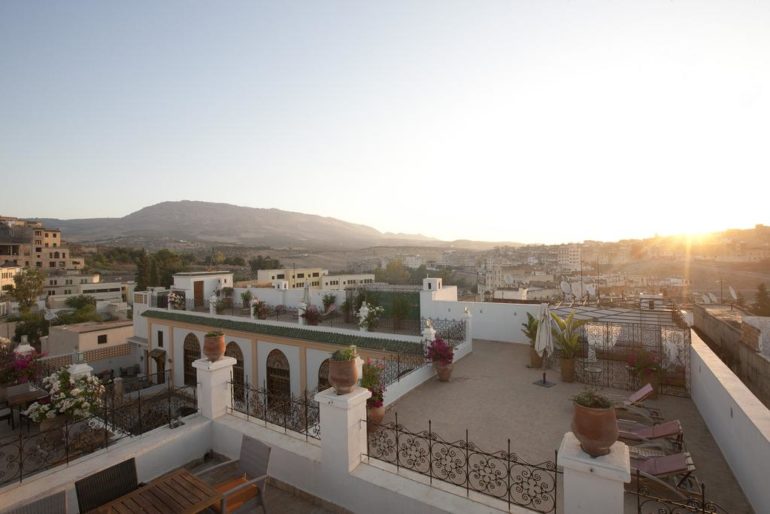 For the foodies, you can go all out and immerse yourself in the native approach to cooking and dining by learning some of the signature techniques and dishes. Palais Amani offers a unique cookery workshop enabling you to really experience Fes from a local perspective, visiting the souks with their chef as a guide and tasting simple delicacies that are on their doorstep. The experience is rounded off with lunch or dinner in the gardens, where you can enjoy the food that you have created in a beautiful setting and make the most of alfresco dining.
In fact, relaxing outside and enjoying the warm temperatures is a pleasure at this hotel. The terrace offers 360 degree views of the medina and surrounding hills. There are sun loungers for the worshippers, an extended cookery school soon to launch and a wonderful bar tucked amongst the Bougainvillea. If you fancy a lighter bite you can enjoy tapas on the terrace, which includes eggplant rolls stuffed with caramelised zucchini.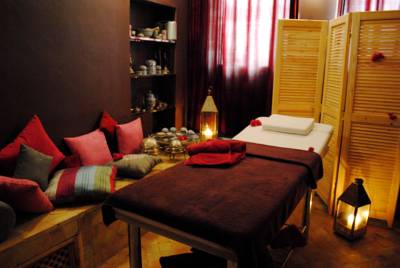 I felt as though I didn't want to leave the comfort of this luxury hotel during my trip. However, it is always important to step outside of an opulent cocoon to discover the real place. Fes is Morroco's oldest imperial city. It was founded in the 9th century and is a labyrinth of alleyways – almost 10,000 to be precise. Many people choose Marrakech as their Moroccan destination and Fes is vastly different from the snake charmers and sparkling souks there. Raw culture and ancient customs still shape the daily routine of the locals. Until 1925, Fes was the capital of modern Morocco home to the world's oldest university and one of the largest urban pedestrian zones. You will encounter many donkeys carrying immense loads whose sense of direction is quite remarkable!
Don't be intimidated by the city, which can appear a little mind-boggling at first. Palais Amani can arrange a private guide to help you navigate the Medina which I would personally recommend.  Their knowledge and contacts enable you to glide around the city and also get the best deal! Fes is famous for its leather products and having read about the three ancient tanneries I was fascinated but nervous of the smell. Upon arrival at the Chouara Tannery we were greeted with a sprig of mint and I can honestly say the smell was not nearly as pungent as expected! The process is fascinating considering it has barely changed since medieval times and I even came away with a lovely suede jacket.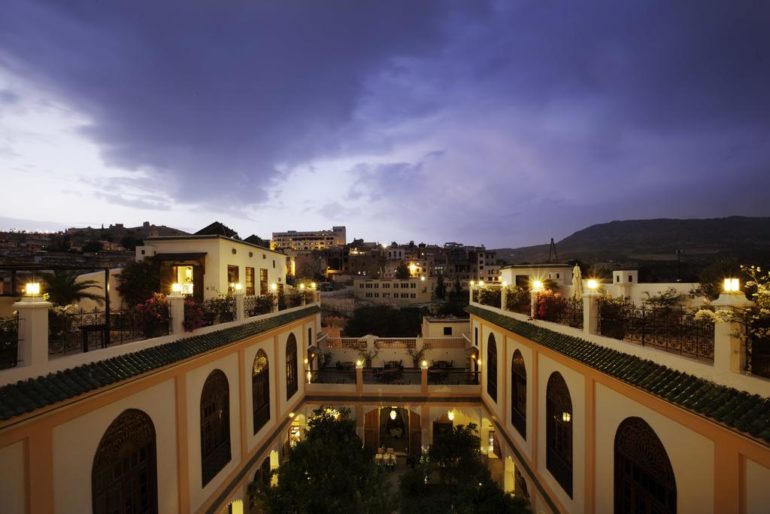 If you love shopping, sunshine and spa treatments, but also want something a little different to Europe, Palais Amani is worth a visit. You can make the most of living in a luxurious environment with raw culture right on your doorstep.
You can find out more information online at www.palaisamani.com. The property is located at 12 Derb El Miter, Oued Zhoune, Riad Fez- Medina, Hay Blida Fez- Medina 30000 Morocco. You can call to book by phoning: +212535633209