The Nest at Gusbourne Wine Estate in Kent has reopened
Just as the vines start to come into leaf, Gusbourne is delighted to be welcoming visitors back to their estate for tours, tastings and cellar door purchases, following government guidelines. Picnics and Vineyard Tours, or a combination of the two, are now available to book on their website – an ideal activity for a UK staycation.
Gusbourne's Picnic experience amongst the vines has become an annual part of their summer tour schedule. Dedicated picnic spots are dotted across their Boot Hill vineyard, which has sweeping views across Romney Marsh and out to the sea. Guests can enjoy have a leisurely afternoon in the Kent countryside with the best of Kent and Sussex produce. There is the choice between two artisanal picnics – charcuterie or vegetarian – both of which are accompanied by a bottle of Gusbourne Brut Reserve. Picnics are presented in a Gusbourne branded jute bag with reusable picnic glassware for guests can take home as a keepsake.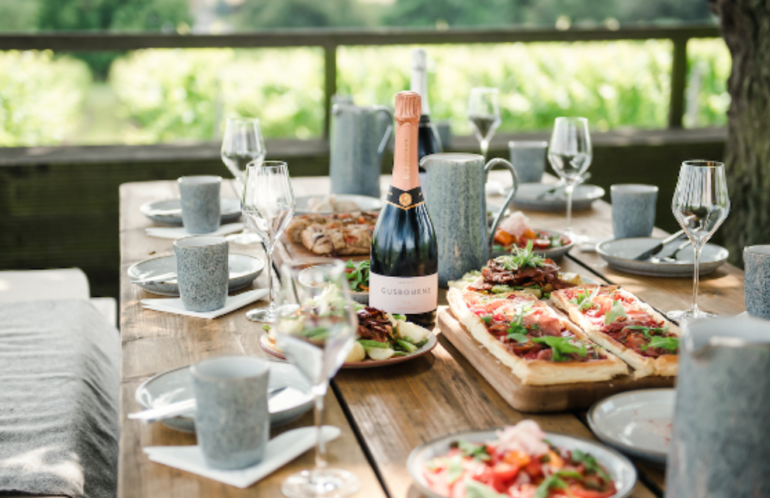 The impressive gastronomic bounty of Kent and Sussex mean that visitors to Gusbourne are guaranteed an authentically local experience in their glass and on their plate. As Vine + Country, who prepare the food for Gusbourne's tours, say: "We're all about taking pride in local ingredients and showcasing the huge range of amazing food on our doorstep." Enjoyed with wine made on site with grapes from Gusbourne's own vineyards, the ingredients and dishes that are served on the estate represent the best of the artisans and producers in the local area. Cheeses, charcuterie, bread, fruit and foraged delights from the woodlands nearby all make an appearance according to the season.
For a full, relaxing day in Gusbourne's beautiful vineyards, guests can book a Vineyard Tour followed by a Picnic. Vineyard Tours include a two-hour hosted tour in which you will find out what makes Gusbourne's corner of England so special for winemaking. Guests partake in a guided walk in the vines and a tutored wine tasting in The Nest Garden before enjoying their picnic. This combination could just be the perfect staycation day out.
Vineyard Tours are priced at £25 per person, Picnics are £80 for two, and a combination of both is £125 for two people. Due to government regulations, Discovery and Estate tours are not available until after the 17th May, when the full range of Gusbourne experiences will be available. However, all tours can be booked in advance from www.gusbourne.com/tours where the full summer tour schedule is available.