The best winter terraces in London for Christmas drinks
If you are planning a few festive drinks in London, there are plenty of places where you can enjoy the Christmas spirit. We have a selection of great winter terraces in London for you to check out…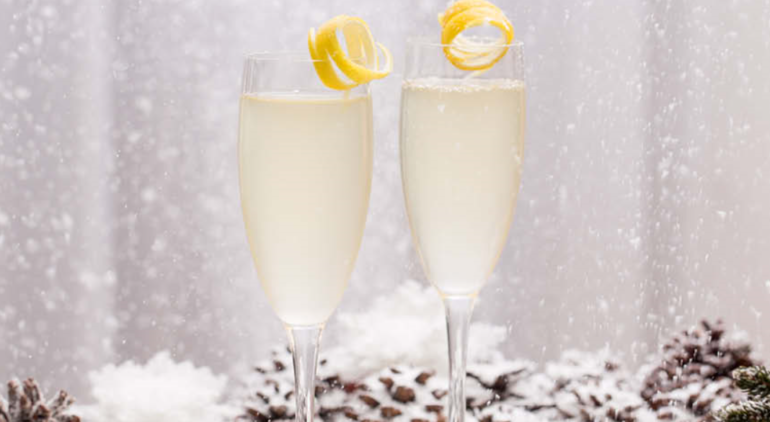 'Let it Snow' at Sanderson's Long Bar
Christmas isn't Christmas unless it snows, and this winter the iconic Long Bar at the Sanderson will be bringing Londoners the White Christmas they've been waiting for. From Monday 11 December until Sunday 24 December, the bar will be transformed into a winter alpine forest, complete with dangling birches, leaf covered floors, and falling snow. An exclusive festive cocktail menu has been curated with Bombay Sapphire and Star of Bombay, including decadent serves such as the French 75 (£14), made with Star of Bombay gin, Champagne, lemon juice and a sweet sugar syrup with citrus garnish. This is one of the chicest winter terraces in London.
www.morganshotelgroup.com/originals/originals-sanderson-london/eat-drink/long-bar
The World of Tales at German Gymnasium
On 6th December, German Gymnasium is set to transform its terrace into a magical world of fairy tales in partnership with drinks partners Monkey 47 gin and Fever-Tree Premium Natural Mixers. Running until the end of February 2017, the outdoor space will bring a charming and magical atmosphere to London's Kings Cross. Drawing inspiration from the mystical stories told by German story tellers, the Brothers Grimm, The World of Tales terrace will be adorned with winter foliage, twinkling lights, warming throws and decorative details evoking nostalgic visions of eight of their most beloved tales – including Little Red Riding Hood, Snow White, Rumpelstiltskin, The Golden Goose, Rapunzel, Sleeping Beauty, Cinderella and Hansel & Gretel. These eight tales will also be put in motion through German Gymnasium's own edition of the original 1812 folklore book – recreated in the form of a cocktail list to celebrate its legacy and popularity around the world. Curated with some of the finest ingredients, the menu will feature bold and flavoursome serves such as Little Red Riding Hood (£11.00), served in a wolf-adorned cup and made from Monkey 47 Gin, Lillet Blanc, Byrrh and Fever-Tree Spiced Orange Ginger Ale.
Angler and Laurent Perrier team up for Tsarina's Winter Terrace
Angler's rooftop terrace has undergone an opulent Russian makeover this winter, as it unveils the Tsarina's Winter Terrace. Running until December 23rd, the festive terrace has been designed in partnership with Laurent Perrier, and takes inspiration from the decadence of late 19th-Century Russia. Adorned with rose gold details and winter furs, a limited-edition Champagne and cocktail menu will include the likes of Aquavit Sparkles (£13), blending vodka, sweet vermouth and cherry spirit, the Vintage 1812 (£13), a classic Champagne cocktail with a hibiscus twist, and a hand-picked selection of Laurent-Perrier's finest vintages. The drinks have been carefully paired with a new menu of Champagne and caviar inspired bar snacks, including Alaskan king crab kromeskis (£10), Orkney scallop, LP Champagne & caviar sauce (£12.50), 30g Oscietra caviar, salt baked potato, sour cream (£49) and LP Champagne sorbet (£8). The Tsarina's Winter Terrace at Angler runs from 28th November until 23rd December and is a highlight among our selection of winter terraces in London.
Christmas at The Stafford
The pretty cobbled courtyard at The Stafford with its festive lighting, Christmas trees and heaters make it the perfect escape from the hustle and bustle of Christmas shopping. Attached to the renowned American bar, guests can sample a range of American-style cocktails like Manhattans, Sidecars and Martinis or enjoy a leisurely alfresco lunch whilst soaking up the history of this prestigious establishment. The hotel is located in the heart of historical St James's, close to London landmarks Buckingham Palace, Trafalgar Square, the National Gallery and Green Park. It is one of the most fantastic winter terraces in London.
La Maison d'Hiver Rémy Martin at Plateau
This year, Canary Wharf restaurant Plateau will be transforming its terrace into a sophisticated tasting lounge, in partnership with Rémy Martin, to create La Maison d'Hiver Rémy Martin. Each week, the bar will be serving unique pairing experiences that explore the varieties and tasting opportunities of this premium cognac alongside thoughtfully prepared complementary bar snacks.
http://www.plateau-restaurant.co.uk/whats-on-canary-wharf/events/remy-martin-winter-terrace/
Cantina's Terrazza Venezia
This Christmas, Cantina will be bringing a taste of Venice to London with their very own Terrazza Venezia. Seated alongside London's iconic Tower Bridge, guests can enjoy a selection of Italian desserts such as tiramisu and panettone, alongside carefully paired Disaronno cocktails.  The Scalzi Hot Chocolate is the ultimate winter indulgence with Disaronno and cream, while the Verona Warmer is a delicious fusion of Disaronno with warm apple juice and cinnamon, perfect to enjoy with stunning views of the river.
http://www.cantinadelponte.co.uk/whats-on-london-bridge/events/terraza-venezia/
Cocktails and Cicchetti: Cilento Terrace at Sartoria
This week sees the launch of the Cilento terrace at Sartoria, inspired by the beautiful coastal region of Southern Italy where Italians escape for some peace and quiet during the winter months. The terrace brings festive enchantment to the heart of Mayfair with Disaronno based winter cocktails such as Cinnamondust with Amaretto, Italicus Martini Bianco and Cinnamon Bitter, and Milano Sour with Amaretto, Chartreuse Yellow, Lemon juice, and fresh redcurrant. Accompanying the cocktails are a delicious selection of comforting cicchetti from Chef Patron Francesco Mazzei including Lamb Stew, Roasted Cauliflower Lasagne and for something sweet, the signature Sartoria tiramisu washed down with a warming shot of Disaronno.
http://www.sartoria-restaurant.co.uk/whats-on-mayfair/events/cilento-terrace/
——-
Heading out Christmas shopping after checking out some of our top winter terraces in London?