Added on 23 May 2023
TheSloaney
Chelsea Flower Show , Chelsea Flower Show Evening Gala , Chelsea Flower Show Gala , Dress Code , Jenna Coleman , RHS Chelsea
Inside the Chelsea Flower Show Gala
Tickets to the RHS Chelsea Flower Show Gala have become high on the wish list for many. They are known to be among the hottest tickets in town and allow a select number of guests to enjoy a special evening preview of the show.
Tickets to the Gala are sold every year by ballot and the Chelsea Flower Show Gala takes place after the Royal visit on the Monday evening of the event.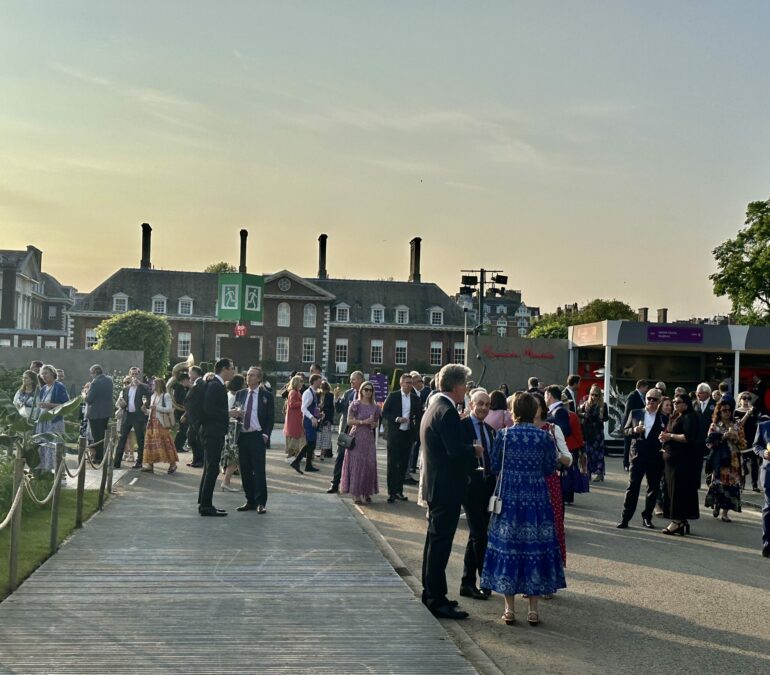 This year, those lucky enough to attend the Chelsea Flower Show Gala made the most of the dry weather and early evening sunshine to enjoy a special preview of the show. On arrival, guests were greeted by countless glasses of freshly poured Pommery Champagne, with waiters and waitresses roaming the grounds with jeroboams and attentively filling up glasses throughout the evening.
The occasion is popular with high society figures and also welcomes those from the worlds of film, television, business and sport. Guests dress to impress. This year, men were mostly wearing suits or smart jackets and the ladies opted for smart dresses, with many embracing bright summer colours or floral patterns.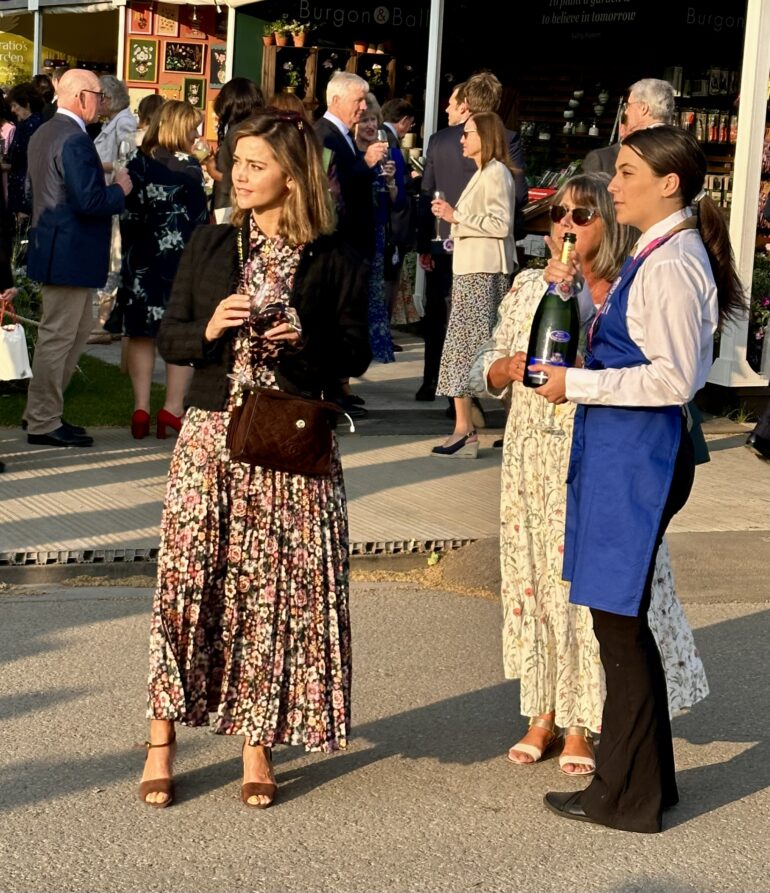 The free-flowing champagne was complemented by an excellent range of food options. Guests could nibble on canapes or visit the seafood station or charcuterie counters that are dotted around the Great Pavilion. Later in the evening, it was the cheese and impressive pudding displays that people were devouring and the macaroons proved particularly popular.
With only a limited number of tickets available, the Chelsea Flower Show Gala evening gives visitors ample amount of space to enjoy the stunning show gardens and exhibits that are on show in the grounds of the Royal Hospital Chelsea.
This is a golden ticket for those who want to get ahead of the crowds and enjoy some extra exclusivity. The charity gala also delivers an evening take on the show and most guests left at sunset, following the two hour event, which started at 7pm.
Next Up: What to wear to Chelsea Flower Show
Read all of our coverage about the RHS Chelsea Flower Show