Zafiro Palace Palmanova: A masterclass in combining luxury with a family-friendly holiday environment
Holidaying with young children or babies is an entirely different experience to travelling with adult company. Embarking on your first trip abroad with little ones can be a daunting prospect for some. The Sloaney Travel Team recently set off on an adventure – with babies in tow – to discover a destination that is family-friendly but doesn't compromise on luxury. We visited the splendid Zafiro Palace Palmanova on the sunny island of Mallorca and it ticked every box.
Our party consisted of two mums with one infant each (six months and 22 months). We travelled from different UK airports and met on landing. Flying on your own with an infant can be challenging but we decided to make sure that our end-location would only require a short amount of time in the air. Depending on where in the UK you fly from, Mallorca is only about two hours away. What is even more helpful, is that you only need to hop in a taxi for about 20 minutes before reaching Zafiro Palace Palmanova.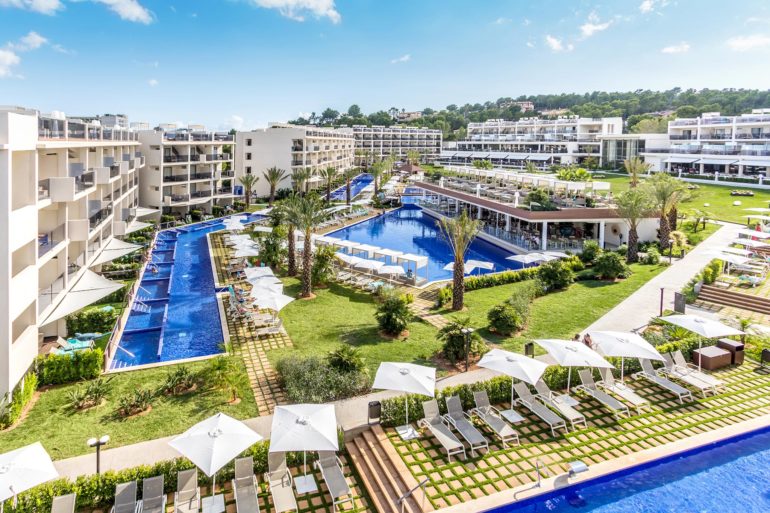 Zafiro is a family-run hotel business and the brand operates multiple properties in Mallorca. There is also a Zafiro hotel in Menorca, but the main focus for the company is the island that we visited. The Zafiro Palace Palmanova is one of two five star properties run by Zafiro and it is renowned as the most upmarket hotel in the Palmanova area.
There are three core themes that inform the ethos of Zafiro Palace Palmanova. The first two (quality and wellness) are commonly found among luxury properties. However, the third component concentrates on the mantra: kids can be kids.
The fact that this hotel's philosophy prioritises family time immediately helps to soothe the nerves of any anxious parents that are travelling with young children. Not only is the environment at Zafiro Palace Palmanova very child-friendly but you can relax in the knowledge that all of the staff dote on little ones.
It can be a difficult balance to strike: luxury paired with children. However, this property delivers on both fronts, without going over-the-top on the family element. There is still plenty of space to relax if you are travelling only with adults and there is a dedicated adult-only pool. It caters for both markets.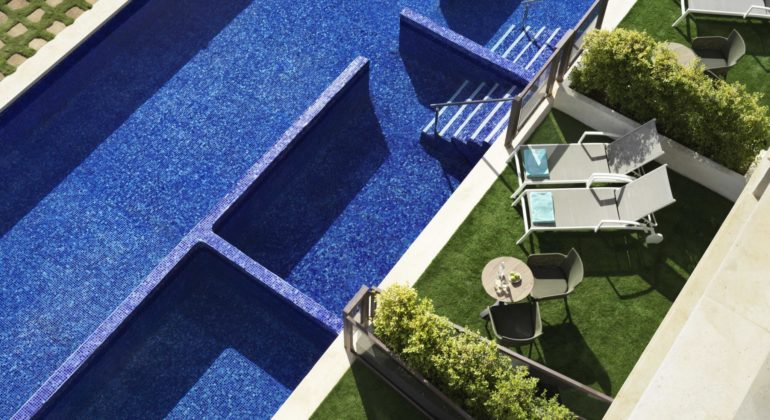 One of the reasons that this hotel marries the concept of luxury and family-friendly so well, is the accommodation design. We stayed in the fabulous Swim Up Suites. The spacious rooms are presented with chic interior design and excellent bathing amenities. There are large glass doors that open onto a lawn area, which is great for children. This space includes a large outdoor bed, as well as loungers.
The lawn leads to a private plunge pool that provides swimming access to a larger pool. There is safety glass in place to prevent toddlers from venturing into the pool alone, so you don't have to worry about security. On that note, all of the accommodation looks inwards and rooms have views of several pools in the complex. These are all managed by a team of lifeguards, which gives extra reassurance to parents.
We enjoyed neighbouring Swim Up Suites during our visit. This is the perfect setup for two families travelling together. You can have your own privacy but also make the most of being close to your travel companions. This makes it easy to sunbathe together or to share your garden for sundowners. Some of the blocks get a better dose of afternoon and evening sun than others and it is worth asking about this when you book.
Depending on the age of your children, it helps to have some activities on site when you are away from home. Afterall, they need to be able to make the most of the glorious weather and get a taste of the local culture. Zafiro Palace Palmanova has excellent facilities for little ones, including a dedicated water park with impressive slides, a pirate ship and a giant ball-shaped water slide that provides hours of fun. A trampoline, climbing frames and bouncy castle are also on offer.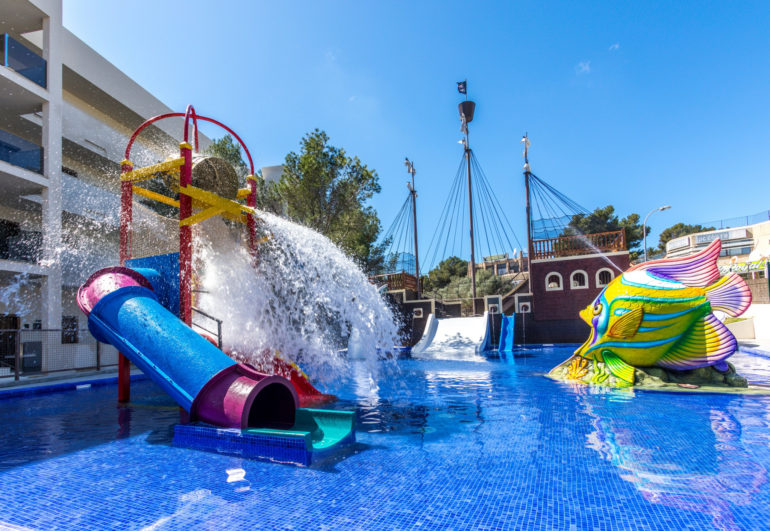 If you want to enjoy a few hours of peace and make the most of the excellent spa, there are babysitting services available, as well as a Kids Club. Our little ones also loved the disco and magic show, which take place in the evening.
We are both foodies and love nothing more than trying different types of cuisine. This is another area where Zafiro Palace Palmanova performs very well. There is a vast buffet at breakfast and dinner, and this can sometimes be the best option with children. That said, the specialist restaurants are worth trying for evening dining. While the Italian restaurant is apparently the most popular, the Tastes and Sushi Bar was exquisite. Sushi, Sashimi and a whole host of Thai dishes were just some of the options available. The Mediterranean restaurant, El Olivo, was also outstanding. The fish courses were particularly notable and the wine list caters for many different styles.
When you are relaxing in the sunshine with everything you require on your doorstep, there is little motivation to leave a resort such as Zafiro Palace Palmanova. However, for those who are adventurous, it is possible to enjoy a short stroll to the local beach. The beach is only a couple of minutes away and the decked paths on the sand mean that people take pushchairs right up to the waves.
The sea is relatively warm for Europe and during our visit in April, several people were swimming. There are loungers that can be hired, and you can admire superyachts on the horizon. If you want to enjoy lunch by the beach, Il Chiringo is a wonderful little bar and restaurant that serves outstanding seafood dishes. It is also possible take pushchairs along the costal path to stretch your legs after indulging at lunchtime.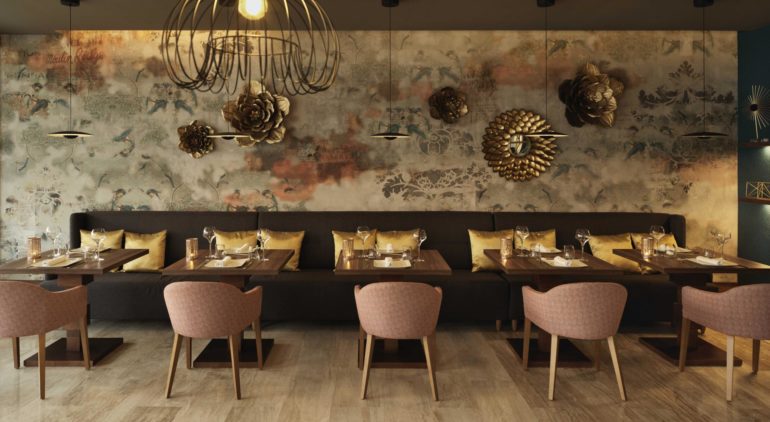 The hotel is keen to encourage people to explore the island and discover some of the hidden gems that Mallorca has to offer. Some areas of the country have a reputation for partying, but there are also many parts that showcase the history and natural beauty of Mallorca. If you are staying for several days, it is worthwhile popping into nearby Palma. While this is a resort town, you can also browse some of the older architecture and historic sites. A trip to beautiful Deia is also an excellent way to spend a day. The small coastal village is off the beaten track and only about 45 minutes away.
However, if you are travelling with your baby for the first time, you may prefer to stay within the comfort of Zafiro Palace Palmanova. This property has everything you can desire: it is safe, luxurious and has plenty to keep you occupied during a visit. This is an ideal place to come for your first getaway, whether it is with some fellow mums during maternity leave or for a weekend break with your partner.
Find out more by visiting the hotel's website at
https://www.zafirohotels.com/en/hotels/zafiro-palace-palmanova/ You can make a booking online or by calling the reservations team on +34 971 13 54 65
---
Be inspired by The Sloaney Travel Pages