A city break to Copenhagen: Explore the cultural capital from the Andersen Hotel
BY KATIE ANN LAMB
I love exploring different cities and Copenhagen has been on my travel list for some time. Originally a Viking fishing village, the capital of Denmark is just two hours from London. Following much investment, it has become the cultural, economic and governmental centre of the country. With this in mind, I was looking forward to spending a few days exploring the popular Nordic destination.
Located in the trendy Vesterbro district 200 metres behind Central Station, the Andersen Hotel provides the perfect base from where you can explore Copenhagen. This family-run property is overseen by Karen Nedergaard and named after her grandmother Erna Andersen, who founded the Absalon Hotel Group over 75 years ago. During recent years, they have seen Vesterbro transform in to one of Copenhagen's coolest areas and it has become a highly desirable place to visit.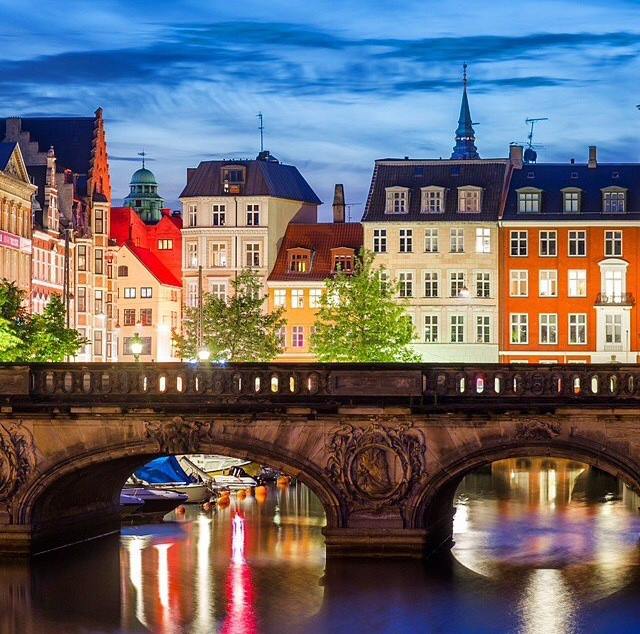 Boutique hotels have a lot to offer when you are visiting a major city and I find their special touches will add an extra dimension to your experience. The Anderson opened in April 2012 and it has 69 uniquely-decorated rooms and suites featuring wallpaper, cushions and curtains by the well-known Designers Guild. It demonstrates strong artistic flair. The rooms are bold, bright and follow three colour schemes.
The Princess themed rooms combine a stunning combination of vibrant purple and striking fuchsia to provide an elegant, yet warm atmosphere. As you would anticipate, the Mermaid focuses on aqua tones, with vivid turquoise and lime reflecting the soothing elements of water. Meanwhile, Emperor has calming blue and rich magenta to create a regal vibe. The rooms are categorized from the smallest, which is a 'cool' standard room, to the 'brilliant', 'wonderful' and 'amazing'. The latter is the equivalent to a suite. All have luxury amenities including soundproofed windows, Molton Brown toiletries and a well-stocked minibar.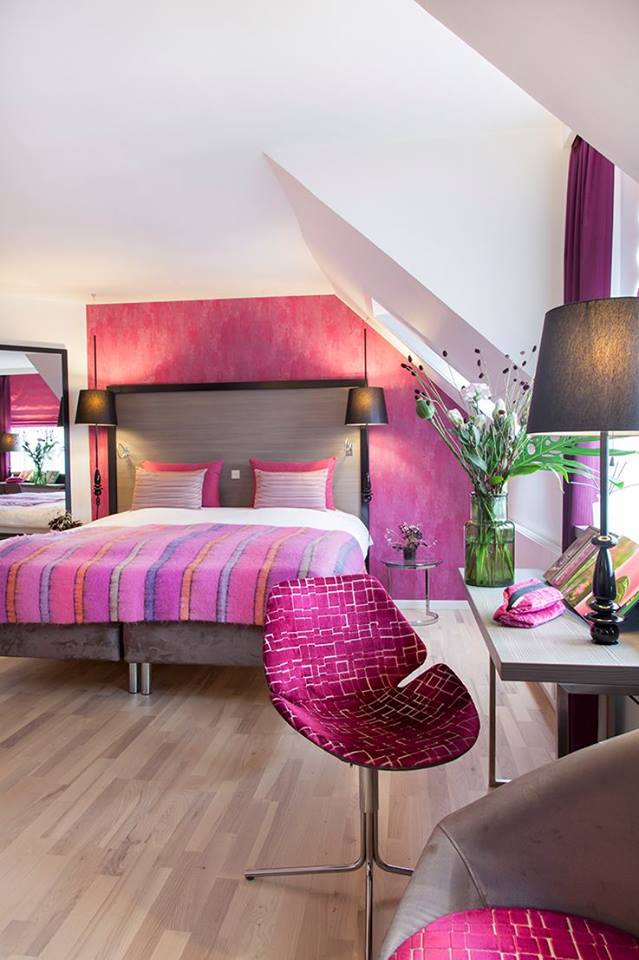 One of the things I like most about this property is the great 24 philosophy. You have to request this in advance, but it allows room usage for a full 24 hours from the time of check-in. I find it frustrating when you arrive at a destination but cannot access the facilities, so it is brilliant to have such usage. This approach is particularly helpful in Copenhagen because the airport is only a mere 20minutes from the hotel (15minute train ride) which enables you to explore until the last minute.
Between 5pm-6pm everyday the Andersen hosts a Daily 'Wine Hour' where all guests get together for a complimentary glass or two of wine as they unwind before heading out for dinner. It really is a social occasion and great opportunity for guests to interact.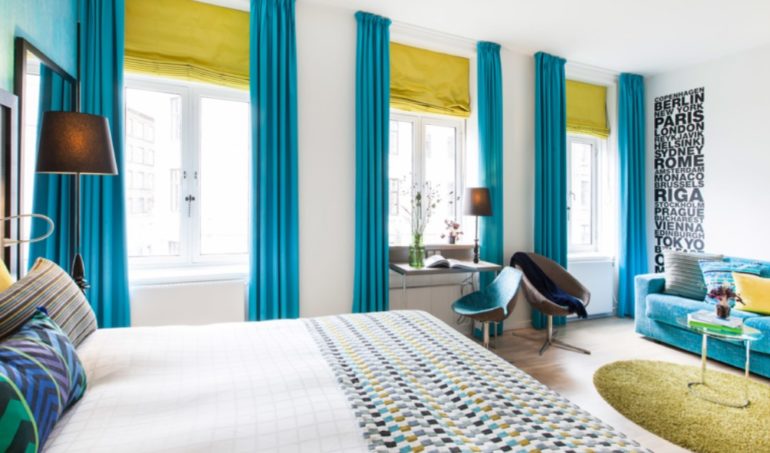 Breakfast is typically Scandinavian with cold meats and cheeses, yoghurt, fruit and lots of Danish pastries. There's no restaurant in the Anderson, however it is located right by the Meatpacking District which has an endless choice of cuisines and restaurants. This encourages you to try some of the local haunts and it means you have great variety and complete flexibility when it comes to choosing your dining experience for the evening.
For the more athletic traveller, Running Copenhagen offers running sightseeing tours in Copenhagen with a local guide. Tours introduce guests to the city whilst interacting with locals who showcase insights into Copenhagen and introduce the city's attractions. Special tours include Architecture Tours and Family Tours. The Andersen Hotel have partnered with Running Copenhagen who meet guests at the hotel for a bespoke tour of the city. Alternatively a slightly more leisurely approach is the "Jopo" bikes available to rent to further explore the city. From Vesterbro the colourful elevated bike bridge connects cyclists to Islands Brygge. Cyclists cross the harbour 7 meters above the water and 'The Bicycle Snake' allows cyclists to arrive in style and with the most wonderful views of Copenhagen's harbour and towers.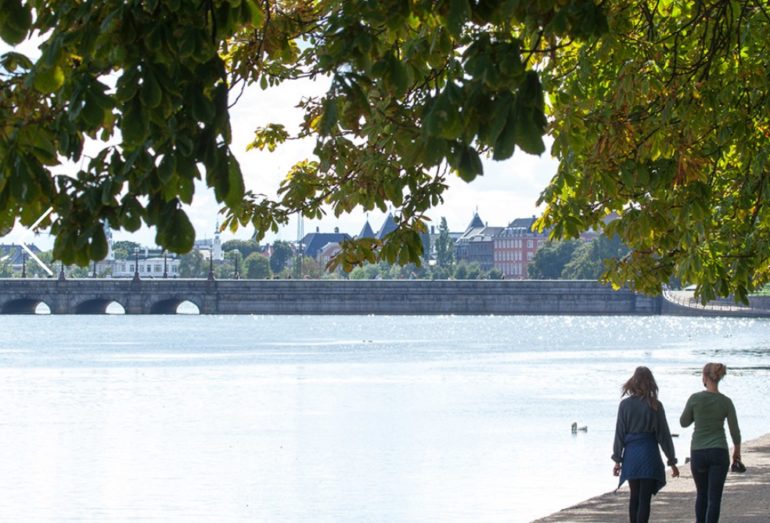 There is so much to see and do in Copenhagen and with the fantastic central location of the hotel, I personally chose to explore by foot. The renowned Tivoli Gardens is a 10minute walk away whilst the Christiansborg Palace and Botanical Gardens are 10minutes by bike. The Little mermaid was surprisingly smaller then I had expected but none the less, its a must see!
Nyhavn is renowned for its colourful canal side houses. This is the perfect spot for a bite to eat, ice cream or a boat trip, which is another unique way to explore the city. There is a changing of the guard daily at Amalienborg which is really worth spectating especially if the Queen is in residence. The guard is accompanied by the Royal Guards music band.
All-in-all, Copenhagen is the perfect City break, and although on the more expensive side of most European destinations, visitors are richly rewarded by a host of cultural delights.
There are regular flights from London to Copenhagen throughout the day. You can book a room at the Anderson Hotel by calling +45 33 31 46 10 or visiting www.andersen-hotel.dk