Princesa Yaiza: A perfect luxury destination for your first family sun holiday
By Laura Toogood
Finding sunshine and a climate where it's warm enough to lie out on the beach and dine alfresco with just a pashmina for cover can be challenging at the start of summer for those of us based in the UK. Especially if you don't want to fly half way around the world. While the Caribbean and Indian Ocean are certainly very appealing destinations during the winter months, when you have a young baby sitting on your lap for the plane ride, the flight time becomes important. It is a case of the shorter the journey, the better! However, this presents its own challenge as much of Europe can be chilly in the run up to summer.
On my recent search for pleasant temperatures, I decided to visit the Canary Islands. While the flight is still relatively beefy with a young child (four hours from many British airports), the volcanic islands are one of the few nearby places to offer sun for most of the year.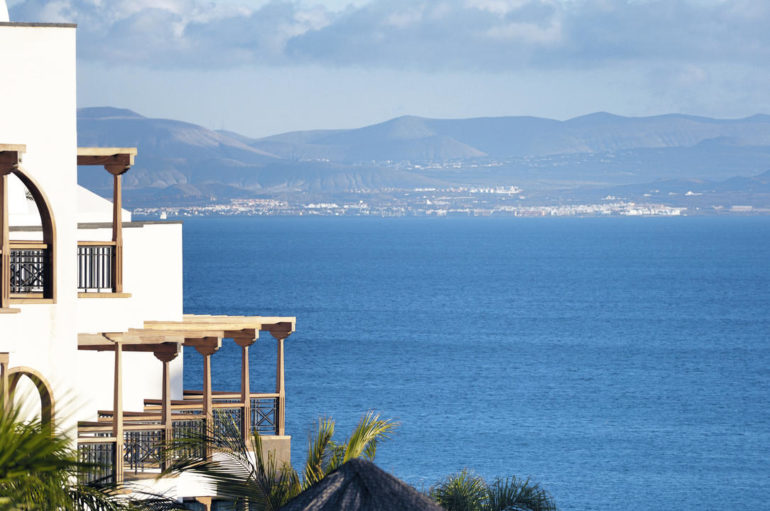 This was my first visit to Lanzarote and I marvelled at the dramatic countryside as we landed. The lava landscape is bare for vast stretches in the middle but bordered by stunning beaches with bright blue water. The architecture is surprisingly attractive, with a Moroccan influence evident and pretty, low-rise buildings favoured. They are almost exclusively white and one imagines that it must become baking hot in August.  
After stepping off the plane, we were transported to Playa Blanca. This is the southernmost town of the Spanish island and the newest resort area. It is part of the municipality of Yaiza and home to the luxury resort, Princesa Yaiza.
Princesa Yaiza is an impressive property that features striking tropical gardens throughout its interior. Its notable architecture focuses on making many parts of the building open air. Princesa Yaiza is spread across multiple levels to provide stunning seaviews but also easy access to the beach.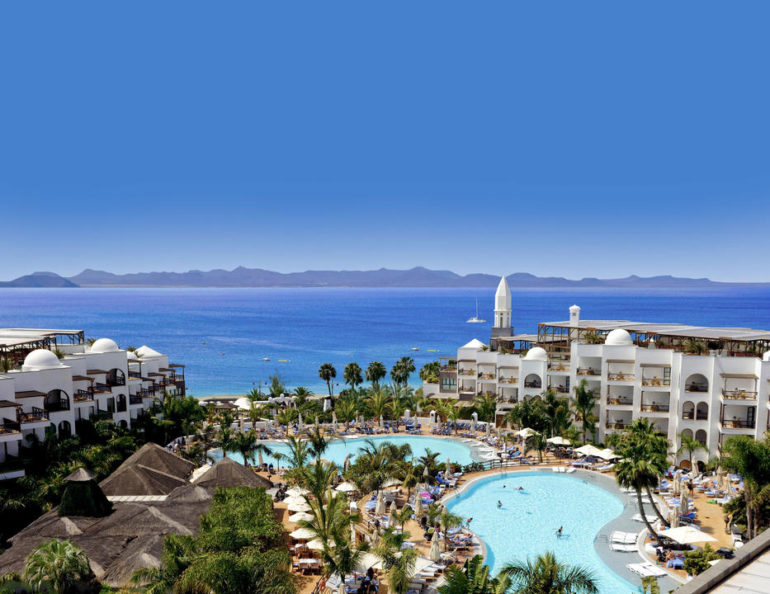 My visit took place at the end of April and it was certainly hot enough to wear summer clothing and swim in the sea. While the beach is naturally a popular place for visitors to sunbathe, many guests also choose to stay tucked away within the walls of the hotel, in order to make the most of its upmarket facilities.
There are multiple swimming pools and outdoor jacuzzis, with some designed specifically to cater for babies and young children. Others are more suited to adults who want to enjoy a cocktail or two as they top up their tan. There is also a Thalasso and Spa Centre, located on Playa Dorada seafront. This has an incredible 50 booths to cater for those seeking facial treatments, massages, hydrotherapy, and rituals for relaxation and well-being.
The structure of Princesa Yaiza is expansive, so much so that this luxury resort hosts its own selection of boutiques. The swimwear sold here is truly beautiful and well worth browsing for those who like a couture design for the beach. Unique accessories and customised clothing is also showcased in the shops and it is hard to leave without multiple purchases.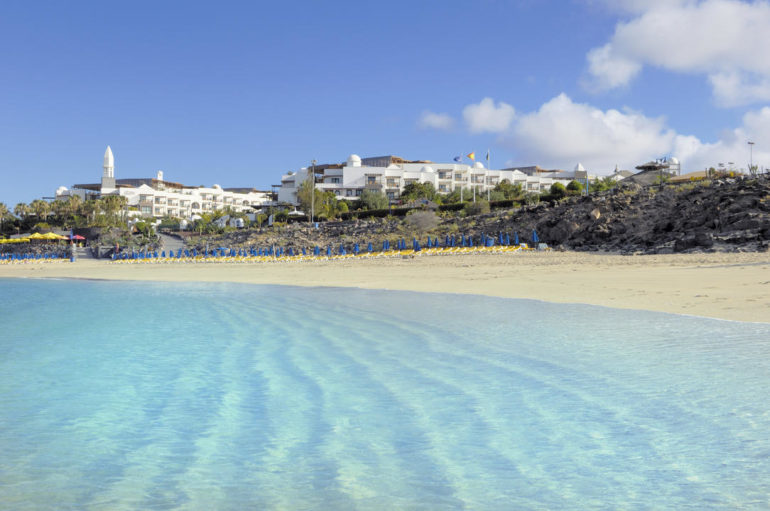 Princesa Yaiza has a vast selection of spacious suites. Each is equipped with luxurious furnishings and the balcony is ideal for an early evening drink as the sun sets. It also hosts a number of dining options in the main building. While it is possible to visit with a buffet dinner included as part of your package, guests should certainly explore the fantastic a la carte options. There is authentic Tapas and filling Italian food cooked in the vibrant square that leads out towards the beach, or refined Japanese food is available in the heart of the resort. The square also has pop-up stalls in the evening and live musicians playing.
I love visiting places where you also have the chance to try restaurants that are located offsite. A 15 minute walk to the left of the hotel along the seafront walkway is an elegant marina. This is a chic local area where you can admire yachts and discover more enticing shops, which are positioned amongst a variety of bars and restaurants. There is also a beach bar right beneath the hotel, which has great views of the sea and is only a short stroll from the rooms.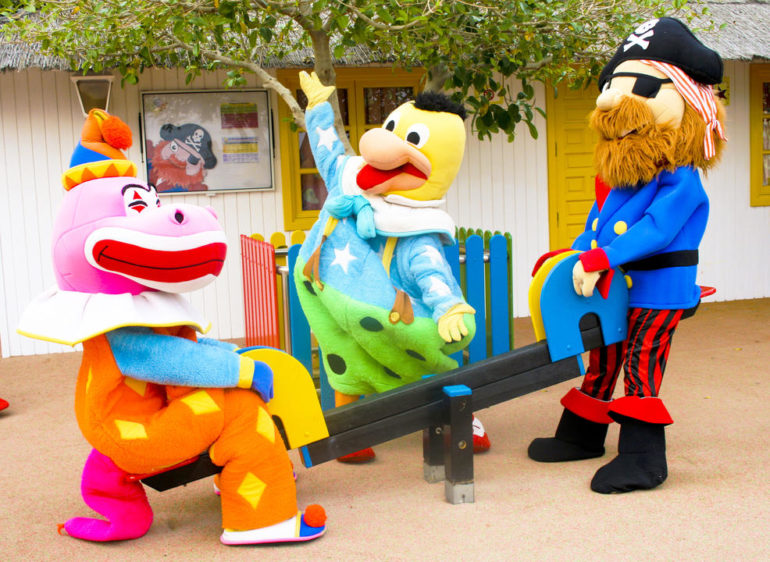 Now that I am mother, I am always on the lookout for destinations that cater well for babies and young children. Princesa Yaiza is a brilliant choice for those travelling with very young children and especially good for your first experience of a sun holiday with a baby. The hotel is very receptive to your needs and provides everything you could possibly want for a baby. This includes a special package of baby wash products on arrival, as well as bibs and soft spoons in the restaurant. You can even request a high chair for your suite, should you want to feed your baby in peace and quiet. That said, my daughter loved the experience of eating in the main restaurant at breakfast time and the staff had an excellent manner with all of the children that were present.
The walkway that runs for miles along the coastline is perfect for a pram walk and the resort caters for wheels well, with lots of sloping paths and lifts to help you navigate the surroundings. Parents can make the most of comprehensive facilities and a club for children of all ages. There are plenty of activities on offer to entertain little ones and Kikoland is a 10,000 square metre playground area.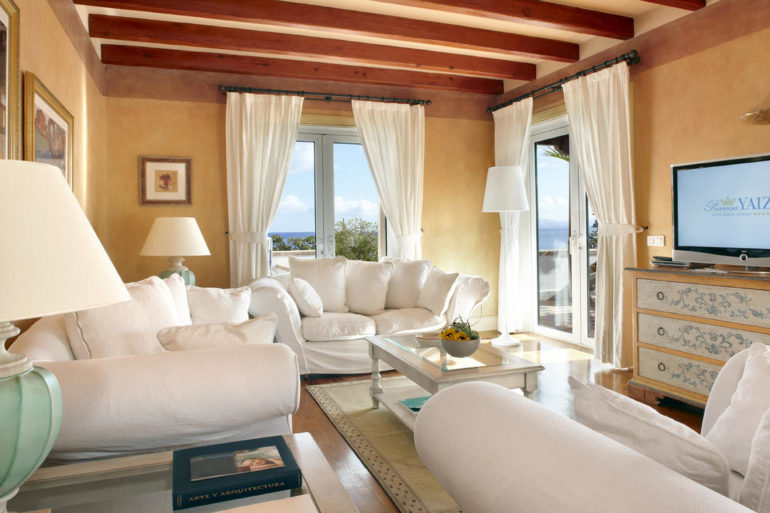 In the evenings, it is possible to book a babysitter so that you can enjoy some adult time and the Piano Bar is the ideal place to sample the local gin while listening to live music. Gin is a popular beverage in this part of the world and the Piano Bar has an extensive collection. The local gins from the Canary Islands are good and many have tropical notes. 
All in all, Princesa Yaiza ticks lots of boxes for a wonderful sunny escape. It is particularly ideal for young families that are thinking of heading off on their first big adventure together.  This hotel ensures that guests can indulge in a fun but restful break and strikes a good balance between being family friendly and luxurious.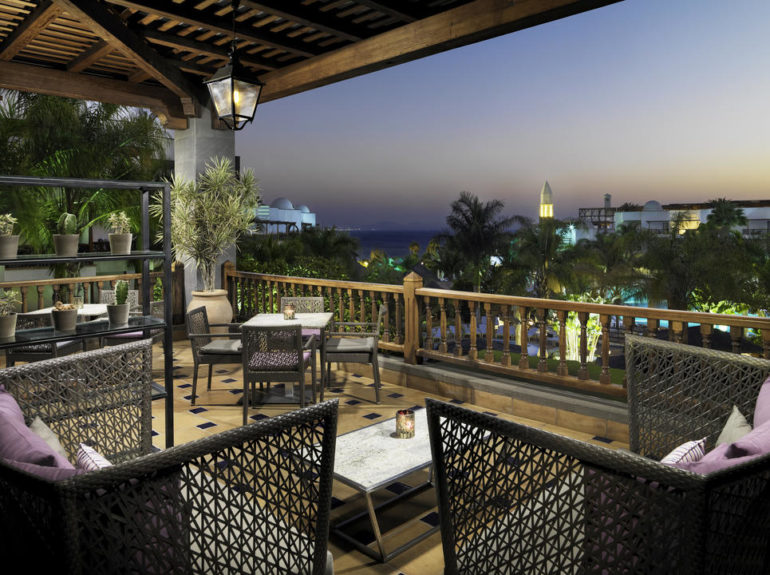 Find out more at princesayaiza.com and book by calling  (+34) 928 519 300  
---