Enjoy breathtaking views of Cape Town at Cape View Clifton
---
Katie Ann Lamb discovers the excellent adults only property, Cape View Clifton, which is in the heart of Cape Town and offers beautiful views of the surrounding scenery…

---
Often people are reluctant to travel as they aren't keen on the 'hotel' environment. Cape View Clifton consists of seven elegantly appointed, expansive suites, each of which opens out onto uninterrupted views of Cape Town's iconic Clifton and Camps Bay coast line.
This boutique guest house really offers a 'home away from home' experience. The staff are discreet – there when you need them but not visible, enabling you to kick back and relax and make your self at home. With only seven suites – though all incredibly spacious – it is still very intimate.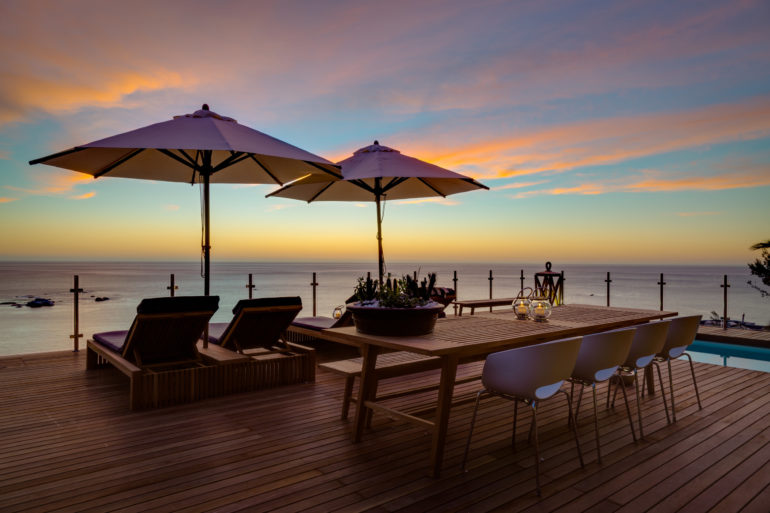 Perched on the slopes of Lions Head above the ultra cool suburb of Clifton (you're guaranteed to spot some well known faces in this suburb) you're just outside the hustle and bustle of the city. With Clifton's famous 4 beaches located just below and a short journey to Camps Bay you not only have views of the Beaches but you have quick access to them too. Although Cape View Clifton boasts a huge sundeck with a sunken pool and incredible views so those that don't fancy fighting for a spot on the white sandy beaches need not leave this romantic bolthole!
Formerly an apartment complex, owner Jess Latimer, also an interior designer, transformed Cape View Clifton. Her impeccable style and taste is evident from the moment you enter. It is light and airy with views focused on the ocean, and décor influenced by the Latimer family's Durban heritage: colonial African style mixed with contemporary furnishings.  The effect is an elegant calm-inducing environment combining modern artworks, fresh flowers, beach chic hues and hurricane lamps.
Each of the several romantic suites are similar, decorated in a neutral palette of grey, cream and dusky brown, with framed botanical prints and round wicker mirrors. The beds are all kingsize with quality white linen and upholstered headboards. The floor-to-ceiling windows emphasise the view and if left open allow you to peacefully drift off to the sound of crashing waves. The bathrooms are white marble with large tubs, walk-in rainfall showers and my favourite Africology toiletries.
Ensuring all your needs are met within your suite other features provided include, air con, coffee machine, mini bar, ipod dock, satellite TV, bath robes, beach towels and bags, hairdryers and of course wifi.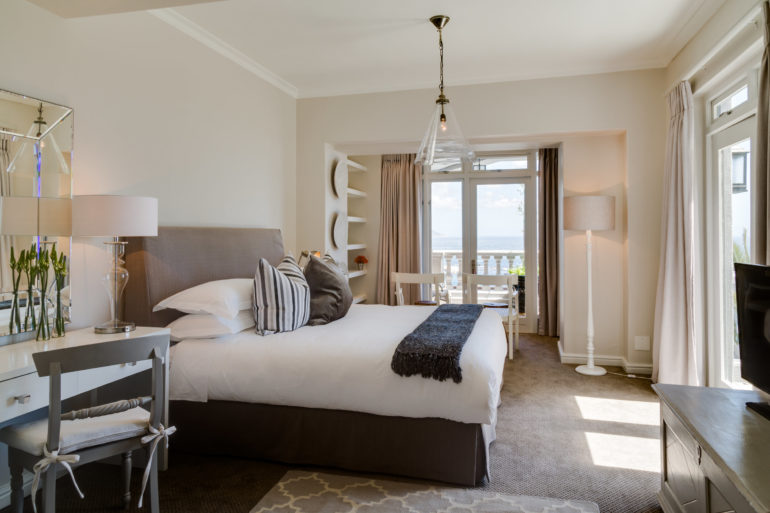 Of course the entire Cape View Clifton property can be reserved, or alternately for families or friends, there are two larger suites. A 3-bedroom suite with queen size bedrooms and en-suite bathrooms and a kitchen, or the 2-bedroom suite with 2 separate bathrooms and a kitchenette. Both are very spacious and ideal if you're staying for longer periods of time and wish to be self sufficient. A special addition to both of these are the ocean-facing sundecks, complete with loungers and a hot tub.
The Communal living/ dining room is the heart of this property, much like one's home. A large modern sofa adorned with geometric print cushions surrounded by hurricane lamps, scatter rugs and African textiles form the lounge, while two modern rectangular white tables and upholstered chairs offer indoor dining looking out onto the terrace deck where a further long wooden table offers an outdoor experience.
There's a lovely honesty bar in the lounge, with a wide variety of wine, beer and soft drinks or you can also help yourself to a selection of tea's, the nespresso coffee, and yummy biscuits and cakes..
Breakfast is included and cooked in the open plan kitchen by an incredibly talented local chef. Typically this would include poached eggs (or alternative son request) on English muffins with ham, mushrooms and rocket, sweet pancakes, or omelettes with fresh local ingredients.
There is also a wonderful cold buffet presented with great attention to detail on rustic tree stumps which includes yogurt, fruits, freshly baked treats, cold meats and homemade muesli.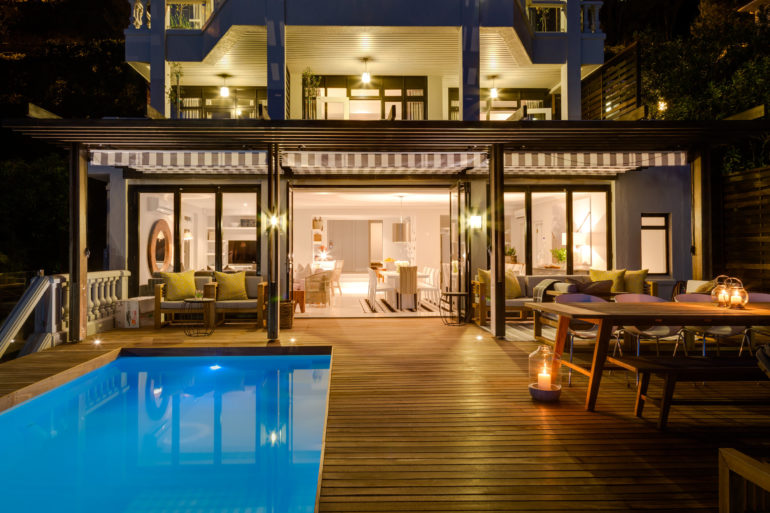 With sufficient notice the chef is available to provide light lunches and private dinners. If you happen to be staying in the 2- and 3-Bedroom Suites you can request an "in house chef" to cater for you in the comfort of your home. These are tailored to your preference and both suites also have a BBQ, so you could opt for some local specialties, such as boerewors and tipsy tart or malva pudding. If you prefer to dine out, Cape View Clifton has a wide selection of fantastic restaurants to recommend.
The policy is for children eight years and over, making it the ideal location for honeymooners or anyone wanting a peaceful escape!
Visit https://www.rareearth.co.za to read more
---
Next up? The magic of the Maldives