Chateau de Riell: A relaxing break in French Catalonia
By CATRIONA GRAY
I have always been a big lover of everything French, from the fabulous food and wine to the charming French villages I love to stumble upon, and of course the beautiful weather. Add in the fact it is so easy to get to from the UK, especially London, and it is the perfect holiday destination. Having explored many parts of this fine country, including Paris, The French Riviera and The Alps, I have always been interested in discovering the less travelled area of French Catalonia. With its close proximity to Spain, French Catalonia is the hottest area of France and its location in the Pyrenees mountains means the views are spectacular in all directions. So, when I received an invite to visit Relais & Chateaux's newest property nestled in the heart of French Catalonia, I jumped at the chance!
Situated in the small spa village of Molitg-Les-Bains, the four-star Chateau de Riell offers the perfect hideaway for those looking to relax, rewind and rejuvenate. The charming hotel belongs to the Barthélémy-Guérard Family Houses and embodies the very best in French gastronomy, spa and hospitality.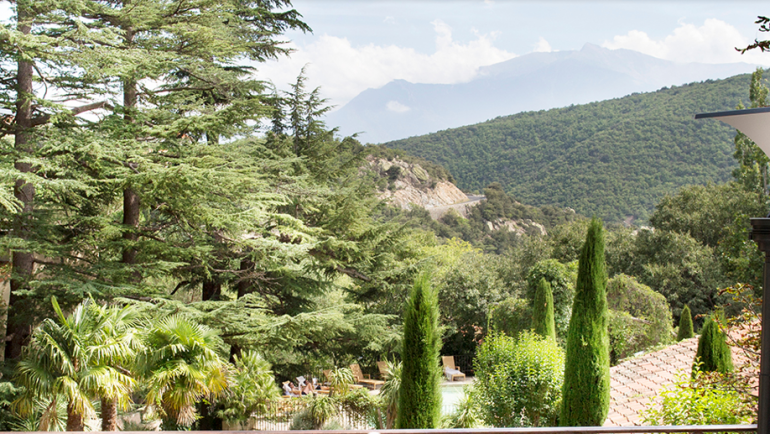 Château de Riell has 19 unique rooms situated in a historic 19th Century castle, including four cottages which are tucked away in the beautifully landscaped gardens. There are a combination of sumptuous suites and deluxe rooms available, each one entirely unique in design and décor with French, English, Spanish and Colonial influences. The owner, Biche Barthélémy, has personally decorated every single room, taking great care in using all the unusual spaces and sourcing unique antique furniture. There is also a very modern animal print theme used in some of the communal areas such as the Safari bar and staircases, which shouldn't work in an old Chateau but it absolutely does.
The chateau is surrounded by luscious gardens, and has two swimming pools that fit seamlessly into the landscape. The rooftop pool and terrace is the ultimate place to unwind with breath-taking views of Mount Canigou and beyond.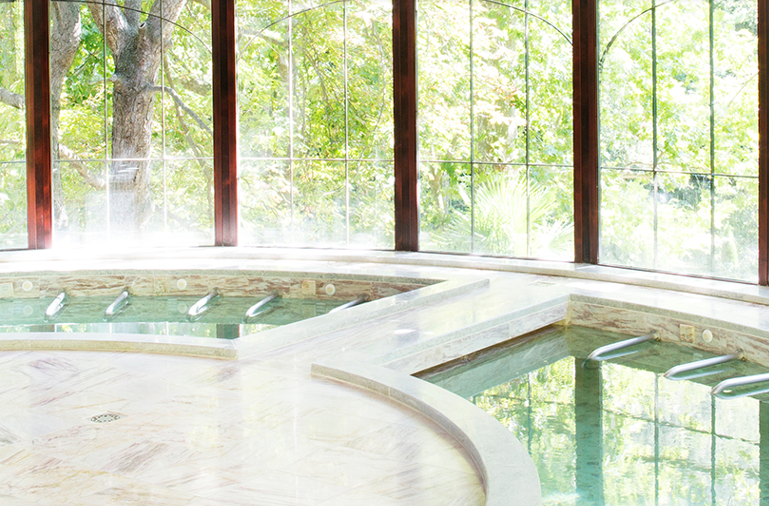 Celebrating the cuisine which Catalonia has become famed for, Chef Sebastian Nouveau and his skilled team at Château de Riell trained at the Institute Michel Guérard. Guests can enjoy seasonal menus which include dishes inspired by the Pyrenean grounds that surround the hotel and embody passion for fresh, local produce. Succulent lamb, wood mushrooms and Catalonian style snails are just some of the incredible culinary creations just waiting to be experienced and the Guinea Fowl with Provence spelt risotto was a particular highlight on our trip. Guests can choose to dine from the a la carte menu or from a 4 course set menu with wine pairings.
During the cooler months of Spring and Autumn, guests can dine around the warmth of a spectacular open-hearth, whilst in the heat of the summer there is no better spot for al fresco dining than on the hotel's terrace. The Safari Bar in the main castle also provides the perfect spot for an aperitif. For those wanting a private dinner or a fun soiree with a larger group of friends, the hotel's very own dungeon is available, complete with gothic style stone vaults. It's an incredible space with a lot of history, and great if you're looking for a unique venue for a special celebration.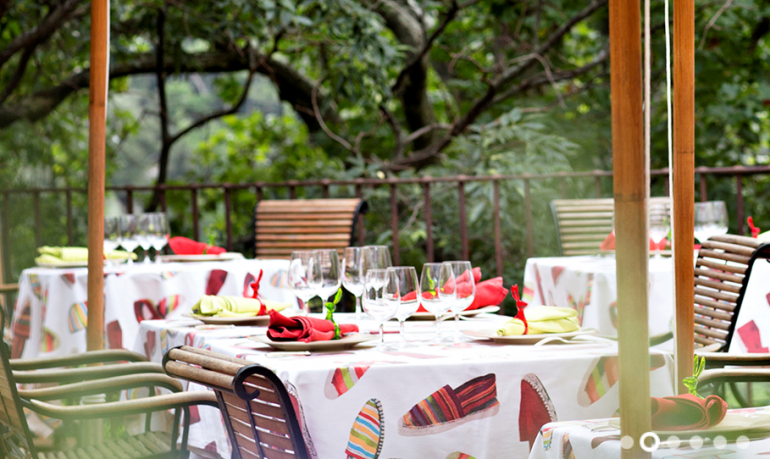 A short walk down the hill from Chateau de Riell is the equally impressive Grand Hotel. The hotel has a more Mediterranean feel and boasts 38 rooms and suites. All rooms are light and fresh with a minimalist décor adding to the 'relax and rejuvenate' mantra of Molitg les Bains. The restaurant at the Grand Hotel provides a relaxed and secluded place to dine for lunch or dinner. We enjoyed a couple of lunches here, with a choice of eating from the seasonal a la Carte menu or enjoying Picoti Picota, a delicious individual tray of Tapas including beef or fish skewers, pimiento and chorizo cake, and tomato and cucumber gazpacho. The Rose house wine is also particularly good to accompany a leisurely lunch.
Situated a short walk from Chateau Riell and below the Grand Hotel is the Thermal Spa, where guests can relax, unwind and revitalise. The 18,000-year-old thermal pool is hidden amongst the foliage and reveals warm waters with a mineral composition that is said to rejuvenate the body and mind. With a philosophy centred on health and natural wellness, there are many treatments available to help guests refresh and reinvigorate. The thermal pool has varying powers of jets to relax muscles, and the white clay bath gives a feeling of weightlessness and leaves skin looking radiant and minds destressed, while the hydro-massage thermal bath provides a deep tissue massage, which ensures complete relaxation. I also tried an amazing hydro-massage bed which sees warm water jets hit the underside of a water bed to massage you from head to toe, which was honestly the most relaxing experience I have ever had!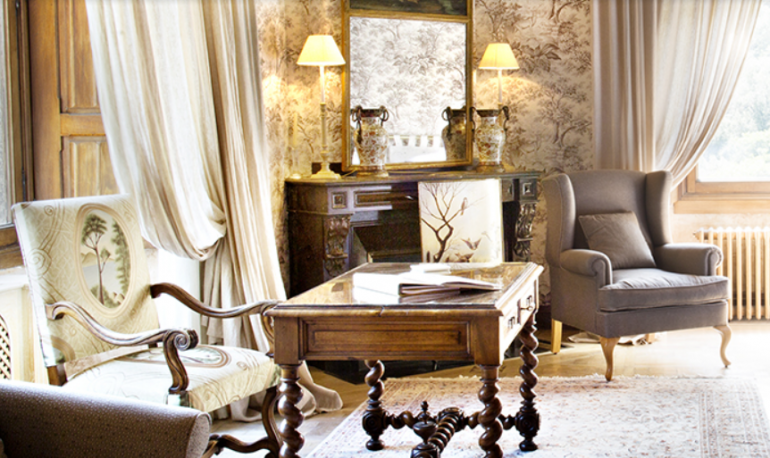 There are also a number of beauty treatments available, including relaxation massages, facials and full body treatments. I had a wonderful Red Island massage which used warm balms and a traditional wooden instrument called acacia-katsu to provide an incredible soothing sensation which melted away tension and eased stress. After 2 days of enjoying the thermal spa I felt completely renewed and relaxed, so I can only imagine how those who choose week long spa stays would feel!
With so much outstanding natural beauty on the doorstep, guests will struggle to ignore the call of the great outdoors. Chateau de Riell and The Grand Hotel are surrounded by luscious parks framing the beautiful river, which are perfect for an afternoon stroll or an outdoor yoga class. There is also a tennis court right by the river which is a dream location for any avid tennis player. Whether it's hiking, cycling or climbing the spectacular canyon that you're interested in, there are several trails leading from the hotel which are perfect for all levels of ability. For those wanting to explore the culture and history of French Catalonia, the medieval village of Mosset is just 5km away, and four of the most beautiful villages in France are just a short drive from the hotel, so you'll never be short of things to do.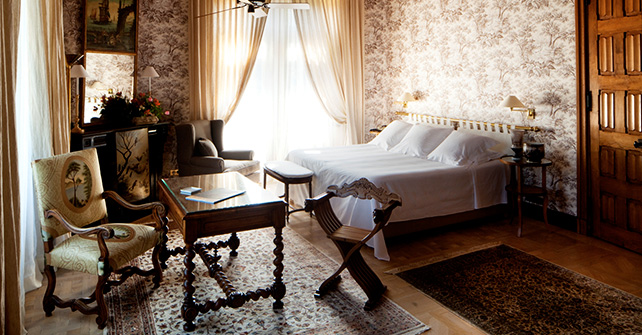 Chateau de Riell is a real undiscovered gem. It is extremely rare to find somewhere in France that is completely untouched by outside influences, and Chateau de Riell is exactly that. Although the language barrier proved difficult sometimes (my limited French didn't always suffice!), it was so refreshing to experience traditional France and the amount of French guests was testament to the fact this is the real deal!
Chateau de Riell provides a unique break with delicious cuisine, a relaxing spa and beautiful accommodation. I would encourage you to veer off the beaten track and do something different this summer by visiting Chateau de Riell and exploring the stunning area of French Catalonia.
You can book a stay at Chateau de Riell online at or by calling +33468050440. Our team flew to Toulouse and then drove to the property, which takes about 2 1/2 hours from the airport. 
Browse our travel pages for more holiday inspiration.