Ergobaby launch the perfect summer baby carrier
By KATIE ANN LAMB
With any luck Summer is just around the corner and Ergobaby have launched the OMNI 360 Cool Air Mesh Baby Carrier just in time. It is billed as the most versatile Ergobaby carrier and designed with comfort and ease in mind. This carrier fits all babies in all carry positions plus has ultimate ventilation to keep you both cooler, with no extra accessories needed.
Whether you are out and about enjoying the fine weather during the day, or like to make the most of the extra light for an early evening walk during the summer months, a baby carrier is an essential piece of kit to help your mobility.
The OMNI 360 Baby Carrier Cool Air Mesh is suitable from newborn to toddlers without the need for an insert (7-45lbs) or having to purchase different carriers. This makes is very useful for families with multiple children and it can grow with your baby. It is also available in four great unisex colours Oxford Blue, Pearl Grey, Midnight Blue and Khaki Green, so it works well if you have children of different sexes or perhaps aren't finding out the gender of your first baby.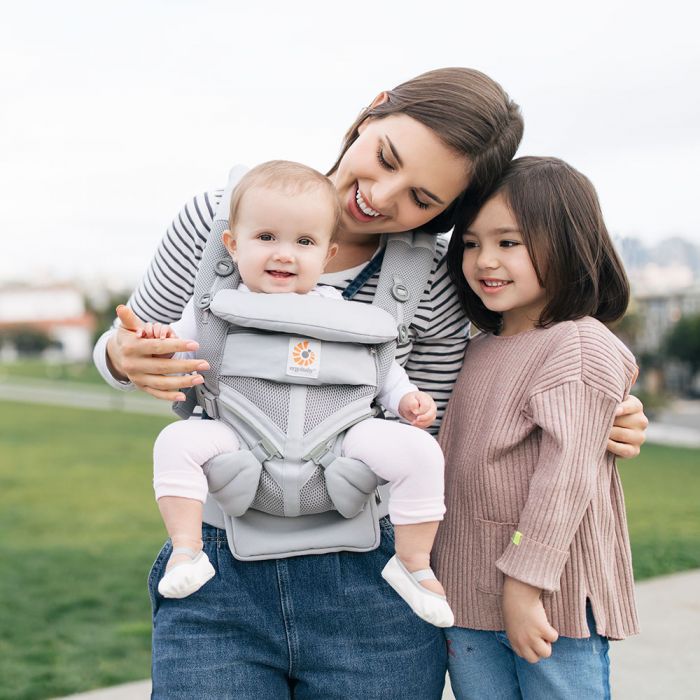 Babywearing has numerous physical and emotional benefits for the development of your baby. It reinstates that closeness and allows parents to build a stronger bond between child and parent. Its also hugely convenient as you can literally get up and go. The OMNI 360 Baby Carrier Cool Air Mesh offers four carry positions that enables parents to quickly and easily switch baby to face out, or in while on the move, which is also great as they grow and become more inquisitive.
It is made with supple yet durable 3D mesh fabric that allows for ultimate breathability and airflow. The unique Cool Air carrier is ideal for warmer temperatures and active lifestyles, as the mesh panel ensures you and baby are kept cool and comfortable at all times – perfect for summer time or any upcoming  holidays you might have planned.
Like each product in the Ergobaby range, the new Ergobaby OMNI 360 Cool Air Mesh supports baby in a hip-healthy 'M' shape position, at all stages and in all positions including outward-facing. Additional features include the lumbar support waist belt, extra cushioned, crossable shoulder straps, and a large, detachable storage pouch.
So whether you're suffering backache from carrying a baby for the last 9 months or just generally struggle with aches and pains the Ergobaby is perfect for you!
Key features of the Ergobaby OMNI 360 Cool Air Mesh:
Breathable 3D mesh panel keeps you and your baby cool all year round
Accommodates all carry positions: front facing parent, front facing out, hip, and back
Adapts to baby's growth
Longwear comfort with lumbar support waist belt and extra cushioned shoulder straps, crossable for a snugger fit and easy adjustability. Cushioned, adjustable head and neck support for baby
Easily switch baby to face out or face parent
Supports baby in a hip-healthy 'M' shape position at all stages and in all positions. Acknowledged as a 'hip healthy' product by the International Hip Dysplasia Institute
Includes a new large detachable pouch for storage, and a tuck-away baby hood for sun protection (UPF 50+) and privacy, e.g. for easy and discreet breastfeeding
100% Premium Cotton and machine washable
The new collection £154.90 is available  from www.ergobaby.co.uk