Mum-to-be Diary: The Chicco Balloon bouncer
By KATIE ANN LAMB
I have been giving lots of thought to how I can keep my little one occupied when he or she arrives with fun but educational accessories. The new Chicco Balloon bouncer provides hours of entertainment and stimulation from newborn to approx. 6-9month old.
It is suitable from birth as the seat has been designed for your little ones comfort with a soft, padded seat and a head support which can be adjusted to three positions as your baby grows. The detachable toy bar features fun hanging toys for baby to reach for and a light unit with a range of melodies including nature sounds, lullabies and the option to record a 30 second soothing voice recording- great for recognition and stimulating their tactile and psychological skills.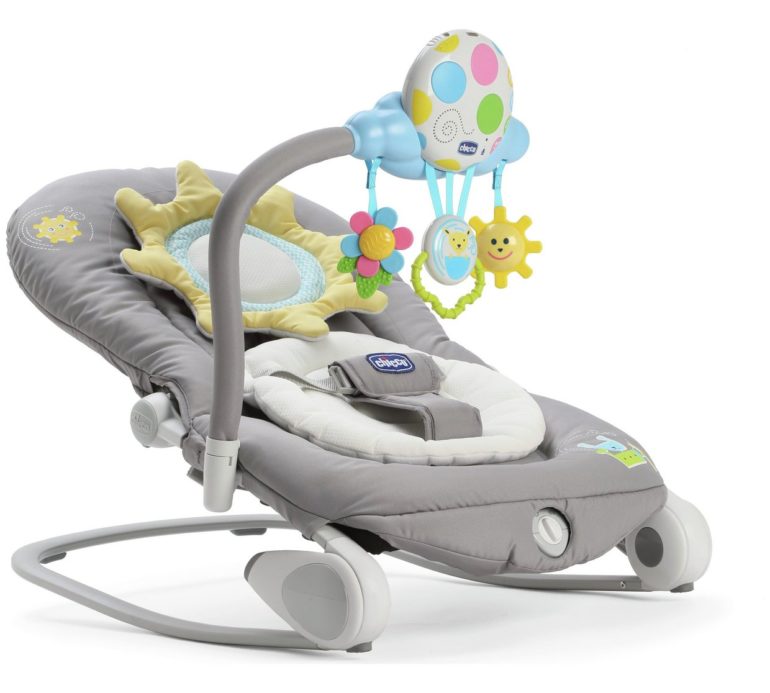 When your little one is feeling sleepy, the gentle seat vibration will help calm and relax them with a rocking motion great if your arms are weary or your busy attending to household chores! The body cushion can be removed if not needed and the lining can also be removed and washed. And when not needed, you can fold up the Chicco Balloon and store it away great to minimise the baby clutter.
Available in a choice of four colours: Light Blue, Spring, Lilla and Grey the Balloon Bouncer can be used in rocking mode when baby wants to play, or fixed mode which is ideal for feeding time.
Features and benefits of the Chicco Balloon Bouncer 
Suitable to a max. weight of 9kg
Soft removable full body booster cushion
Fixed and rocking mode
Includes removable toy bar with hanging toys
Removable toy panel with lights and sounds
Seat with gentle vibrations to soothe your baby
Headrest adjustable to 3 positions
Requires 3 x AA 1.5V – 1 x D 1.5 V batteries (Not included)