Mum Diary: iCandy's MiChair is a masterpiece of stylish functionality
By Katie Ann Wiseman
iCandy are innovators of the highest quality sustainable designs that will stand the test of time. They are global leaders in future-proof and stylish baby products. From their top of the range prams to their latest venture the MiChair

The MiChair is a masterpiece of stylish functionality, minimalistic and worthy of investing as it designed to grow with your family. Suitable from birth with the iCandy Newborn Pod cleverly redefines the traditional baby rocker and provides two lockable height positions; one for rest and one for play, all while complementing any minimalist space, making it perfect for the London home.

It cleverly has a detachable toy bar giving the option for parents to stimulate their baby with toys and the new-born pod is designed to dock onto the iCandy MiChair to bring baby to parent height whilst feeding and easily enable important interaction.

When it comes to weaning stage, the Newborn Pod is easily removed so baby can enjoy the comfort of the iCandy MiChair seat complete with waist strap, footrest and removable tray. It really is the highest quality on design and comfort for this important milestone. The back and seat and optional rocking chair skis are made of sustainably sourced Beech and Birch plywood whilst the iconic chrome frame is synonymous with iCandy's modern style.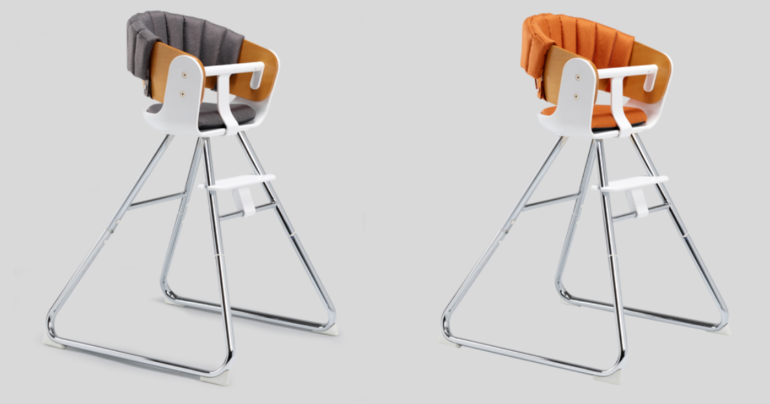 When your little one no longer requires a highchair, it is simply transformed into a sophisticated toddler chair or rocking chair that is suitable for up to the age of approximately six years. I love this element as it is great for play or downtime and enables your child to enjoy their own independence.

iCandy's decision to make the rocking skis, new-born pack and comfort pack optional purchases acknowledges the desire of parents to create their own bespoke MiChair with their choice of modular components. This enables you to purchase if and when required, ensuring the iCandy MiChair is as space efficient as it is functional. With child and iCandy MiChair alike growing and changing, the neutral colours of the Comfort Pack will continue to prove their sense of timeless style.

iCandy has recently introduced four new colourways to the iconic MiChair: Flint, Russet, Marine and Pearl. Carefully curated by the iCandy in-house design team, this selection of timeless shades is inspired by colour palettes dominating contemporary fashion runways. I love the neutral classic colours as not only are they gender neutral they complement modern interiors. The seatpads are easily removed and machine washable whilst you can wipe clean the back-rest pad. Those that have weaned will know what a messy process this can be!

iCandy MiChair is a beautiful piece of furniture that will become a key piece in a stylish home for many years to come. The epitome of effortless multifunctionality, the iCandy MiChair not only holds comfort, safety and ease of cleaning at its core for ultimate longevity but also boasts a sleek and modern design. With the freedom to choose their preferred colourway, parents can confidently maintain a contemporary and stylish home with the futureproof iCandy MiChair whilst raising the next generation.
Read more about the iCandy MiChair online at their main website