Luggage for an adventurer: The Rolling Transporter 120 by Osprey
Whether you're planning to hit the slopes for some spring skiing, want to venture further afield to discover some winter warmth or are thinking about an action-packed activity holiday, finding the best suitcase for packing long-haul essentials or sports equipment can be a mission in itself.
Your luggage is valuable from a monetary perspective and also a sentimental standpoint. Precious items need to be carried safely and you also need a spacious suitcase when spending time away from home.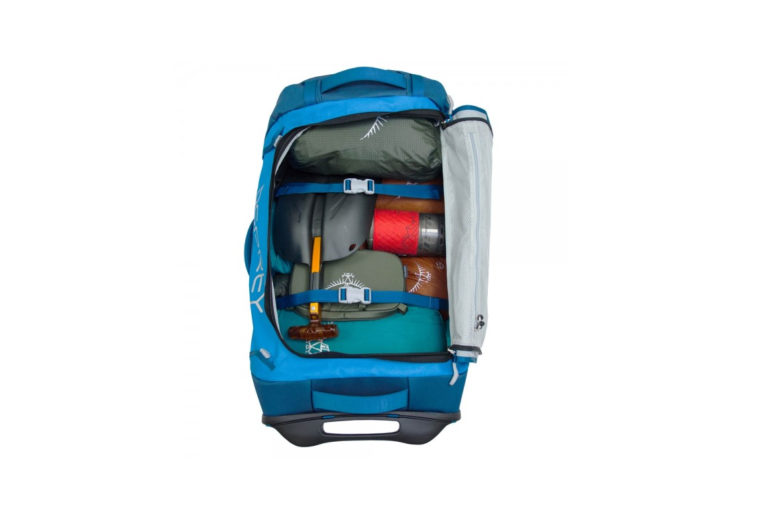 We first came across Osprey when searching for the ultimate child-carrier. The brand certainly impresses in this area and meets all the needs of adventure-seeking parents. However, this company provides many other top quality products for all ages. Osprey offers a wide selection of bags for those who have been bitten by the travel bug.
The Rolling Transporter 120 is a masterpiece. It draws on inspiration from the traditional duffel bag but offers much, much more. The bag is roomy but it also has features such as an external end pocket and a compression strap system to help you organise your packing.
---
Durable and portable
---
Most importantly, it is ultra-durable and the all-terrain wheels make it very portable. In fact, the mobility of suitcases is often something that is not considered thoroughly enough. There is nothing more frustrating than having your journey delayed due to an annoying bag that doesn't wheel around properly.
If you are speeding through an airport, hot-footing it along cobbled streets or venturing up a snowy track, the wheels on the Osprey Rolling Transporter cope well. They can take on all types of terrain and you can trust this bag to carry your essential items with ease and at a quick pace.
This bag is particularly well-suited to a winter sports or water sports trip because the Rolling Transporter has been designed to cope with challenging weather. The outer material is weather resistant, and it will survive even the most extreme climate.
---
Lightweight
---
That said, we would also recommend it for a general family holiday. Despite its large size, the bag is relatively light, and this means that you don't have to worry about any extra heaviness adding to your load. This is helpful at the check in desk and also when you are transporting your luggage.
The bag is available in two colours. The Kingfisher Blue shade is really striking and we love it. However, if you prefer to make less of a statement with the colour, this bag has also been designed in plain black.
Overall, this is a stylish, functional, high-performance product that will meet all of your needs for an adventurous getaway.
The Rolling Transporter 120 by Osprey is available for £240. You can read more at https://www.ospreyeurope.com/gb_en/