Roland Mouret declares his love on The May Fair Hotel's windows
As Official Hotel of London Fashion Week, The May Fair Hotel continues its series of window collaborations by partnering with esteemed designer, Roland Mouret this month.
Marking his return to London Fashion Week and celebrating his 20th anniversary as a designer, Roland Mouret's window design, 'The Look of Love' is his declaration of love to the city where his career began. It will be on display at The May Fair Hotel until the 27th February 2017.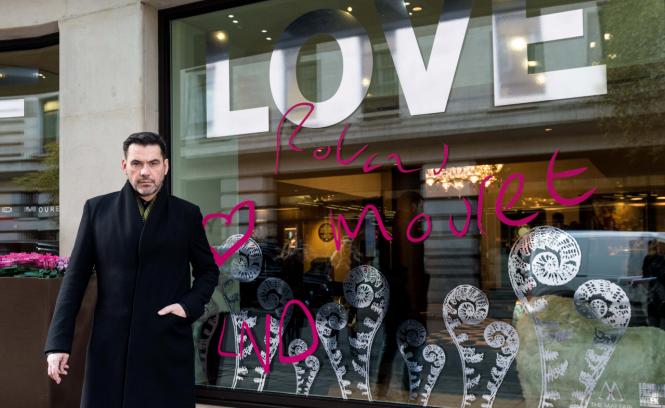 Having shown in Paris for the past 10 years, the brand returns to London in February 2017 to showcase its Autumn/Winter 2017 collection in the fashion capital, where it all began. The show will highlight the beginning of a year-long celebration and Mouret's incredible journey over the last two decades. Launching the London Fashion Week celebrations at The May Fair Hotel, the design 'The Look of Love' encapsulates the theme of Roland Mouret's upcoming London showcase on the 19th February.
Roland Mouret said "I love that London is my creative home and over half my manufacturing base is in Britain – I wouldn't be able to do what I do anywhere else other than London. London is my home, it's where my brand has its heart and I'm excited to celebrate such an important milestone here. There is no better place to start the celebrations than at The May Fair Hotel, Official Hotel of London Fashion Week and an iconic establishment with fashion at its core."