Raise A Glass: Far Reaches gin is bursting with botanicals
As we know from our recent guide to BBQ season, summer is just around the corner and it is time to make the most of alfresco dining and seasonal tipples. Gin and tonic has to be one of the most celebrated drinks in Britain and gin has seen a surge in popularity during recent years. There are so many different types of gin to try and the tasting notes vary hugely. It is great fun exploring styles and finding one that suits your taste buds.
The latest gin to hit the market is called Far Reaches and this new London Dry Gin is delicious. It is hand-produced in our capital city and uses 13 exotic botanicals sourced from around the world. Bottled at a cocktail-strength 41.3% ABV, Far Reaches Gin is a twist on the classic London Dry Gin, with a forward citrus and floral taste profile. It is fresh and zingy, with fruity undertones. There are five key botanicals, which are central to the Far Reaches recipe. These are kumquat from Asia, juniper from Europe, quandong from Australia, sarsaparilla from the Americas and grains of paradise from Africa.
Here at The Sloaney, we like this gin best when served in the classic and simple way, with a generous splash of tonic and a freshly cut lemon. However, for those of you who like to start the weekend with a cocktail treat, Far Reaches has created its own take on Salvatore Calabrese's classic cocktail:
Far Reaches Breakfast Martini
Ingredients
– 15ml Homemade quandong, juniper and kumquat marmalade
(alternatively store-bought kumquat or juniper marmalade)
– 50ml Far Reaches Dry Gin
– 15ml Dry Vermouth
– 25ml Cointreau
– A large handful of ice
Method
Place one tablespoon of the marmalade into a stirring glass. Add the Far Reaches Dry Gin, Vermouth, Cointreau and ice. Stir for 30 seconds. Strain and pour into a Martini glass, and garnish with a few slices of kumquat and a sprig of rosemary. Serve immediately.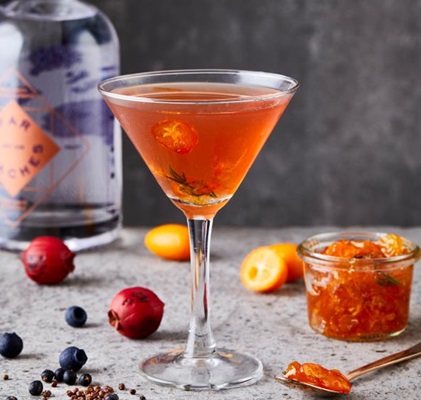 Far Reaches Gin is RRP £38.00 from Master of Malt and independent retailers including Vineking stores throughout Surrey, and in London: Handford Wines (South Kensington) and Philglas and Swiggot (Battersea). In addition, Far Reaches is available from a number of premium bars and restaurants throughout London and Surrey.
---
Recommended Reads:
Our essential guide to BBQ season
Royal Ascot, Henley, Goodwood? Plan your summer with the help of Sloaney Season