Petrossian London: South Kensington welcomes the coolest Caviar café
With the cosy Autumn days setting in, where better to while away the afternoon sipping on Champagne and enjoying some seriously delicious caviar delights, than in Petrossian's beautiful gourmet café in South Kensington.

The intimate café has just 16 covers, and serves an exquisite array of hot dishes from 11.30am-3pm, with cold dishes and deli plates until 7pm, accompanied by a range of fine wines, champagne and vodka. A carefully curated menu of Petrossian delicacies and cult recipes includes an Organic Soft Boiled Egg served with Ossetra caviar, Oven Baked Potato with Caviar, a selection of Petrossian's famous Taramas, Truffle Tartine, a wide range of Smoked Salmon and the famous Petrossian Croque, served with caviar, truffle or pata negra.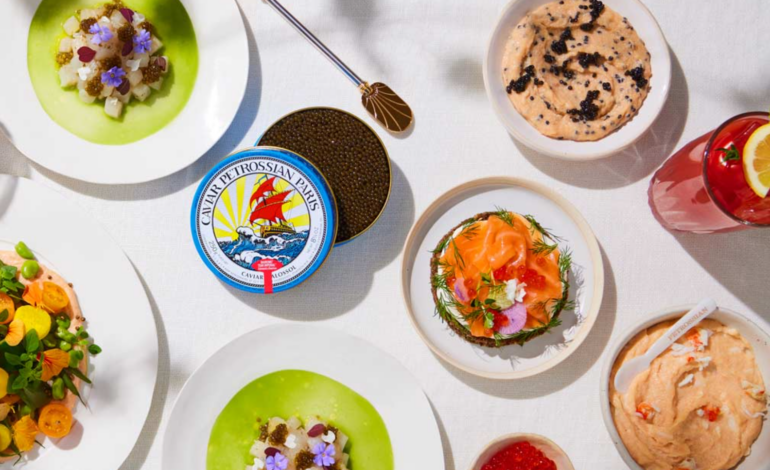 This is the first permanent UK location of the beloved Parisian institution, while its aesthetic echoes the beautiful teal-blue exterior of the original Paris boutique. The stunning SW3 boutique, deli and gourmet café showcases Petrossian's century-old spirit of sophistication and savoir-faire to the full. Knowledgeable staff are on hand to offer advice and expertise to  customers to help them discover, understand and choose their caviar, smoked salmon and other fine delicacies.

Petrossian's deli counter offers the chance to sample products, with smoked salmon sliced in front of the customer and tarama made on site. Founded in Paris in 1920 by brothers Melkoum and Mouchegh Petrossian, the company is still fully family-owned today. Petrossian's boutiques and restaurants have spread from the historic first location on Boulevard de Latour-Maubourg in Paris to New York, Brussels, Las Vegas and West Hollywood. 
Petrossian London: 6 Fulham Rd, South Kensington, London SW3 6HG. Serving hot brunch/lunch dishes 11.30am-3pm. Cold plates and nibbles 11.30am-7pm. Discover more online: Caviar and Smoked Salmon – Excellence since 1920 | Petrossian UK