New menu by two-Michelin starred chef Édouard Loubet at Le M de Megève
This winter, 5-star hotel Le M de Megève is teaming up with two-Michelin starred Chef, Édouard Loubet, who has composed the food menus for Le M's restaurant and bar. The menus will be available from December 18th onwards, when the hotel re-opens its doors for the ski season.
The hotel's new Executive Chef – who originally hails from the Savoie region – has held two stars in the internationally renowned Michelin guide for the past 20 years, has earned a grade of 19.5/20 on the French restaurant guide Gault et Millau and has even been honoured "Grand Chef" by Relais & Château.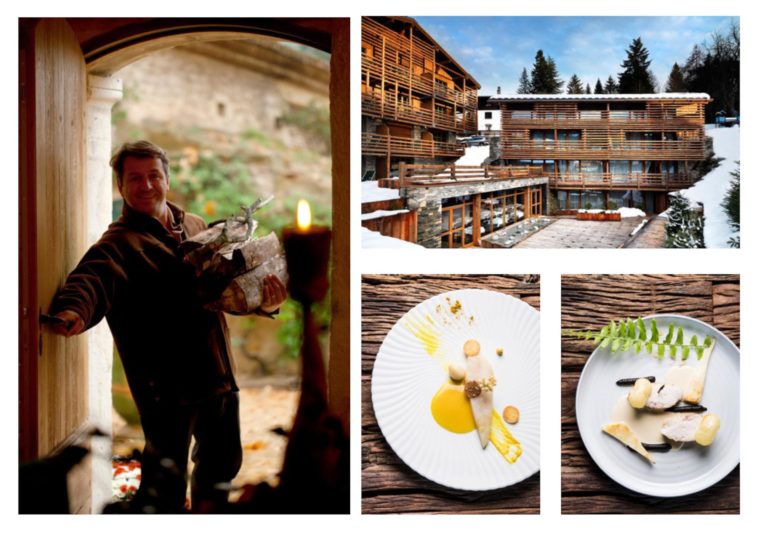 After gaining his first experience at the Fitz Roy hotel, he pursued his passion for cooking abroad at the Ritz Carlton in Chicago and at Château Frontenac in Quebec. Back in France, he joined the teams of some of the country's most renowned Chefs, including Alain Chapel, Pierre Orsi, Philippe Chavent and last but not least Marc Veyrat in Annecy. He then took over Le Moulin de Lourmarin, where he received his very first star in 1995 and his second in 1999. At only 25 years of age, he became the youngest Michelin starred Chef. He was also awarded Chef of the year in 2011 by the guide Gault et Millau. Édouard Loubet now oversees his restaurant Domaine de Capelongue in Bonnieux, in the Vaucluse region.
At the M de Megève, Édouard Loubet's take on the new menu is natural and refined. He likes to cook with produce, which comes directly from nature, and enjoys using herbs, buds, roots, flowers and wild salads in his dishes. His cuisine is very alpine and plant-focused and yet always retains a hint of Provence, as a tribute to his Summer restaurant.
His philosophy: the freedom to create authentic flavours, as nature is his source of inspiration and energy. "My goal is to recognise the taste of authenticity in each dish; to relive my childhood's memories and dreams. I have to preserve that taste before everything else: our challenge is to stay true to nature, to cook genuinely and tastefully."
Among his creations, guests at the M de Megève's restaurant will be able to order the turnip and apple salad with wild herbs; the spit-roasted chicken served with buckwheat pasta "Crozets de Savoie" and artichoke thistle gratin; a trout and potato millefeuille with satureja herb and finally, an Île flottante with Saint Genix pralines.
In the light foods menu, which will be available at the hotel's bar, he uses the same alpine and plant inspirations but with a focus on well-being, which can be seen through his quinoa and avocado dish served with a beetroot and bay leaf coulis, or the vitelotruffo and baby gem lettuce with cider vinegar.