Breakfast at Tom's Kitchen
They say breakfast is the most important meal of the day. Personally, I am more of a brunch type of girl and love a savoury start to my day but I was recently invited to experience the brand new breakfast menu available from Tom's Kitchen at the Chelsea and Canary Wharf sites. I was very impressed.
Tom's Kitchen is a unique collection of restaurants, delis and bars, founded by the award-winning chef Tom Aikens. They are located across Central London and also have restaurants in Birmingham and Istanbul.
Tom's Kitchen is renowned for serving contemporary British dishes and comfort food classics, using the finest seasonal ingredients, with an emphasis on where food comes from and how it is grown.
I visited the Chelsea branch, located a stone's throw away from the Kings Road and South Kensington in a beautiful former townhouse.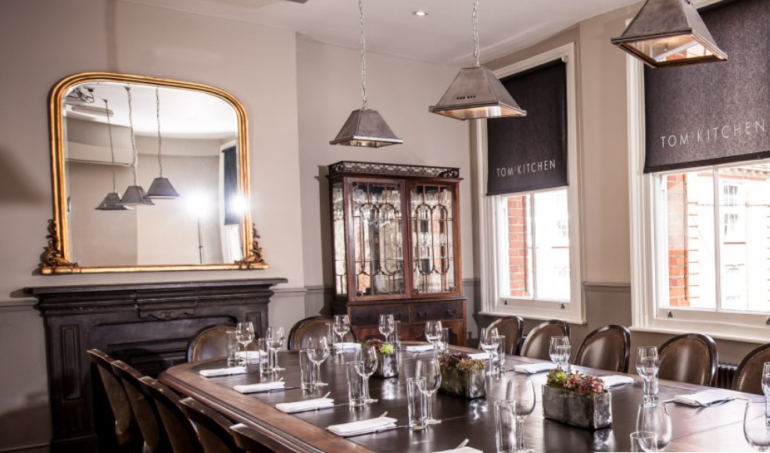 Some of the new additions available here include Baked Turkish eggs with sumac yoghurt, Sweetcorn fritters topped with grilled avocado and a side of chilli scrambled egg and Tom's trio of breakfast bruschettas (Smoked Salmon, Crushed Avocado and Peas and Burrata). We opted for the fritters and bruschetta, which were delicious. I particularly liked the pea and burrata bruschetta and this is a combination that I haven't experienced before but definitely one I intend to try at home.
Alongside the new additions at Tom's Kitchen, favourites including Truffle Eggs Benedict, Full English Breakfast and sausage or bacon sandwiches are also available. For those on the lookout for lighter options, a new Chia seed and acai super fruit bowl has been added to dishes such as Fruity Breakfast Granola, Freshly Chopped Seasonal Fruit, Porridge and a Warm Wholemeal Breakfast Scone.
This is the perfect location for all occasions and it is suitable for seeing friends or having an important business meeting. I will definitely be returning.
The new breakfast menu is served Monday to Friday 8am to 11.30am. More information is available from www.tomskitchen.co.uk