Brand-new prohibition style bar to bring some glamour to South Kensington
Award-winning barman and bar owner Steve Pineau has once again teamed up with long-time collaborator, Master Sommelier Xavier Rousset to open prohibition bar, Nocturne, on 18th June. Located underneath their wine and cheese bar, Old Brompton in South Kensington, Nocturne will build upon the timeless elegance and glamour of the 1920s, whilst offering a new layer of sophistication and depth.
The 70-cover, atmospheric and stylish Nocturne is a real hidden gem and a destination in its own right. Its interconnected rooms feel private yet luxurious and cosy. Designed by the owners themselves, the dimly lit bar features antique mirrors, cocktail cabinets, a beautiful drinks trolley and charmingly mismatched-yet-perfectly-coordinated furniture. In the main room, a beautiful piano takes centre stage and will allow for special open-piano evenings where guests and all hobbyist pianists will be welcome to perform or just watch and get inspired. The intimate feel of the room is further emphasised by the beautifully restored original bread ovens which are recessed into the walls and resemble little fireplaces. A bookable blackjack and poker room as well as a private dining room complete the space making it the perfect late-night venue.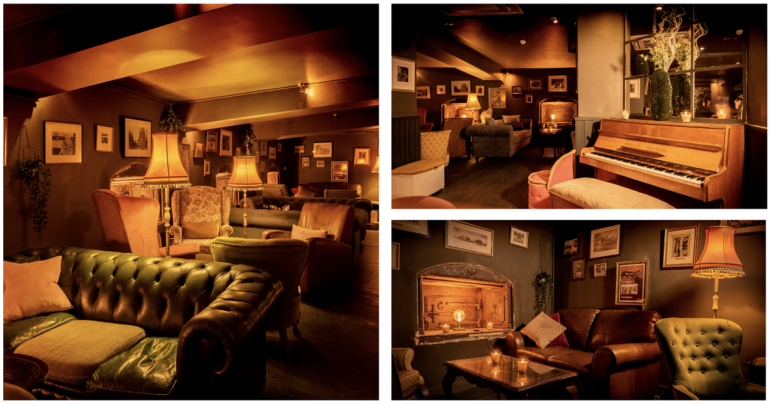 In a nod to the hidden drinking dens of the prohibition era, Steve Pineau has created a cocktail list which reflects the neat, no-gimmicks ethos of the drinks served at that time. The menu is split into Vintage, Pre-prohibition and Prohibition cocktails and will be expertly executed by Head Bartender Luca Gilmozzi, one of Steve's protégés. Named after popular cities in UK, the menu features creative serves such as the Isle of Man 1860s (Aperol, Amaro blend, Cinzano Bianco, Tomato juice, Celery Bitters, Peach Bitters) from the Vintage section; the signature Nocturne 1900s (Japanese dry gin, dry sake, Earl Grey liquor, Lavender syrup, Grapefruit juice, Plum bitters, sage bitters) from the Pre-prohibition section; and Cambridge 1925s (Mezcal, Tequila, Lime juice, Orange tea cordial, Rose syrup, Watermelon Electric Bitters) from the Prohibition section. For the most committed connoisseurs, Nocturne will also offer a selection of rare spirits from the first and only person to hold the excruciatingly challenging Master of Wine qualification simultaneously with the Master Sommelier and MBA Wine Business accolades, Gerard Basset's personal collection.
As for the wine, Master Sommelier Xavier Rousset has devised a list of championing winemakers from France and Italy, whilst making sure all wines are affordable and served by the glass. There is also a fantastic selection of Champagnes, from growers such as Larmandier-Bernier, Grande Marque and Dom Perignon. Complementing the exquisite drinks list is a selection of 70 different artisanal cheeses and charcuterie, supplied by the Great British Charcuterie Company.
---

Nocturne
158 Old Brompton Road
London
SW5 0BA
Opening times:
Monday – Tuesday – closed
Wednesday – Saturday – 5pm – 3am
Website: www.nocturnebar.co.uk
Instagram: @nocturne_bar