Plan some festive fun at London Steakhouse Co.
If you are making plans for the festive season, the London Steakhouse Co. is launching two 3-course menus that will be perfect for the Christmas celebrations. The London Steakhouse Co. operates two restaurants and there is one in the City of London and one in Chelsea.
We recently visited the Chelsea branch and this sophisticated but cosy setting lends itself well to a get together with friends. It is also perfectly positioned to admire the Christmas lights on the King's Road and very close to Bluebird, should you want to enjoy a spot of shopping and a glass of mulled wine before your visit.
The Christmas menus will be available from the 28th of November until the 24th of December and are priced £35 and £55. The restaurant also has two drinks packages for £15 and £25 to help guests stay within budget so nobody's wallet gets too carried away with the festivities!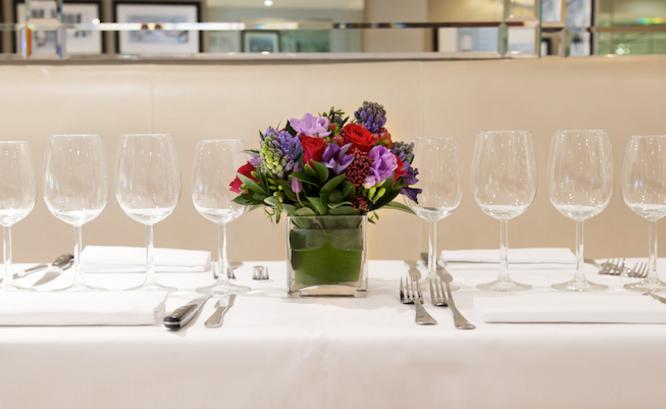 Both menus offer a wide selection of starters, mains and desserts including meat, fish and vegetarian options. The Christmas produce has been sourced from prestigious suppliers with steaks from Aubrey Allen, turkey from Holly Farm, and venison from Balmoral & Highland Estates.
The £35 menu includes dishes such as: Ham hock terrine with toasted ciabatta and celeriac remoulade; Scottish smoked salmon plate with blinis and crème fraîche; Traditional turkey breast with all the trimmings; and Plum pudding with brandy custard.
The more indulgent £55 menu selection offers Carpaccio of beef on a rocket and parmesan salad; Turkey breast with chestnut stuffing, braised red cabbage and all trimmings; Haunch of venison with butternut squash, wilted spinach and gratin dauphinoise; and Raspberry and mascarpone crème brulée.
Vegetarian options include Cream of celeriac soup with roasted garlic; and Mushroom and black truffle pearl barley risotto.
The £15 drinks package includes Prosecco on arrival, plus half a bottle of either the Cuvee Mountauliers or the Vermentino Vielle Vignes per person. The premium option, priced at £25, includes Champagne on arrival, half a bottle of either the Argentinean Malbec or the South African Chenin Blanc, and a bottle of still or sparkling water.
Find out more by visiting www.londonsteakhousecompany.com