Dublin Special: A magical hen weekend in Dublin
If you're looking for fun, frolics and an extra special atmosphere, Dublin is the place to visit for brides-to-be and their best friends...
Our bride-to-be Katie Ann Lamb will walk down the aisle in Cape Town in just a few weeks time and to mark her final days as a single lady, The Sloaney team swapped sun for fun and embarked on a luxury hen weekend in Dublin.
Arranging a hen party in February can be a bit of a challenge when the weather remains so unpredictable. However, we came up with a plan for an ideal send-off and boarded a plane to the home of the craic, the Emerald Isle.
Ireland boasts some of the most beautiful rural scenery in Europe and the capital city is buzzing with friendly welcoming people, who have a special twinkle in their eye and add an extra sense of magic to the adventures. Sport and the bloodstock industry are both huge in this part of the world and so we ensured that our visit coincided with one of the most famous winter season races, namely the Irish Gold Cup. Plus, our bride-to-be is an avid fan of horses and racing, which meant this would be a real highlight of our trip.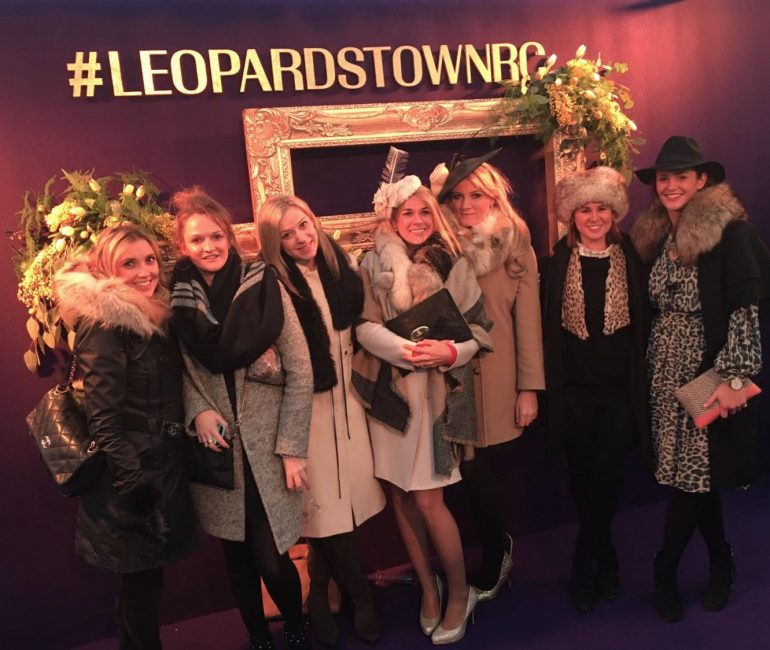 After jetting into Dublin airport we jumped straight into a hire car and ventured towards the south of the city to a quirky and chic cocktail bar called The Leopardstown Inn. Located only a few moments from the racecourse, The Lepp (as it is known to locals), is a fantastic place to enjoy lunch and some drinks.
The venue is situated in one of Dublin's plushest suburbs and the décor within the bar is stunning. They welcome guests from far and wide, with a particular emphasis on supporting the key sporting fixtures. They also work closely with Leopardstown Racecourse to provide a local hotspot during the racing season and this is the place to be seen.
Although we arrived a day before the big race, The Lepp was still packed with people eagerly cheering on Ireland in the 6 Nations and it was also gearing up to welcome racegoers for a Bloody Mary the next morning.
The Lepp is a great place to visit with a group of friends for a special occasion because it is a lavish but casual setting. The food is excellent and we enjoyed some huge platters to share, as well as cocktails, wine and some Baby Guinness. This was the perfect start to a weekend away.
Following our lunchtime session at The Lepp, we checked in at the Royal Marine Hotel. This luxury hotel has a stunning location and overlooks the sea and Dublin Bay in the pretty village of Dun Laoghaire. The Royal Marine Hotel is one of the most prestigious hotels in South Dublin. It boasts a number of enormous, traditional Junior Suites among its selection of rooms and these are ideal when visiting with friends for a hen weekend because some have interconnecting doors.
The Royal Marine Hotel also has a spa, which includes a steam room, sauna, Jacuzzi and softly lit swimming pool. There is nothing quite like a few hours in a luxury hotel spa to prepare you for an evening out and it is also possible to book treatments too.
After indulging in some rest and relaxation we enjoyed a champagne toast in one of the Junior Suites before venturing into Dublin for a night of fun.
We made our way into House Dublin on Leeson Street just as the rain arrived and, thankfully, this impressive venue caters for entertainment throughout the night. Walking into House is a little bit like falling into the rabbit hole in Alice in Wonderland. This stylish venue goes on forever! It has a number of different sections and even includes a nightclub, which is open until the small hours.
House is a favourite among the Irish celebrity crowd and we enjoyed dinner at a table next to television presenter Brian Dowling, who was joined by fashion model and successful blogger Pippa O'Connor-Ormand, who is the sister of Olympic Gold Medallist Cian O'Connor. She was joined by her husband Brian, who is also a TV presenter.
The menu features a vast selection of delicious tapas dishes, which are perfect for sharing with friends. There is also an extensive cocktail list and a huge selection of wine available to order. Every corner of House Dublin was packed by about 11pm and so we ventured downstairs for a change of scenery and to a table in the nightclub. The music was fantastic and everyone had an absolute blast dancing the night away. This really is the ultimate venue for a fun-filled night and it stays open very late.
Some of our suites faced the sea, which meant that hangovers on Sunday morning were softened thanks to waking up to the gentle sound of waves. Sore heads were brightened up with the addition of hats and fascinators for the Irish Gold Cup and we drove the short distance to the racecourse for the big event.
The hospitality at the racecourse overlooks both the finishing posts and the parade ring, which means that you can enjoy the action on the track from the warmth of your own VIP table. A three course lunch was served with champagne as we awaited the first race. However, what perhaps became even more of a highlight than the competition on the track was the fight to be crowned Powerscourt Best Dressed Lady.
Needless to say, we were thrilled when our very own Tid made the shortlist of five ladies, who had been selected from hundreds of entries. Wearing Somerset by Temperley and accessorising her outfit with a fur trim and trilby hat, Tid channelled the classic Cheltenham look. She was interviewed on stage by TV personality, Nadia Forde, and walked away with the runner up prize, which was a two night stay in the beautiful Powerscourt Hotel (we think she should have won but we were so proud of her nonetheless!).
As the horses galloped over the finishing line for the last race we headed back towards the car for the quick drive to Dublin Airport.
It was a whirlwind weekend away, packed with plenty of fun and frolics, as well as magical memories to last a lifetime. Our bride-to-be couldn't stop smiling throughout and the atmosphere was incredible everywhere we went. This is definitely a hen destination for those looking to enjoy an action-packed luxury weekend away, with some extra sparkle courtesy of the Irish charm – which is second to none!
Booking Details: There are numerous flights to Dublin from most UK airports and you can fly with Ryanair, British Airways or AerLingus. You can book a table at The Leopardstown Inn by calling +353 (0) 1 288 9189 / +353 (0) 87 285 4773.  House Dublin is located at 27 Lower Leeson Street, Dublin, Ireland. Book by calling +353 (0) 1 905 9090 or emailing welcome@housedublin.ie. Find out more about Leopardstown Racecourse online at www.leopardstown.com. Stay at the Royal Marine Hotel by calling + 353 1 2300030 or visiting www.royalmarine.ie.