The Spa at South Lodge is the ultimate destination for rest and relaxation
For a spectacular spa break in the UK, you should look no further than The Spa at South Lodge. Over the years, The Sloaney travel team has visited many incredible spas around the world and it is fair to say that The Spa at South Lodge is one of the very best.
The facilities are outstanding and this destination is particularly notable within the UK. The spa is a product of a multimillion-pound investment project and it is ideal for a luxurious escape. The building is substantial in size and the 44,000 sq. ft. luxury spa includes the very best facilities. It is situated in a separate building to the hotel, but just a few steps away from the luxury 5* accommodation.
Perhaps the most impressive attribute at the South Lodge spa is the wild swimming pool. Due to its location in the South East of England, South Lodge benefits from warm summer days and the wild swimming pool is particularly appealing during a heatwave. That said, dedicated wild swimmers will no doubt enjoy this refreshing facility throughout the year.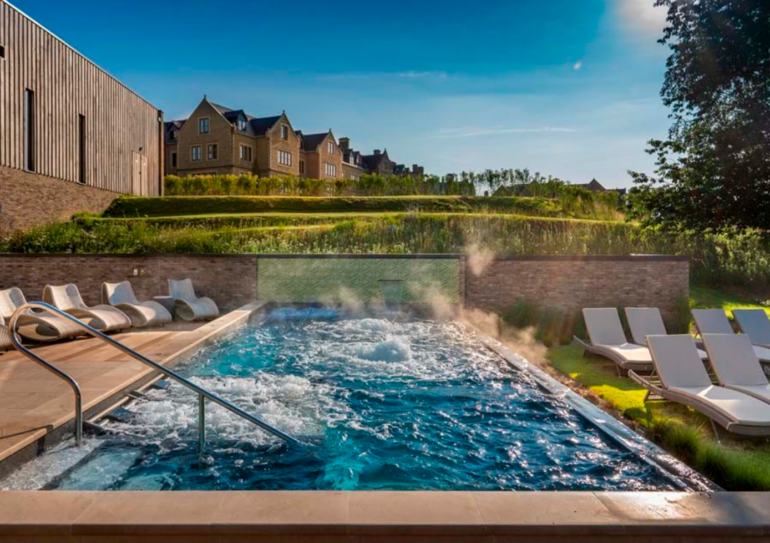 The outdoor bar serves refreshments to those who are sunbathing on the many loungers that are well positioned across the decking area. There is also an excellent outdoor hydrotherapy pool (pictured) that is very spacious and overlooks the rolling hills.
In addition to an extensive spa treatment menu, guests can make the most of the thermal suite during their stay. The indoor pool is enormous and it easily accommodates the hour and half that is allocated for 'splash time', which is a session that allows families to have some swimming time. The infinity design means that there are breathtaking views at one end of the pool.
Botanica is the Mediterranean inspired restaurant that is within the South Lodge spa building and serves healthy snacks and meals. There is also a sun terrace on top of the building for those wanting to enjoy sundowners.  
The Spa at South Lodge is an excellent place to visit for a spa day. Equally, for those wanting to visit for longer, an extended break in the hotel enables you to have even more R&R time.
Discover more: Spa Days West Sussex | The Spa at South Lodge Hotel (exclusive.co.uk)