The Sofitel Frankfurt Opera provides a luxurious base in the heart of Frankfurt
Frankfurt is famous for being the financial capital of the EU. Whether you find yourself visiting for business reasons, or simply want to explore this destination for a city break, Frankfurt is a vibrant and welcoming place that has plenty to offer the inquisitive traveller.
The city is well-known for having an eclectic mix of restaurants and bars, as well as a historic old town and premium shopping. For those seeking a luxurious base during their stay, the Sofitel Frankfurt Opera is a high-end hotel that boasts stylish décor and excellent service.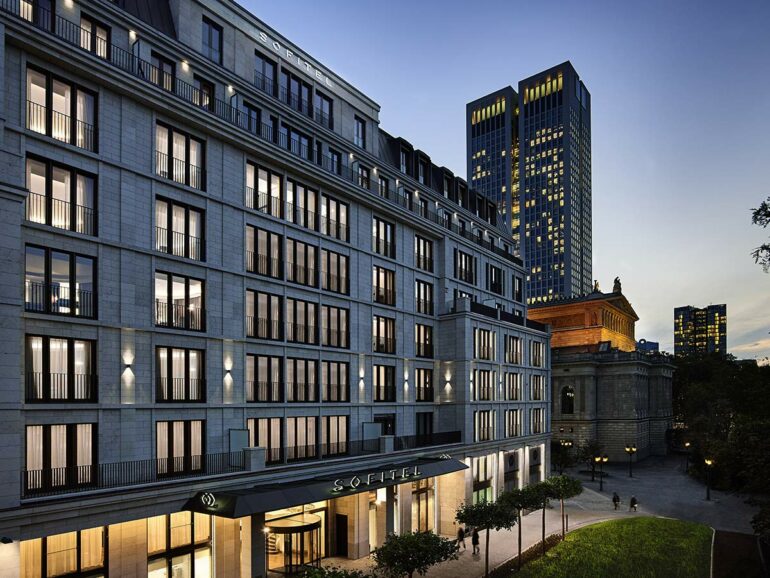 During our visit to Frankfurt, The Sloaney Travel Team travelled with two young children (ages two and five) from our Little Sloaney Team. While the Sofitel Frankfurt Opera is accustomed to welcoming well heeled business guests and society figures, it also provides outstanding hospitality for those travelling as part of a family group.
On arrival the staff were very friendly and personable and engaged with the little travellers who were tired following their flight. Each child received a colouring book that was appropriate for their age and they were delighted with the gift. This quickly calmed any travelling nerves from the youngsters and it provided an excellent distraction for the children as The Sloaney Travel Team progressed through the usual check-in process.
Sofitel is a superb brand that operates in many locations around the world. Although it is a global brand, each Sofitel property is distinct and has its own identity. This is helped by the fact that each property uses inspiration from local culture and tradition, alongside the core design.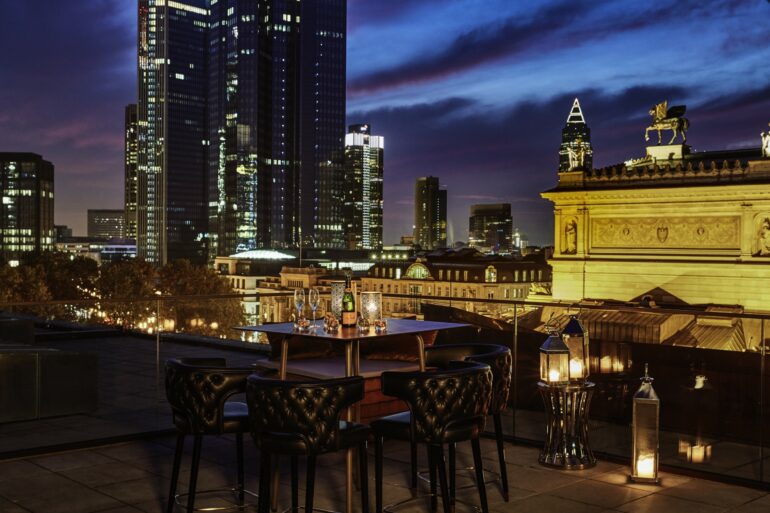 The Sofitel Frankfurt Opera has an excellent location. If you are transiting through Frankfurt, then it is within easy reach of the airport (between 20 and 30 minutes by taxi) and allows you to spend some time in the heart of the city prior to catching a flight the next day.
The Alte Oper is the impressive 19th century concert hall that is synonymous with this part of town and you can easily admire the opera house because it is only a few steps from the hotel. The hotel is situated at Opernplatz and overlooks a peaceful park. The park is excellent for young children wanting to stretch their legs and have a run around. This freedom and space for young travellers is much appreciated within a city setting.
Just around the corner from the Sofitel Frankfurt Opera is one of the main shopping areas, which hosts many boutique shops and al fresco coffee areas on a long street. Even during the winter months, the al fresco coffee hideaways are popular, with outdoor heated areas aplenty. The children really enjoyed sipping on a hot chocolates during a cold wintery day.
There are countless designer stores right on the doorstep and one that is definitely worth visiting is the Canada Goose store. This has its own 'cold room' so that you can fully test the products in freezing temperatures and with a fantastic snowscape!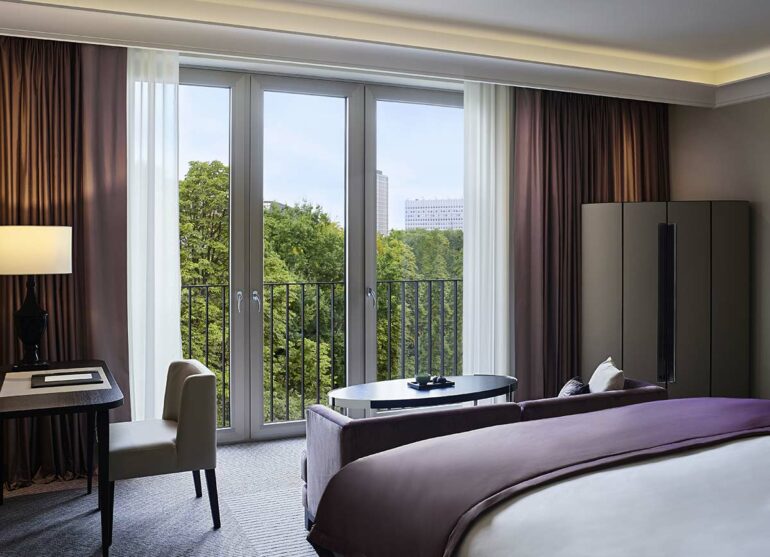 Back at the Sofitel Frankfurt Opera you can relax in the spacious rooms. Two neighbouring luxury rooms are perfect for a family group and this option will provide you with plenty of space if you are travelling with a nanny or a grandparent. It will also afford the parents some privacy, should they chose for their children to stay in the neighbouring room with granny or a travelling nanny.
The luxury rooms are extremely comfortable. They measure 45 m² and include the exclusive Sofitel MyBed™ (which is wonderful) and a bathroom that has either a rain shower or bathtub. An Illy espresso machine is on hand to make that first morning coffee before heading down for breakfast.
The breakfast is an impressive selection of diverse cuisine. Local traditions can be enjoyed, alongside pastries and cooked food too. The breakfast room is impressive in its design and this goes for all of the rooms at the Sofitel Frankfurt Opera. In fact, the interior design of this hotel is one of the best that we have seen among the many five star properties that we have visited for our travel pages. It is opulent, contemporary and sophisticated throughout, with numerous notable furnishings and sculptures.
Lili's Bar has gentle lighting with a lovely fireplace. This is ideal for a coffee meeting or an early evening drink. German beer is served alongside an extensive cocktail list, as well as bar snacks. In Restaurant Schönemann you can enjoy German cuisine with a French accent and the best regional products. If you want to explore a restaurant outside of the hotel, Miller & Carter has an excellent steakhouse that is just around the corner. The booths cater well for large families and the quality of streak is outstanding, with a good wine list available too.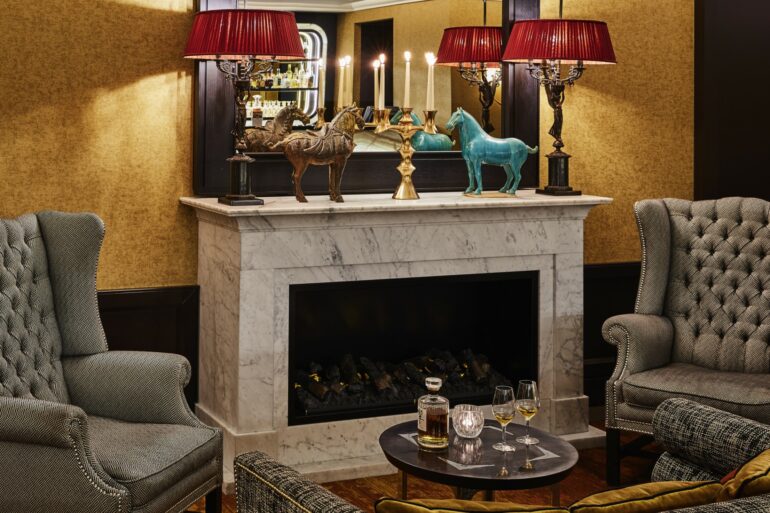 If you have time for some extra rest and relaxation, there is also a spa at the Sofitel Frankfurt Opera. Here you can take some time away from the demands of work or family life and make the most of the wellness offering. You can discover a state of deep relaxation in the Sofitel SPA at Sofitel Frankfurt Opera and there are lots of treatments available. The spa takes inspiration from other cultures to offer a variety of different massage techniques. Meanwhile, the luxurious beauty products from France further refine the experience.
Whether you want to try a city break in Frankfurt or are transiting through for business or other travel needs, the Sofitel Frankfurt Opera is a refined property that perfectly caters for the needs of all ages. It is an excellent base from which to explore this sophisticated city.
---
The Little Sloaney Verdict
Following the launch of our Little Sloaney editorial section, we now cover many luxury experiences with children in mind. Our Little Sloaney team were on hand to give their thoughts about the Sofitel Frankfurt Opera, with the parents thoroughly recommending this hotel for those seeking family-friendly luxury. Helpful staff, a welcoming atmosphere, the location and spacious rooms allow the property to accommodate all ages very well.
In their own words…
"The hotel room was really big and my bed was very comfortable. I liked being able to run around in the park outside. I also really liked the choice of food at breakfast. It wasn't very far to walk to the coffee shop so that I could have a nice hot chocolate and I really enjoyed ordering this in German." – Rose, aged 5
"This is best colouring book that I have ever been given. I was able to copy the pictures from the pages next to the colouring part and I liked doing it a lot. I also liked the park and having a run around. The water was frozen outside because it was very cold when we visited. The people at the hotel smiled a lot." – Michael, aged 2
---
Booking Information
The Sofitel Frankfurt Opera is located at Opernplatz 16 60313 Frankfurt Am Main Discover more and book online at https://www.sofitel-frankfurt.com/ or by calling 0049 69 2566950
---

Words: Laura Toogood
Image Sourcing: Sarah Bacon
Additional reporting: Gilles