The Gennadi Grand Resort: A luxury, eco-friendly summer retreat in Rhodes
Finding a hotel that offers the perfect balance between luxury relaxation and a family-friendly atmosphere isn't the easiest task. I was pleased to discover the Gennadi Grand Resort in Rhodes, which is a property that has managed to get it right and it is an appealing destination for all.
I personally love Greece. Although it is one of the European countires with the longest travel time from the UK (approximately four hours by plane), the weather, people and food are all delightful! The Gennadi Grand Resort is located on the southeastern coast of the island of Rhodes. It is positioned halfway between the famous, traditional Lindos Village and the southern tip of the island, Prasonissi. It's about a one hour drive from the airport. Although a long weekend is feasible, for those travelling with children I would recommend at least a week-long stay.

The Resort is very modern and eco-friendly and offers a tranquil holiday experience even with little ones in tow! With a choice of three outdoor swimming pools, a pool for children and the Gennadi Beach, this spacious resort is surrounded by glistening aqua sea and the most beautiful wild flowers.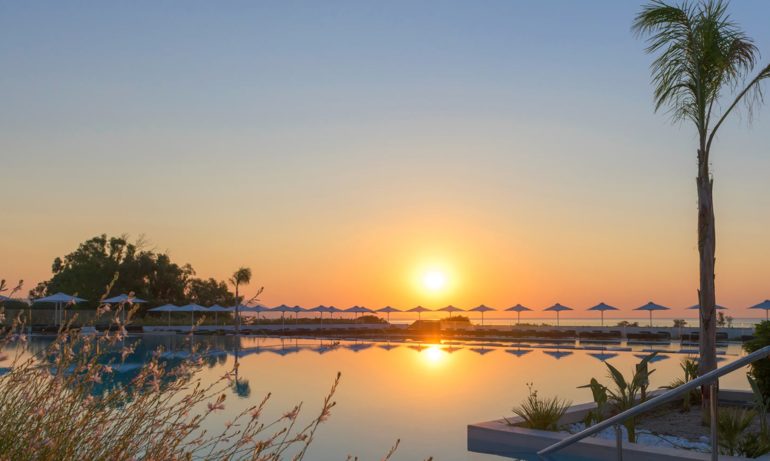 The accommodation focuses on comfort and the resort ensures guests have a holistic experience, which begins and ends with perfect facilities and services.
There are 288 rooms in total across the four categories. All of the rooms have a balcony or terrace, as well as a garden or sea view. Over half of the rooms at the resort have private or sharing pools. The rooms are spacious and open plan. The decor is minimalistic, with an emphasis on natural light through a simple colour scheme of pale white, grey, charcoal and beige. The rooms have all the standard amenities that you would expect. Meanwhile, the bathrooms have a large and powerful shower, but no bath. However, if you are travelling with a baby the housekeeping team can supply a baby bath.
For the ultimate luxurious experience, we recommend a suite with the swimup pool and, if you are a family, the double suite offers ample space. I was lucky enough to experience the double suite travelling with my baby and mother and this couldn't have been a more perfect arrangement. The partition doors offer privacy when required, but these open to provide two living areas. The large terrace, with four sun beds, provides shelter for the little ones and a comfy sun spot for those who like to sunbathe.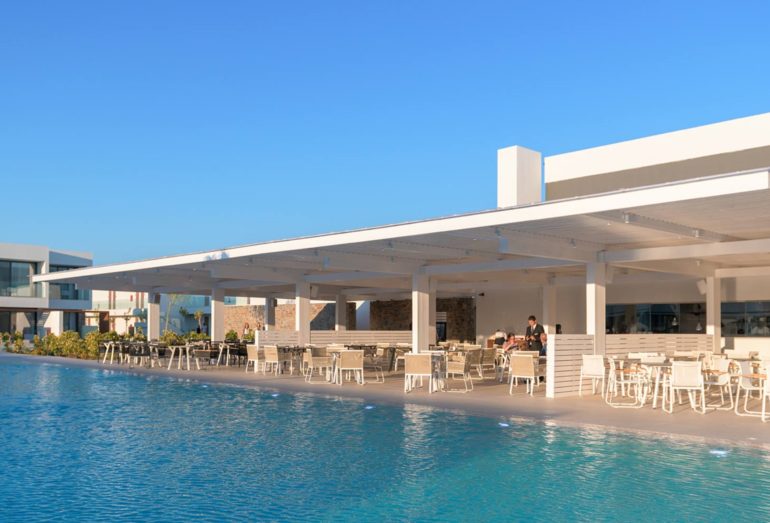 With a choice of eight very different dining experiences there really is no need to leave Gennadi Grand. You can easily experience something new every night during a week stay. The head chef is incredibly talented and has managed to create yummy dishes from Greece, the Med and beyond. The restaurants are full of flavour and dishes are uniquely presented. The resort's main restaurant Φiloxenia has an open plan kitchen and there isn't anything they don't offer for breakfast. From traditional Greek delicacies, to a smoothie station! There is even a Grand piano where a musician plays the most wonderful classical music and saxophone during your meal. The restaurant is also open for lunch and supper, offering a range of desserts, fresh cut fruit, premium charcuterie and cheese. There is a pasta and pizza station and a wide selection of vegetarian and gluten-free dishes. There really is something for every taste… even fussy toddlers!

If you fancy a change or are celebrating a special occasion, the exclusive Level 2 Breakfast Restaurant offers a set menu and an a la carte breakfast for the guests with certain room types. It has panoramic views of the sea (and dolphins if you're lucky!). The spread is beautifully presented with freshly baked treats, in-house made delicacies and a premier selection of the finest products that Rhodes and Greece have to offer. The spread is more than generous, so don't forget your appetite.

Then, there is the Ten2One all day a la carte restaurant which is casual. It is perfect for brunch, a quick snack or supper with a bottle of wine. Adjoining Ten2One is the ΣΤK Grill. This is open just for dinner and it is a delicious steakhouse that offers aged premium cuts from handpicked ranches. House-made sauces and a wide variety of toppings, salads and appetizers complement the στK experience – it is a true pleasure for meat enthusiasts. Alternately for a more authentic cuisine you must dine at Ouζo where you will find traditional Greek delights. I recommend letting the knowledgeable restaurant manager guide your meal selection and you won't be disappointed.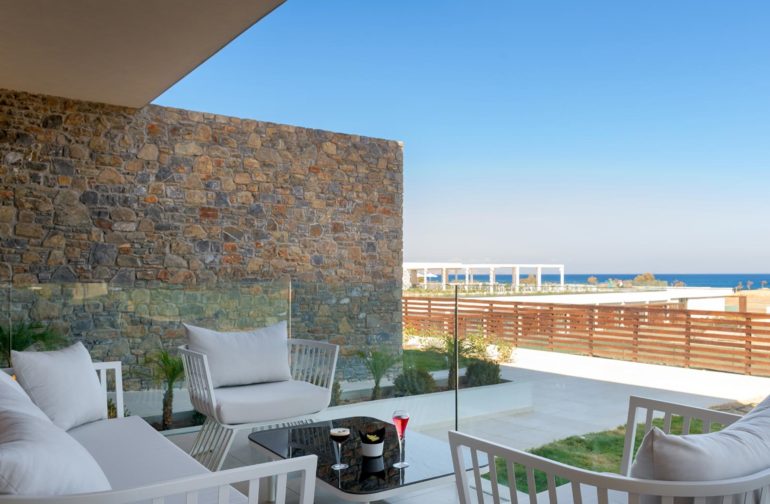 Regardless of the length of your stay, you must save the best dining experience until the last day. Eδesma is a real treat. This is a fine dining experience that focuses on presenting a fresh and inspiring approach to Greek cuisine, through a carefully prepared local and seafood degustation menu that will re-define the traditional flavours that everyone associates with Greece. The flavours and presentation are unbelievable and this is such a fantastic way to end a stay.

In addition to the impressive food offerings, guests can make the most of the Thalasso Spa. It is state-of-the-art and has a gym and indoor pool. If the weather is overcast, or you just feel like escaping from parenting duties (there is a Mini Club and Children's Playground for ages 4-14), you could quite easily slip away here for a day. I would recommend booking the Traditional Royal Hammam to start your vacation. A full body exfoliation and massage leaves your skin supple and refreshed ready for the perfect tan.
Other treatments include Greek Earth Signatures, Discovery Rituals, Facials, Massages for couples and mums-to-be, a Champagne Nail Bar, Hair and Make-up. The carefully curated treatment menu really offers something for everyone. They also offer a vegan-friendly skincare range, complementing the Eco Friendly Resort.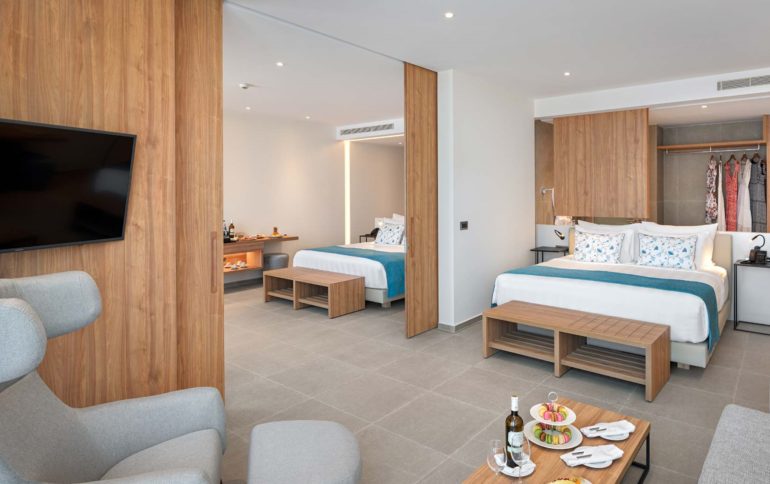 The sports and entertainment facilities are vast. So, if you are one of those people who likes an active getaway, there is plenty to keep you occupied. Land and aqua yoga, pilates, water sports, tennis, hiking, beach volleyball and bike rental are among the options.

The Gennadi Grand Resort really is the summer destination of dreams, a paradise of calmness and relaxation. The good weather in Rhodes makes this hotel suitable from April right the way through to October, so it's not too late to book this year's break.
– Reporting by Katie Ann Lamb
To find out more and book a stay, visit the website http://www.gennadigrandresort.com/ or telephone +30 2244 043 043