Sporting family fun for all generations at Oliva Nova Beach and Golf Resort
If you are a sporty family with young children and looking to enjoy some end of summer sun, or thinking ahead to next year's holiday season, Oliva Nova Beach and Golf Resort has a lot to offer.
The excellent facilities are complemented by a fabulous long, sandy beach where the sea is warm and inviting. With fantastic weather for much of the year, this destination is popular with those seeking some early or late season sunshine. It is also a busy destination during the height of summertime.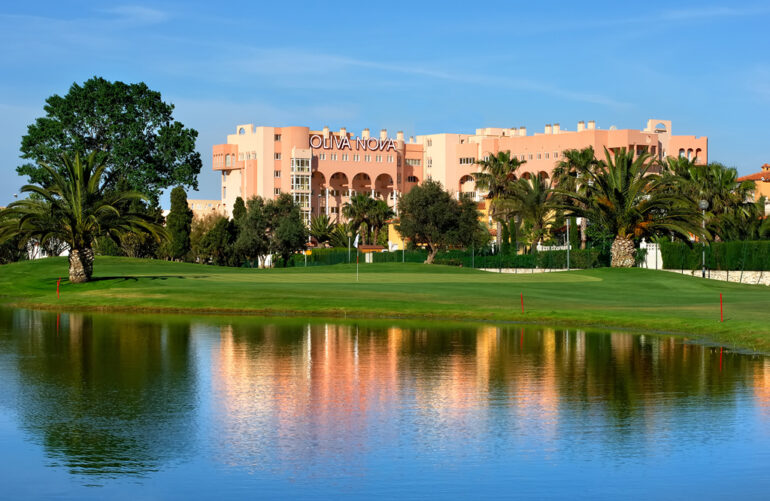 Booking a family holiday to suit the needs of everyone can prove to be a real challenge. This is especially the case when you are travelling with young children. Oliva Nova Beach and Golf Resort is extremely child-friendly and there is plenty to keep little children entertained and occupied during a stay. Equally, there are brilliant facilities for parents and grandparents to enjoy as well, with plenty of space.
When The Sloaney Travel Team visited the hotel, there was so much for the children to enjoy and there were plenty of young families making the most of the incredible swimming pool. In fact, particularly for children, the swimming pool is the perfect place to spend a day. The baby pool is very shallow and means that toddlers can take part in the experience, while their elder siblings make the most of the neighbouring bigger pool. The bigger pool is creatively designed to provide an excellent swimming experience. It never feels crowded and there are varying depths allowing for jumps and dives. There is also a bridge that you can swim under and walk over.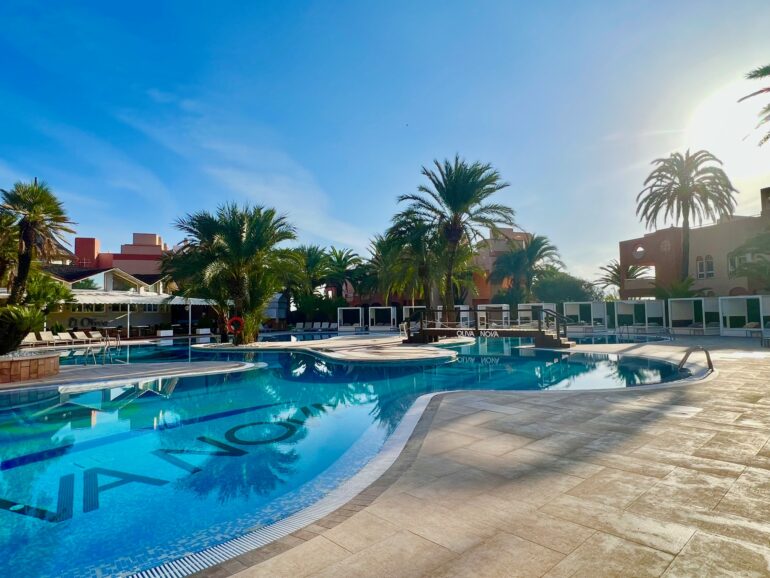 The temperature of the pool is ideal. It provides a refreshing cool-off from the scorching sun (the temperatures are typically in the mid-30s during spring, summer and autumn), but is not too chilly to enjoy. The baby pool is also warm for the little children. The pool is well serviced by a bar and restaurant and parents can relax on the large sunbeds that are located around the edges.
For those who want to mix up pool days with beach days, Oliva Nova Beach and Golf Resort has an incredible beach that is located a very short walk from the hotel through some dramatic sand dunes. A wooden path takes you away from the main hub of the resort and guests can wend their way through the dunes towards the shore. Walking through the dunes provides some extra fun and excitement for the children and there are plenty of places to play hide and seek.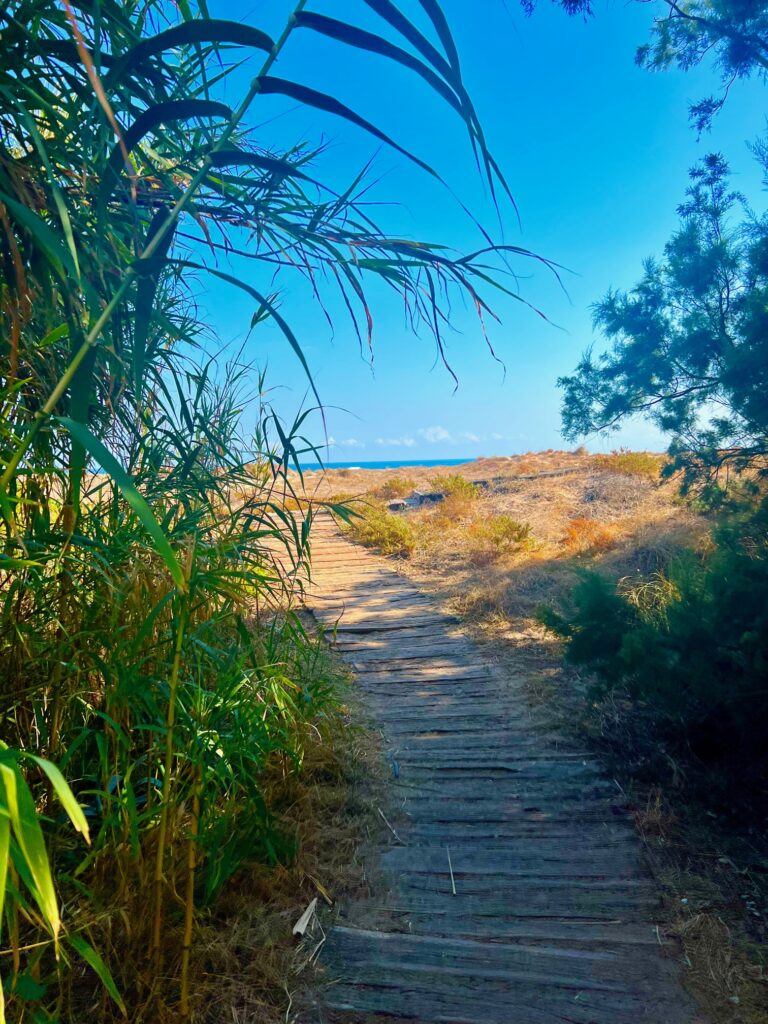 Once you reach the beach, you cannot help but be impressed by the seemingly endless stretch of golden sand. The sea is close by and also very warm. The sand offers hours of entertainment for young children who can build sand castles, collect pretty shells or play in the shallow puddles.
Oliva Nova Beach and Golf Resort has specific beach facilities that are available to guests at the hotel. You can make the most of a lounger and a sun umbrella (essential in the high temperatures) for the whole day while overlooking the waves. There is also a small beach bar that provides snacks and drinks, including beers and cocktails for those who want to enjoy something a little bit stronger at lunchtime or later in the day.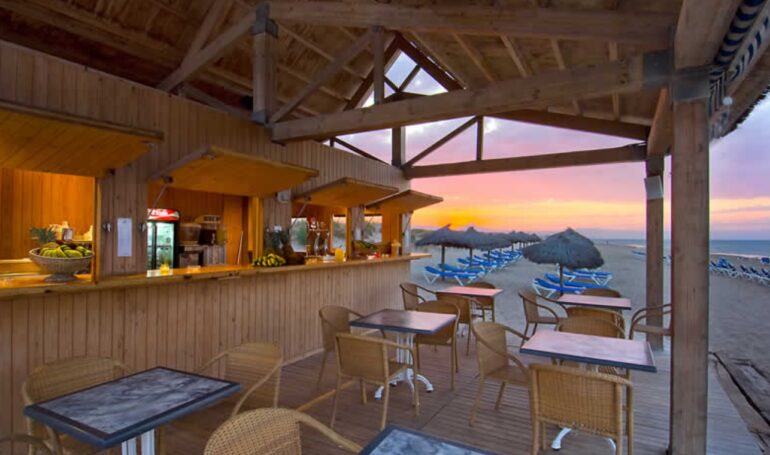 The expansive beach is full of delights for the children to enjoy. The warm crashing waves, seaweed, shells, sand dunes and puddles will provide hours of entertainment, which means that parents can make the most of some relaxation time, while overseeing their children. The sea also remains pretty shallow for quite a significant distance, which makes it safer than some other oceans and also very welcoming for toddlers.
Back at the resort there is plenty for adults to enjoy during their stay. Oliva Nova Beach and Golf Resort is very good for multi-generational breaks and there are activities to suit all age groups, from babies through to grandparents.
The 18 hole golf course is excellent and this lies at the heart of the resort. It was designed by Severiano Ballesteros in 1995. The course covers 50 hectares with wide fairways and smooth greens that are kept in very good condition. The course has challenges with some light undulations and water hazards. It is suitable for all abilities and is also a lovely course to walk. The lakes play host to activity from numerous species of fish and birds, with the general landscape very pleasing to the eye.
The Club House is positioned to offer extensive views of the resort and course. You can make the most of its spacious surroundings socially too, because it houses a cafeteria, restaurant and a social salon.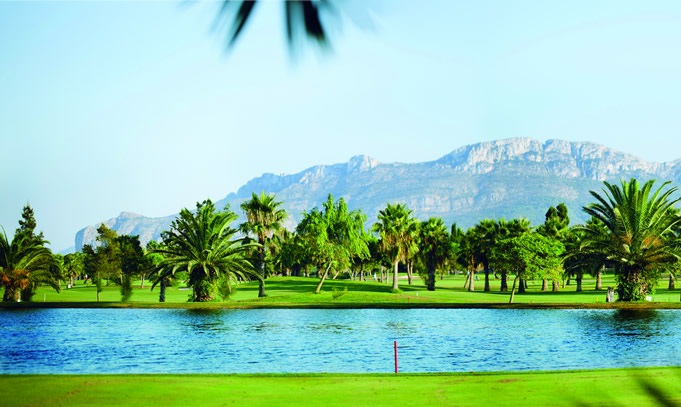 For those who don't play golf but still enjoy other sports, there are a number of different activities that can be tried at Oliva Nova Beach and Golf Resort. You can make the most of the gorgeous weather and outdoor lifestyle with a game of tennis. There are two tennis courts that have a professional surface. There are also four FIFA-sized natural grass football pitches, which are maintained by the company in charge of the official pitches of FC Barcelona, RCD Espanyol and other Spanish and International Clubs.
Oliva Nova Beach and Golf Resort is also home to an outstanding equestrian centre. Some of the best showjumpers in Europe compete at this venue as part of a tour. It is worth taking a look at when the key competition dates take place if you want to catch some of the action. The equestrian centre is located at the other end of the resort to the hotel; however, there is a sweet little train on wheels that can transfer guests to this area and the children will certainly enjoy the 20 minute ride (the service is available from late June to early September). There is a free transfer when equestrian competitions take place. For those who prefer to ride a bike, there are many incredible cycle routes on the doorstep of this resort. It is a sporting paradise for families!
Of course, when you are planning a holiday, some rest and relaxation is probably a high priority as well. The spa facilities are impressive at the resort. There is a spa circuit that includes a hydrotherapy pool, jacuzzi, Finnish Sauna, Turkish bath, footbath and also some different kinds of showers. There is also an area for relaxation where guests can take some time out to enjoy music and aromatherapy.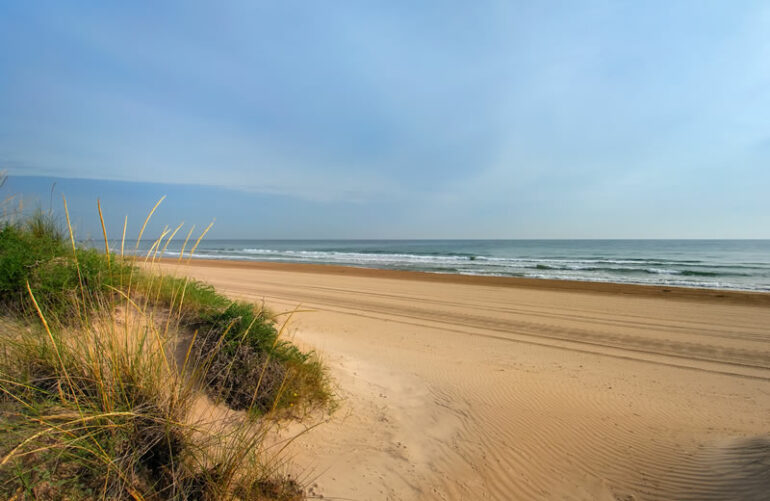 No spa experience would be complete without the opportunity to indulge in some treatments and there are many on offer at Oliva Nova Beach and Golf Resort. Treatments to invigorate the skin are popular, including facials, peels and massages. If you have forgotten to get your nails done ahead of your trip, there are also manicure and pedicure services available.
The accommodation at Oliva Nova Beach and Golf Resort provides you with a home-from-home feel when you are travelling with a family. The family suites are excellent for parents who may be travelling with children and also grandparents. The two-bedroom suites have the option of a large garden where you can sunbathe and relax while the children play, with some also having swimming pools within the garden area. There are premium double rooms available for those who are travelling as a smaller party or who need to add some further accommodation.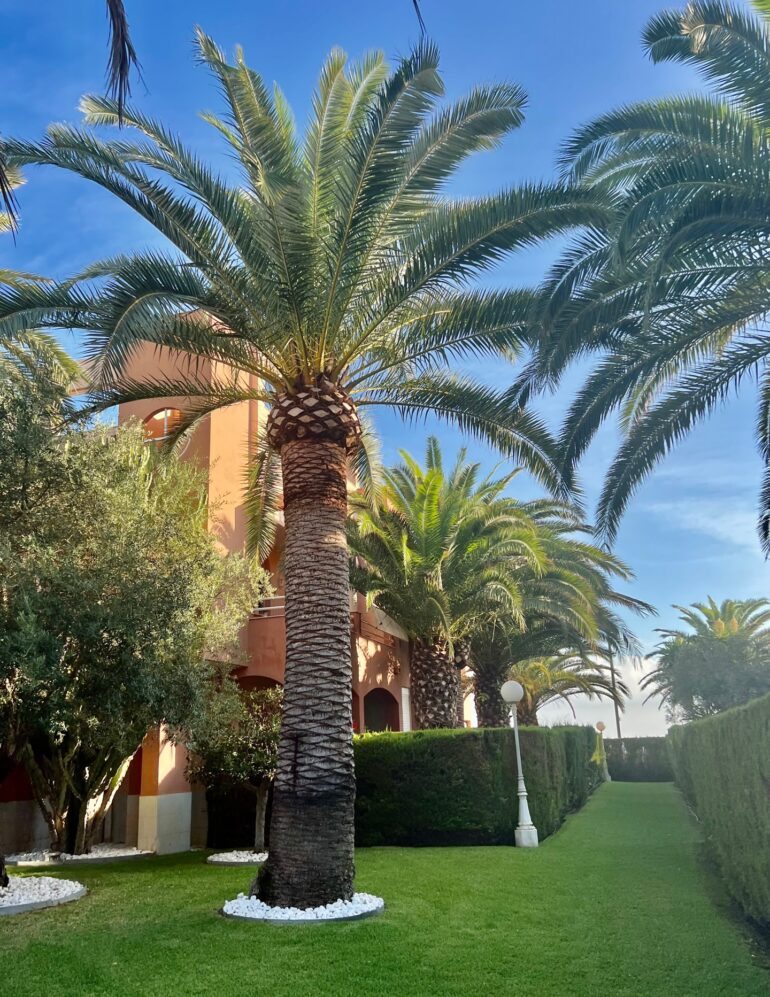 When it comes to dining, there are a number of options at the hotel. Highlights include La Pérgola. Here you can make the most of the sunshine by eating outside by the pool. Meanwhile, El Olivo has very good locally-inspired rice dishes, as well as fresh fish and other Valencian produce. If you want to dine off-site, some of the beach restaurants offer dinner and you can also spend a night in one of the local villages. The hotel will happily organise a taxi for you. The bar back at the resort will likely be open for a nightcap on your return.
If you are seeking a European destination where all the family can relax and try different activities in beautiful warm sunshine, the Oliva Nova Beach and Golf Resort has everything under one roof. It is particularly good for families travelling with young children but it will also satisfy the needs of all age groups within your family.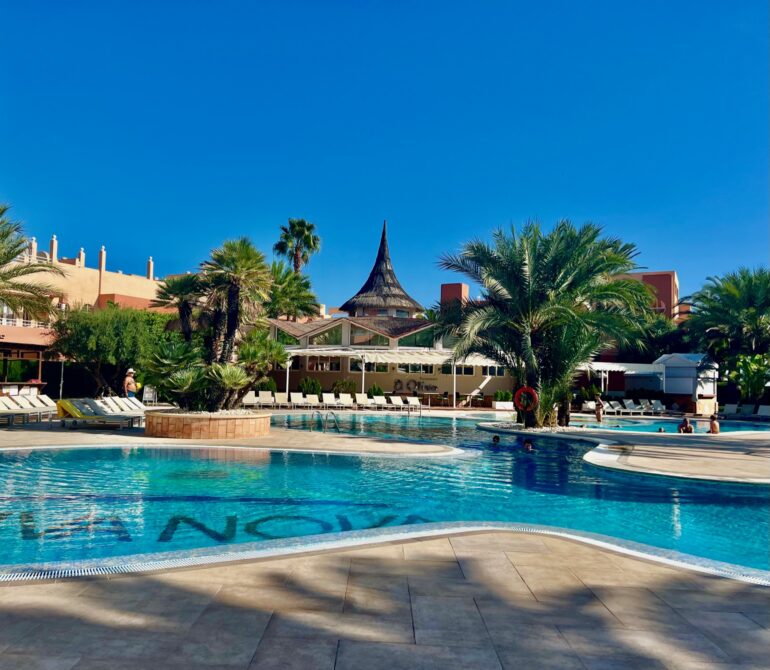 ---
The Sloaney Junior Verdict
In their own words…
"I really like the beach at this hotel because it was shallow in the sea for a long time. This meant that I could do lots of wave hopping. I also really liked the seafood. The swimming pool was massive and really fun. I loved swimming all the way around it and under the bridge." – Rose, aged 5
"I liked the little pool that I could swim in easily. I cannot swim on my own yet, but I could try and do it safely in this little pool, which was great fun. I also liked building sand castles on the beach and there was lots of food to choose from at breakfast time" – Michael, aged 2
---
Discover more about Oliva Nova online or book by calling +34 96 285 79 44. You can fly to Alicante Airport from the UK with Ryanair and EasyJet (transfer time to the resort is approximately 1 hour 10 mins), or Valencia with British Airways (transfer time approximately 1 hour 30 mins).
---
Reporting: Laura Toogood | Photography and photo sourcing: Gilles