New gourmet openings at Val d'Isère
Val d'Isère is broadening its world class food and drink scene this season, with the opening of a new range of culinary hotspots in the French Alps. From three new gourmet Italian restaurants, Gigi, LOULOU at Airelles and Cucùcina at Folie Douce, to the Peruvian inspired L'Altiplano 2.0, and unique wine list at La Charpenterie, as well as family-friendly mountainside cafes, this extensive collection is not to be missed. As part of a wider refresh for the upcoming winter season, Val d'Isère is excited to open its arms to guests from around the world.
The resort is pleased to welcome the new Gigirestaurant to the Alps, located up high in the Le Refuge de Solaise hotel. Nestled at an altitude of 2,551 metres, it's a unique setting where visitors can look out over breath-taking views of the majestic lakes and mountains whilst enjoying exquisite Italian cuisine. The Gigi restaurants, in collaboration with designer Hugo Toro, have been created to feel like a welcoming Italian home, allowing guests to indulge and relax. Drawing entirely on Italian influences, the décor is a tasteful mix of art de vivre and la dolce vita, referencing Italian culture and history. Opening in December 2021, the new mountain-top dining venue will be a sister home to Gigi in St Tropez, and the newly opened Paris establishment.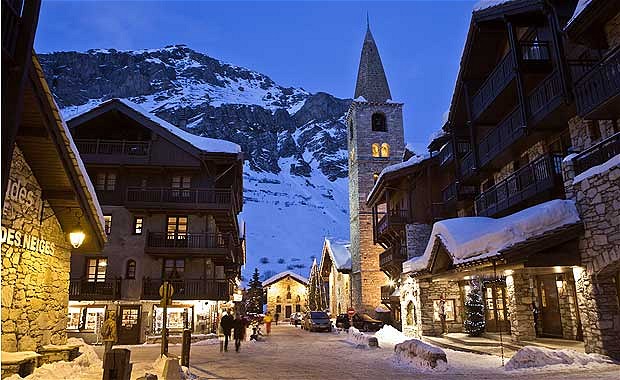 Another French name expanding from the streets of Paris into snowy Val d'Isère is LOULOU at Airelles, which combines warm Italian flavours with an apres-ski flair. Set in the heart of Val d'Isère village at the luxury hotel Airelles, LOULOU has been carefully designed, with chic and colourful interiors from artist Jean-Charles de Dastelbajac, who has paid tribute to its Savoyard roots by mixing Italian style with Alpine traditions. The sunny Mediterranean menu has been curated by Chef Beniot Dargere, focusing on regional favourites using the season's finest produce. Dargere has added a wintery edge to classic dishes, such as the transalpine stew, famed truffle pizza and pistachio linguine, creating a fun combination of flavours for lunch and dinner. Dessert at LOULOU is not to be missed, as a sumptuous buffet of sweet treats is on offer. The impressive gingerbread house, chocolate profiteroles and Piedmont hazelnut ice cream are among some of the luxurious selections. On brighter days diners can spill out onto the spacious terrace to enjoy a sunny meal with family and friends and with warming winter cocktails and fire-pits, guests can cosy up and admire the sweeping mountain views.
The renowned Folie Douce, which first opened its doors in Val d'Isère, is opening a brand-new restaurant, Cucùcina, in mid-December. With high ceilings and décor inspired by Italian renaissance artists the setting pays homage to the great Leonardo da Vinci. Elegant busts and sculptures, such as an impressive four-metre horse are scattered around the space, made lighter by the use of materials such as marble and handmade French brick. Yet the highlight of this restaurant is the stunning view of Mont Blanc, which can be admired through the impressive bay windows. Committed to serving true Italian cuisine, the all-Italian team is led by a very special Italian Chef.
Alongside the three new Italian openings, are a selection of trendy new spots, which have opened in the village providing an even greater selection for dining this season:
L'Altiplano 2.0– Offering unexpected Peruvian-inspired dishes L'Altiplano 2.0 is a new restaurant in the five-star K2 Chogori hotel, curated by Italian-Argentian chef Ricardo Berto. Let yourself be tempted by the à la carte dishes or opt for the "Discovery" set menu. Italian-Argentinean chef Ricardo Berto has created a mature tomato gazpacho with garlic ice cream, creatively cooked meat and fish, and sides such as quinoa or patatas bravas with a twist.
Cocorico'n Co – The notorious après-ski destination in Val d'Isère has been redesigned by JMV architects to take over two floors, boasting a terrace with two DJ booths, five bars, and two stages for live music both indoor and outdoor. Cocorico has also teamed up with four renowned French chefs to curate a street food menu, offering homemade hot dogs, a special vegetarian recipe and a Colombian inspired "pampa" burger and desserts by Sebastien Bouillet, which will be served to party goers until 4:30 am.
Val d'Isère Café– An all-day dining experience offering a laid-back vibe with a traditional mountain style interior.
Poya – For a more formal setting, this modern venue is opening in a lively part of the village, combining local gastronomy with mixology so that diners can rediscover the pleasures of sharing a meal and drinks with friends. The restaurant serves flavoursome dishes made using simple and authentic ingredients, cooked in a modern way and supplied by local producers.
La Charpenterie – This restaurant has opened in an extremely authentic location where the owner's grand-mother used to welcome guests in the 60's. This family home offers guests a selection of dishes from a list of chef's specials, instead of a menu. These are accompanied by an unusual wine list which focuses on independent winegrowers that produce their wine themselves.
Le Jean Michel– Located at the bottom of the slopes and open all day, Le Jean Michel provides a wide variety of dishes, ranging from American burgers to Asian beef tataki and Italian pasta.
L'Alpin– Sitting in a prime location between the ski slopes and footpaths, this relaxed family-friendly venue boasts a sun-filled south facing terrace and huge log fire where traditional, affordable dishes can be enjoyed.