Added on 8 April 2022
TheSloaney
British Social Season , British Summer Social Season , London Events , Salon Prive , Salon Prive London , The Season
The Season 2022: World's greatest cars heading to Salon Privé London
Salon Privé London is set to make its debut at the Royal Hospital Chelsea, London from 21-23 April 2022, and the brand-new fixture promises to be one of the UK's most exclusive luxury motor shows.
At the heart of the event is the unique Concours de Vente, a groundbreaking concept that will feature 60 of the finest automotive classics – all of which will be for sale. The cars will be entered by some of the most respected specialist dealers from across the UK and continental Europe. Elsewhere at Salon Privé London, upwards of 150 cars from the world's greatest manufacturers will be on display. Among them will be the latest models from Bugatti, Lamborghini and Maserati, which will be represented by their prestigious London-based retailer HR Owen.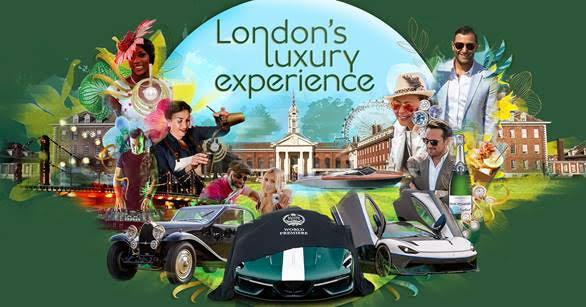 As befitting Salon Privé's status as one of the world's most prestigious automotive events, eleven cars will be making their global, European or UK debut at Royal Hospital Chelsea. The very latest models from the likes of Alpine, Aston Martin, Ferrari, Genesis, Jaguar Land Rover SVO, Lamborghini, Pininfarina, Porsche and Rolls-Royce will be on display alongside Morgan Motor Company, as well as the latest machinery from Harley-Davidson and Indian Motorcycles. These will be joined by British specialists Charge Cars, Envisage, Everrati, Jensen Automotive and Overfinch, to provide a line-up that covers everything from reimagined classics to next generation hypercars and EVs.
It's not just about the horsepower, though. Salon Privé London promises to be London's most exclusive automotive event, with plenty to see and do in addition to the motoring attractions. The shopping village will host luxury fashion brands including renowned British jewellery designer Boodles. Everything from Patek Philippe watches to Riva motor boats and Bell helicopters will be on offer, as will the first-class hospitality for which Salon Privé has long been renowned. Pommery Champagne will flow and London Essence cocktail bars will offer exciting cocktails from NoMad, Louie and the Donovan Bar mixologists.
To complement this, Salon Privé has partnered with renowned and innovative hospitality group JKS Restaurants to provide guests with a unique dining offering. This will include dishes from the Michelin-starred Gymkhana, Indian BBQ classics by Brigadiers, and cult Taiwanese specialists BAO. In addition, there will be plates from Fitzrovia's The George and Chelsea's The Cadogan Arms, providing pub fare that celebrates the best of British produce, making Salon Privé London a real foodie's delight.
Salon Privé London is donating 20% of all Entry Ticket revenue to the Disasters Emergency Committee (DEC) via Work for Good. #StandWithUkraine. For all event information, please visit www.salonprivelondon.com. You can also follow on facebook: @salonpriveuk / instagram: @salonpriveuk / twitter: @salonpriveuk