The Sleep Easy Mama Kit is the perfect Mother's Day gift for a mum-to-be
Our resident Mum-to-be has discovered an excellent gift for pregnancy…
---
Mother's Day is this weekend and while it is the perfect time to celebrate mums, don't forget the Mums-to-be! I recently discovered Mama Mio, which was founded in 2004 as one of the very first brands dedicated entirely to pregnancy skincare. Any pregnant mums will understand the everyday challenges of finding products that are safe and beneficial during pregnancy. Mama Mio's 'no nasties' promise ensures their products are 100% safe to use during pregnancy. Their high quality, natural ingredients deliver the results you really want and need.
The Sleep Easy Mama Kit is a great gift as not only does it come beautifully packaged in a white case that can be reused afterwards, it contains the Sleep Easy Tummy Rub Butter, the Sleep Easy Pillow Spray and the Sleep Easy Bath and Shower Oil. All three products are scented with relaxing lavender and calming mint for the ultimate evening de-stress, they are like taster size which is great for experimenting before you super size – which I can assure you, you will. With the heightened sense of smell pregnancy so thoughtfully provides you with, I personally found the lavender incredibly soothing at keeping the nausea at bay!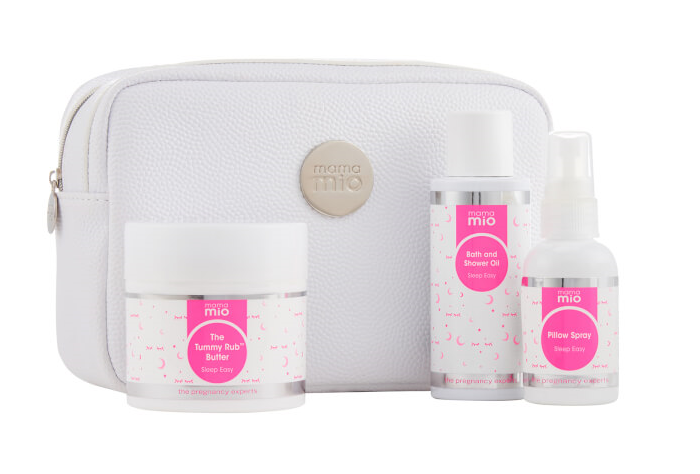 The Sleep Easy Tummy Rub butter is award-winning and comes in supersize for those that can't live without it. This incredible super-elasticising Omega-packed blend of organic oils in an organic Shea Butter base helps to protect tummies (and boobs, hips and thighs) from pregnancy stretch marks. Simply massage onto your bump, bum and boobs every evening to help pamper both your skin and mind with this soothing, velvety formula and calming lavender scent. This is great when entering the second Trimester when you really notice your body changing.
If you're suffering pregnancy insomnia, or have nausea like me, the Sleep Easy Pillow spray is great for creating a calm, peaceful, stress free atmosphere and enabling you to rebalance. A spritz on your pillow or in your room before bed is all you need. Whether you've had a long day at work or just cant wait to soak your aching pregnant body, the Sleep Easy Bath and Shower oil moisturising blend of essential oils, mineral salts and herbs will soothe your body, calm your worried mind and nourish pregnant skin. This luxurious oil is fragranced with the irresistible Sleep Easy scent and formulated with Organic Sunflower Seed Oil and Pumpkin Seed Oil, rich in Omegas 3, 6 and 9 for skin moisturising, nourishing, firming and soothing.
So whether you want to treat a Mum-to-Be or just spoil yourself we really recommend the Mama Mio Sleep Easy Gift set.
This kit has an RRP of £45, but is worth £57 – You can purchase it HERE