Mum-to-be Diary: The next generation of baby bouncer is here! Introducing the mamaRoo4…
By Katie Ann Lamb
The next generation of 'baby bouncer' has officially landed in the shape of the mamaRoo4. This is the original and only infant seat on the market that replicates natural motions of parents. This nontraditional futuristic design is a swing with a difference created by 4moms.
The 4moms namesake comes from the first focus group of mothers who provided valuable insight that led to the creation of the 4moms infant tub. Today, 4moms is a rapidly growing company that is changing the way parents think about baby gear which is evident by the Mammaroo4.
So how is it different?  The tag line 'it moves like you do' is the USP. Traditionally bouncers just go up and down. However, this is not the case with the mamaRoo4. It has five unique modes designed to mirror some commonplace motions that your little one is soothed by on a daily basis. The sways of a car ride and a side-to-side 'tree swing' movement add variety and a change from the classic baby-rock.  Plus, there are a few that are slightly more offbeat, including a kangaroo hop and an up-and-over 'ocean' mode.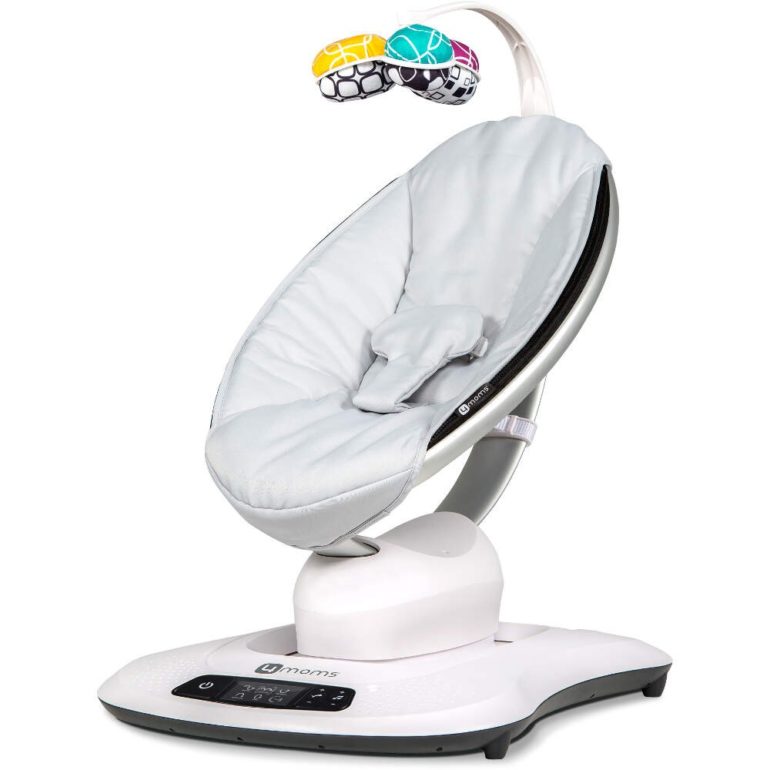 The mamaRoo4 is suitable from birth up to 9kg or until baby can sit up unaided, by which time they will probably realise you're not doing all the hard work! The seat reclines to multiple positions to allow baby to lie back and relax or sit up and play. They can entertain themselves with the overhead toy mobile which has interactive, reversible toy balls that will keep their attention. There is the sound of the crinkle ball, rattler or reflective mirror ball. Hopefully it will give you some spare time to help you to get on top of all those chores!
If you are using the mamaRoo4 from birth you will need to purchase a reversible 4moms new born Insert. It fits perfectly with all 4moms mamaRoo, 4moms rockaRoo, and 4moms bounceRoo infant seats, and provides additional comfort and support for your new born. The soft, plush new born insert is machine-washable. For a limited time they are also selling a Royal edition insert so your little prince or princess can enjoy a plush, modern grey fabric with a singular embroidered crown on the front of the new insert, and a yellow, grey and white mosaic of crowns on the back.
The mamaRoo4 also has five different speeds and four built in sounds as well as connecting to any MP3 player for your own tunes. The 4moms app for iOS is compatible with all Apple devices newer than the iPhone 4s that are running iOS 9 or newer. The native Android app is compatible with most Android devices that support Bluetooth Low Energy and are running Android 4.3 or newer. So, can control the motion, sound, speed and volume from your compatible smart device without disturbing baby.
The mamaRoo4 can be purchased from several places including John Lewis, Mamas & Papas, Mothercare and Amazon.