The City Tour Lux lightweight pram by Baby Jogger is great for city living  
By KATIE ANN LAMB
Lightweight prams are becoming a must have for the modern parent – whether it's for travelling purposes or simply whizzing around town! When looking for the most suitable one for our lifestyle we settled on the Baby Jogger – brand new City Tour Lux.
The main reason behind this was its suitable from birth right through, so there is no need for multiple prams. Its ultra-compact weighing under 20kg and has a really cool matching backpack-style carry bag to transport your stroller when not in use. You can also store it in the onboard storage compartment while out and about.
The City Tour Lux offers a carrycot (purchased separately) which can be attached to the frame.  This makes the stroller ideal for new-borns and as it's super lightweight, which is great if you've had an elective or emergency C-section.
What's more, the bassinet folds with the stroller so you don't have to remove it when storing and or travelling. It's very convenient and makes travel with newborn so much easier. Moreover, you can fold this carrycot separately as well for more convenient storage for your next baby. It comes in four colours so you could match it with your City Tour LUX stroller.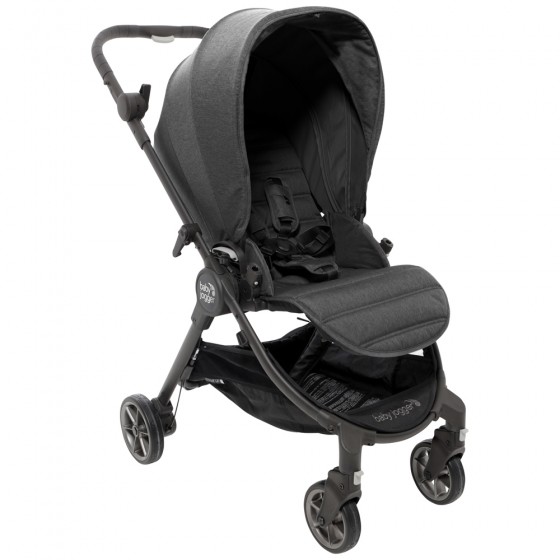 The regular, toddler seat – usually for when they are six months or can sit up unsupported – is padded and has a multi-position recline with nearly-flat position. Functionally, it's easily lowered or raised with just one hand by using a lever. This is perfect if you have to keep an eye on baby number two! There's also an adjustable leg rest for better comfort. The seat is reversible for rear or forward travel great as your little ones become more inquisitive.
The pram is also compatible with a variety of car seats such as Maxi Cosi, Graco, Nuna and Cybex as well as City's own range. You can easily remove the regular seat, click in the car seat onto the stroller frame and you're ready to go. It is great for parents that drive or want to run some quick errands.
The three-panel hood has a pop out visor offering extra shade and contains UV 50+ protection and a peekaboo window. It's very spacious, has great airflow and no Velcro so no need to worry about waking a sleeping baby to check on them.
The Baby Jogger City Tour LUX 2018 provides the option of attaching a Glider Board so your older child can also ride along. There wheels are made with polyurethane tires so are lightweight and durable. The front wheels are pivoting to make the stroller nimble and can be locked to increase stroller stability when going over more difficult terrain. There is all-wheel suspension which absorbs shocks to provide more comfortable ride and easier pushing.  The handbrake is placed on the right side of the handlebar great for quick and easy breaks.
Under the seat is enough storage to accommodate all your necessities. In the rear part of the basket there is a zippered pocket where you can put your valuables or smaller items. There is one additional storage pocket on the back of the seat which is great for your phone and keys. The City Tour LUX folds very easily, one-handed and takes few seconds thanks to patented folding mechanism. Once the stroller is folded it's very compact and doesn't take much space the perfect city stroller for the modern parent!
Find out more at http://babyjogger.co.uk/product/city-tour-lux/