Mum Diary: The Sena Aire travel cot by Nuna
By Katie Ann Lamb
With the help of some sleep training my little one is finally in her own cot and own room! With that in mind, I now feel confident to travel with her which requires a suitable travel cot.
Having researched the market I discovered the Sena Aire by Nuna. I would describe this as the Rolls Royce of Travel cots from comfort, style to features. The Sena Aire's unique zigzag legs means that the cot pops open in seconds and folds down with just one hand. The padded edges cleverly avoid pinching or trapping your fingers during the set up and break down and provide extra cushioning for little ones learning to stand and hold on.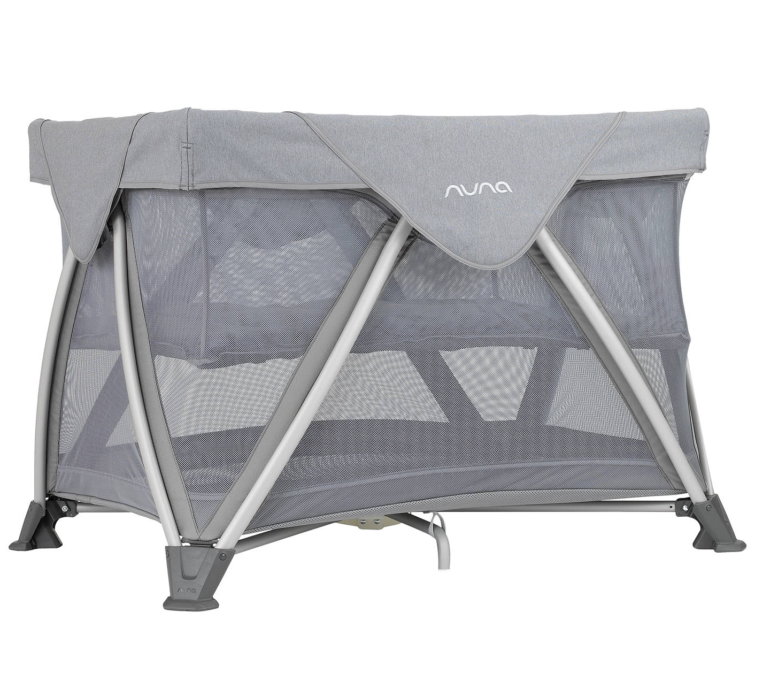 The Sena Aire has an advanced air design which provides 360° of ventilation through the mesh sides, floor and mattress ensuring ultimate airflow and super-fresh, deep sleeps. The triple layered mesh mattress is not only incredibly comfy, but the fresh thinking design pulls away both heat and humidity. The design is zip off so machine washable and dryer safe and the panels easily remove for deep cleaning. The base is elevated above ground so also keeps baby draft-proof and the skid-proof feet keep sleep quiet and still.
Another addition I love is the GOTS certified organic sheet which is included. It attaches to the mattress perfectly so there is no need to try and find sheets that fit.
The cot is recommended to be used from birth to 15kg. The addition of the upper cot attachment is fantastic for when your baby is smaller or if you are using from birth. Especially, if you've had a c-section as you don't need to over reach to pick up your baby. Another accessory that is available is the changer, which make the cot fully functional no matter where you are! If you're limited for space at home, or want one cot for everything, the Sena Aire is the cot for you. The chic look and Frost, Caviar, Oxford and Threaded colour scheme won't clutter your room or home.
The cot comes with a travel bag and, although slightly heavier then some, I am happy to look past this for the ultimate luxury for my little one.

Available from £180 from multiple retailers, including Peter Jones