Mum Diary: The Fisher-Price Jumperoo helps baby develop new skills during playtime
By Katie Ann Lamb
I am sure that you've heard of Fisher-Price. Afterall, they are the market leader when it comes to baby activity products. The Jumperoo has become a firm favourite with babies and parents since it was first launched in 2004.

With many adjustments and new features over the years, today's rainforest Jumperoo has lights, music and so much for your little one to discover. I have found it excellent for my daughter as it challenges her but it is also fun.
This is a very comfortable product for your little one. The seat rotates giving your baby 360 degree access to colourful toys and activities including a lion roller, alligator clicker, butterfly teether, colorful lights, bead bars, spinners and mirrors. What fun!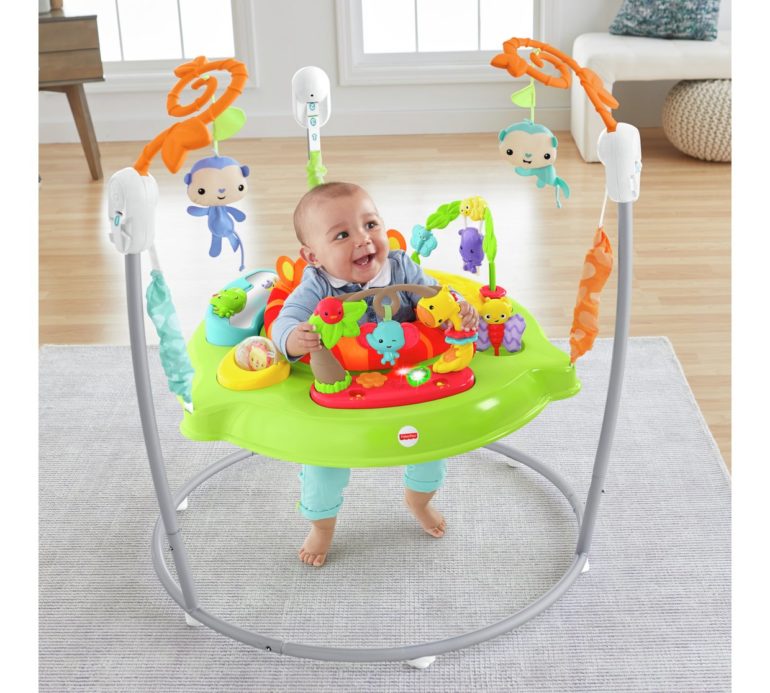 It is also easy to clean and the tiger seat pad is machine washable and dryer safe. This is so important for baby products and the activities can also be easily wiped down.
The sturdy free-standing steel frame lets Baby jump safely and she can exercise without risking any unpleasant falls. It easily adjusts to three different heights, which is great as Baby grows because it will last through the months to come. I particularly love the way that the Jumperoo encourages those primary motor skills such as reaching, grasping, moving and jumping. It means that your child is flourishing in lots of different areas during playtime.

The Jumperoo is very quick and straightforward to assemble. It's relatively lightweight so it can be manoeuvred around your home and it also breaks down to store away. It is only suitable for a child who is able to hold their head upright. Guidance would suggest 6-15 months, or a max weight of 11.3kg and height of 85cm; however, my little one is four months and absolutely loving her newfound freedom!
Read more about the Jumperoo and other products at https://www.fisher-price.com