iCandy MiChair MiStyle Launch Party
By Katie Ann Wiseman
Last Friday we were lucky enough to be one of the select few invited to the exclusive launch of MiChair by the iconic British brand iCandy. What a unique launch it turned out to be. Hosted by Fish – a beautiful seafood restaurant in the heart of Borough Market – it was perfectly thought out with parents and babies in mind.
We were given non-stop treats; from pastries and gourmet doughnuts from local Borough Market bakers, Bread Ahead, to the very best of seasonal produce that Fish has to offer. Of course, iCandy thought of the kids too. They were seated like Kings and Queens in their very own MiChair and their menu was a mini version of the restaurant's most-loved dishes.
For little ones that weren't quite up to the gourmet delights of Fish restaurant, Piccolo co-founder and infant nutritional therapist Alice was in attendance. She was able to offer expert weaning and feeding advice, from the best ways to encourage self-feeding to healthy toddler snacks, as well as delicious Piccolo's pouches of Organic goodness.
The Children even has a mini crèche with stylish toys provided by Mini Maison, including a ball pit, tepee and dressing up outfits.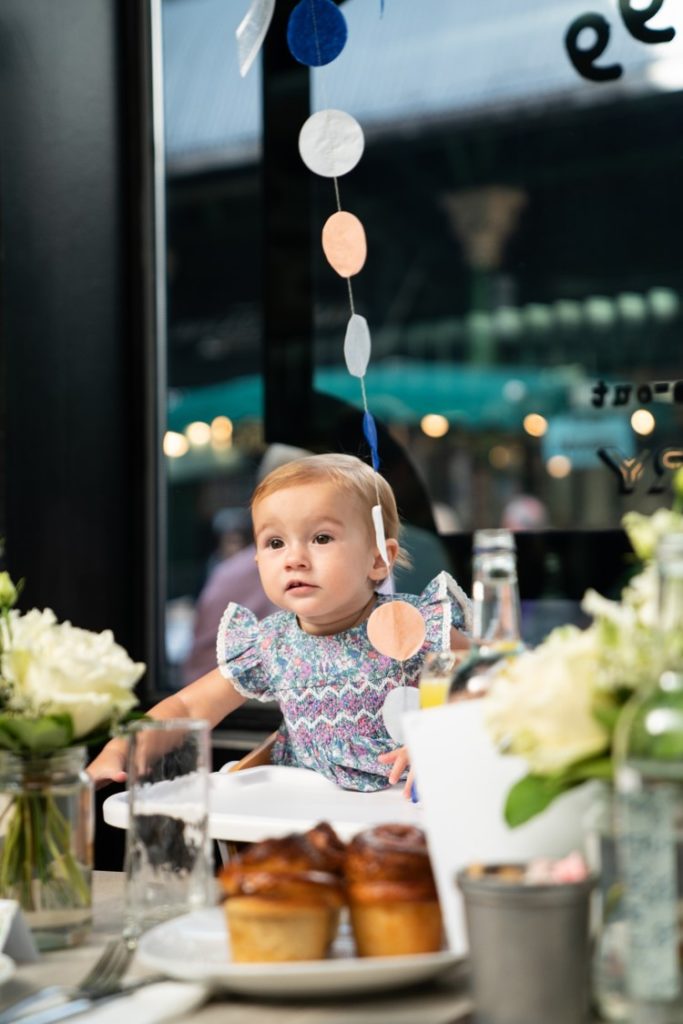 The brunch was the culmination of a four-part influencer campaign series named 'MiChair MiStyle', whereby iCandy set out to showcase that there is a MiChair style for every interior design and to celebrate the launch of the MiChair's new comfort packs and newborn pods.
The new comfort pack and newborn pod colourways, Flint, Pearl, Russet and Marine informed the colour palette for the event, and the chic tones were reflected in the confetti filled balloons and impressive streamer backdrop from eco-friendly event and party suppliers, Love Bug. Not only did the striking decorations co-ordinate with the MiChair colours but even the custom-made Party Pops cake favours were crafted in the brand-new colourways.
I love a goodie bag and iCandy never disappoints! Their canvas tote bag was filled with delicious treats from Piccolo including tasty teething wafers, deliciously fruity puree pouches, as well as meal pouches such as risotto and stir in pasta sauce. Good Bubble provided a gentle sulphate-free hair and body wash made with soothing cucumber and aloe vera to help cleanse and hydrate delicate baby skin.
Keen to prove that giving a child the best start in life doesn't have to mean compromising your impact on the environment, Mama Bamboo produces baby essentials from bamboo and kindly contributed bamboo fibre dinner sets, 100% biodegradable bamboo wipes and eco nappies to the iCandy goodie bags.
Thanks iCandy for a wonderful morning and, watch this space, as we will be reviewing the MiChair very soon…
Find out more at www.icandyworld.com