Harrods unveils The Roastery and Bake Hall
NEWS
London department store Harrods has opened the doors to its new Roastery and Bake Hall, marking the largest redevelopment of its historic Food Halls in more than 30 years. Housing a from-scratch Bakery and coffee Roastery, Tea Tailor, Gourmet Grocery and new destination Coffee Bar, The Roastery and Bake Hall is the first phase of The Taste Revolution – a two-year restoration project that will transform Harrods' Food Halls for the future.
Launching alongside The Roastery and Bake Hall is Harrods new stand-alone food-to-go concept store, Roast and Bake, located on Basil Street. Its menu features coffee freshly roasted at Harrods by Master Roaster Bartosz Ciepaj and fresh Viennoiserie straight from the ovens of the new Bakery. A selection of the finest sandwiches, salads and snack pots are also available for busy London foodies to enjoy on-the-go.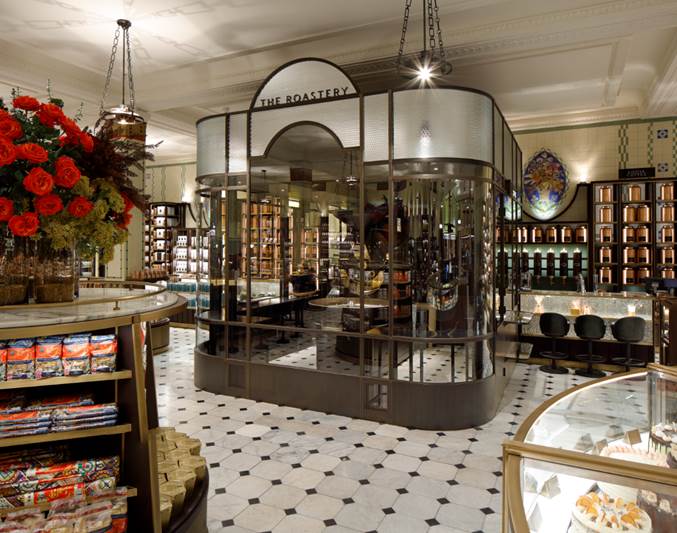 The redevelopment has been driven by Harrods' Director of Food & Restaurants Alex Dower and his team of food experts, including 150 in-house chefs. At the heart of the Roastery and Bake Hall, Harrods' newly appointed Master Roaster, Bartosz Ciepaj, and his skilled team will roast and grind coffee beans in full view of customers. From here, each blend is distributed to the in-store cafés and restaurants, as well as packaged for customers to enjoy at home. The from-scratch bakery, led by Master Baker Lance Gardner, offers 15 varieties of bread, as well as pastries, cakes and biscuits, which are freshly baked throughout the day – heralded by a bell that will announce fresh creations leaving the ovens every 30 minutes. In the centre of the new room, Harrods' grand Art-Deco-style Coffee Bar provides a stylish destination for discerning foodies to enjoy Harrods' freshly baked goods and roasted coffee. By day, a team of expert baristas will be at the bar to brew perfectly frothy cappuccinos, lattes and silky smooth espressos, and by night, bartenders will shake up chilled espresso Martinis and coffee Negronis.
Designed by David Collins Studio, the Roastery and Bake Hall embodies a juxtaposition of the antique and modern. The room has been painstakingly returned to its 1925 shape and size, with the stunning architectural features of the Grade II*-listed building brought to life. The ceiling, cartouches and Carrara marble flooring have been fully restored, and are complemented by new touches such as luxurious hand-embroidered leather bar stools and a bespoke black and aged brass Probat coffee roaster.
There will be three further concepts launched as part of The Taste Revolution, launching during 2018 and 2019.