Asian restaurant Mei Ume now open at Four Seasons Hotel London
Following the successful launch of Four Seasons Hotel London at Ten Trinity Square earlier this year, the hotel has since opened the doors to Mei Ume, a Japanese and Chinese restaurant designed to complement and diversify the hotel's existing food and beverage offering.
Demonstrating the part both cuisines play in the concept of the restaurant, the name Mei Ume is inspired by the Chinese and Japanese terms for plum blossom.  Head Chef Tony Truong, formerly of Royal China, is leading the kitchen team, supported by Sushi Chef Mun Seok Choi, who previously worked at Sake no Hana, and Dim Sum Chef Liang Kian Cheng, who has joined from Yauatcha.
The Mei Ume menu incorporates authentic dishes from both China and Japan with a modern approach. Head Chef Tony's creative small plates, such Shanghai braised pork ribs with Chinkiang sauce, are complemented by a selection of delicate steamed, baked and fried dim sum. Larger plates include stir fried Dover sole with lemongrass and chilli and Szechuan corn fed chicken with macadamia nut and dried red chilli. Served according to tradition across two courses, the Mei Ume whole Peking duck will be one of the restaurant's standout dishes, served first with pancakes, leeks and cucumber and then followed by crispy duck with salt and pepper.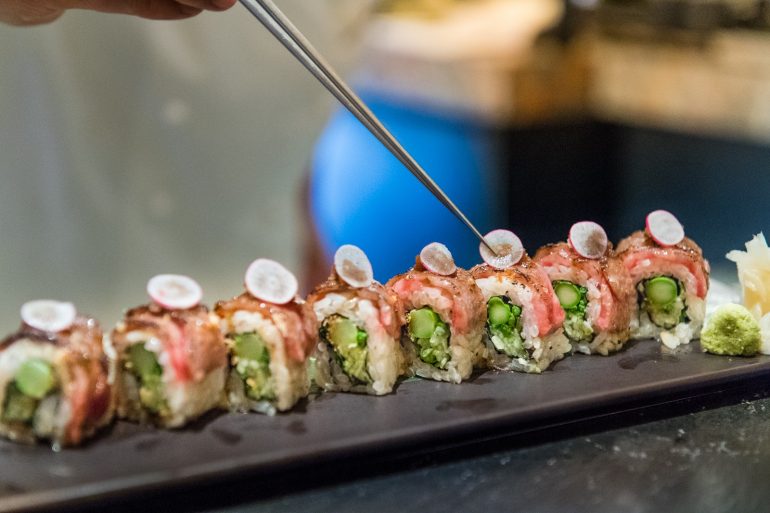 The Mei Ume Bar is a focal point of the restaurant, with a pavilion-style design featuring sleek custom lighting and glassware. At its helm is Chef Mun Seok Choi with a live sushi station, creating innovative dishes such as spicy tuna with karashi and parmesan flakes and BBQ Wagyu beef with caramelised onions. Focusing on quality, Chef Mun aims to keep his dishes simple, striking a delicate balance between each flavour. The main menu also features Japanese cuisine, showcasing the finest Wagyu beef sourced from Kagoshima served with a choice of Japanese spicy BBQ or sake butter sauce.
The cocktail menu, inspired by the four key elements of traditional Chinese astronomy, will incorporate a number of western classics, adapted with a touch of eastern spirit. An extensive selection of sake, shochu and both Taiwanese and Japanese whisky will be available, in addition to a wine list curated by Wine Director Jan Konetzki.
For more information visit www.meiume.com or call +44(0)203 297 3799 for bookings