Beauty Buzz: The SBC Skincare Hydra-Collagen range targets the signs of ageing with exceptional results
It can be surprisingly difficult to find a really good cleanser and moisturiser. Although the market is full of options to consider, it is often a challenge to find a brand that delivers first-class results. We recently discovered some of the SBC Skincare collection. This range includes a number of outstanding products and they are definitely among the best in the business.
The company was initially established for use in the professional sector, which probably explains why it generates such noticeable and positive results. Those who had experienced the expert formulations in salons and spas, wanted to be able to try SBC at home. The customer base exploded as a result and this is now an internationally popular brand that has won many awards and has a reputation for providing excellent results.
The Hydra-Collagen range is particularly impressive and we thoroughly recommend it to readers of The Sloaney. Each product has been designed specifically to target the signs of ageing and the collection has been formulated with Marine Collagen.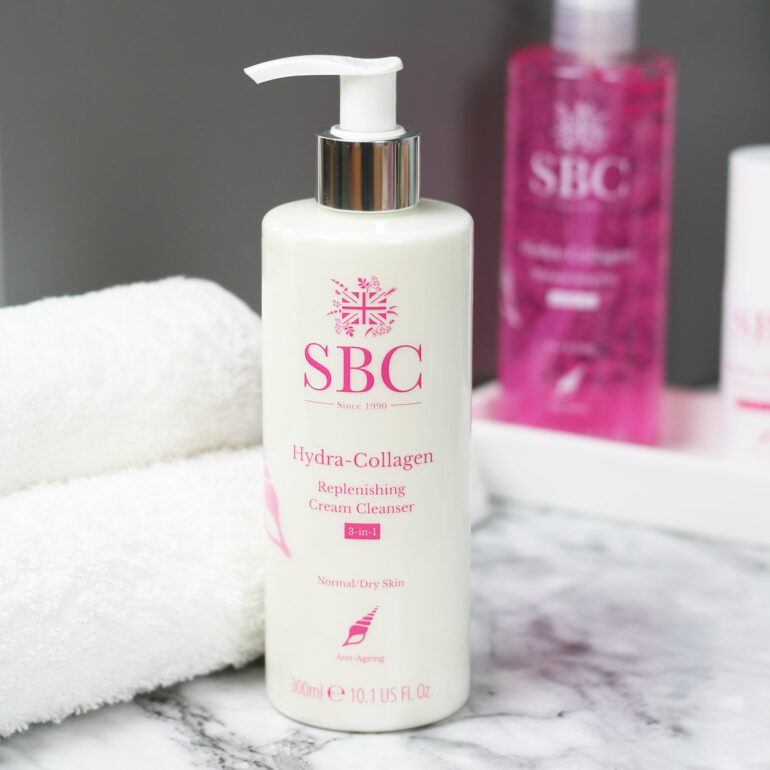 The SBC Hydra-Collagen Intensive Moisturiser is fantastic and it feels rich and luxurious to apply. It revives your complexion and leaves the face feeling super-soft after use. We are also very impressed with the Hydra-Collagen Replenishing Cream Cleanser. This is brilliant at removing even the toughest makeup from your skin (yes, it even gets rid of waterproof mascara and liquid eyeliner!) and will leave your pores feeling refreshed and your skin wonderfully supple.
The Hydra-Collagen range has a gentle and welcoming fragrance, which is rather comforting after several uses. This particular collection feels like a long-lost friend. It includes a number of products that will help to support your daily routine. There is an illuminating Eye Cream, which is ideal for those looking to reduce the appearance of fine lines around the eyes. Meanwhile, the Hydra-Collagen Day and Night Cream, is quickly absorbed and helps to replenish the skin.
Overall, we have found the Hydra-Collagen range delivers truly exceptional results and there is an SBC Skincare product for every requirement. Whether your skin is dehydrated and dry, oily, blemished or irritated, you can find help and support within the full collection.
Discover more here: https://www.sbcskincare.co.uk/