The Sloaney's Top Five Treats for Mother's Day
Each year when March arrives, I start to panic about the imminent Mother's Day, which just seems to creep up out of nowhere. When I was younger, a simple card was a perfectly sweet, acceptable token of love and appreciation for my darling mother. But now that I am older, there seems a little more pressure to do something special. Your mother may claim that she does not want any fuss this year, but in reality, she would love to be indulged and made to feel special.
With this in mind, The Sloaney has highlighted our top five treats for Mother's Day…
Delicious chocolates from Charbonnel et Walker
You may think it a little cliché to give chocolates on Mother's Day, but no one can turn their nose up at a box from Charbonnel et Walker. Not only are they one of Britain's earliest Chocóateliers, dating back to 1875, but the Royal Warrant also endorses them as chocolate manufactures to Her Majesty The Queen.
This magical chocolate shop, which is one of my favorite destinations in London, can be found in the Royal Arcade on Old Bond Street. They also recently opened in Harrods, but it is well worth visiting the main shop, if only to breathe in the delicious aromas.
For Mother's Day you can choose from the luscious, silky tastes of their English Rose and Violet Creams, Milk Chocolate Truffles, Crèmes Parisiennes or my personal favorite Pink Marc de Champagne Truffles. To make your gift extra special, encase your delectable delights in Charbonnel's beautiful hand made boxes, each tied with satin ribbons.
Buy in store at Charbonnel et Walker, 28 Old Bond Street, London, W1S 4BT. Tel: 02073182075 or visit www.charbonnel.co.uk
A luxurious trip to the Four Seasons in Hampshire
The Four Seasons is an outstanding chain of luxury hotels. I recently discovered their Hampshire hotel and spa, which is conveniently based just outside London. The hotel is a restored historical Georgian manor house and their spa is in a beautiful 18th Century stable block.
Although it would be perfect to take advantage of a spa day package for Mothering Sunday, sadly these are only available on weekdays. However, you and your lovely Mummy can still choose from all the wonderful treatments available, all of which use marine-based ECPA aromatherapy products to help you unwind and feel rejuvenated. My personal favorites are their signature soothing chamomile and sage massage and Ayurvedic Body Wraps.
Treatments aside, the Four Season's has incredible facilities to ensure you can relax and make the very best of your stay. The relaxation rooms, lifestyle showers, amethyst crystal steam rooms, clear quartz saunas, conservatory swimming pool and vitality pool will certainly help you both unwind. Or, if the weather permits, you can take a stroll around the breathtaking grounds and breathe in that healthy, countryside air.
Café Santé, which is located in the spa, is perfect for a quick bite between treatments. There you can choose from a variety of healthy, light lunch dishes or if you would prefer something a little more hearty, book a table in the Season's or The Bistro.
For bookings contact Tel: 01252 853000 or visit www.fourseasons.com/hampshire/spa
Beauty Treats from Green and Spring  
The Sloaney loves everything British, which is why we adore the Green and Spring collection. Their handmade range of gorgeous bath, body and home candles are all inspired by the glorious scents of our fabulous British countryside. If you are looking for something different this Mother's Day, spoil your beloved with a Green and Spring Limited Edition Gift Set.
Offerings include their miniature Indulging Shower Gel, Light Bath Oil and Travel Candles, which are perfect if your mother is jetting off somewhere exotic. There is also the rather wonderful Relaxing collection that contains Shower and Bath Foam 50ml, Light Bath Oil 30ml, Body Lotion 50ml and Soap 25g. My personal favorite is the Revitalising collection, which includes Shower and Bath Foam 50ml, an invigorating Exfoliating Body Wash 50ml and a soft Body Lotion 50ml.
My mother simply loves candles. Green and Spring have their own signature Home Candles that are available in lovely scents. Their most popular combines the delicious scents of lavender, geranium and rosemary. No doubt this will be a hit on Mothering Sunday.
Green and Spring Indulging Collection Limited Edition Gift Set and Relaxing Home Candles are available at www.greenandspring.com, Liberty and Harvey Nichols nationwide.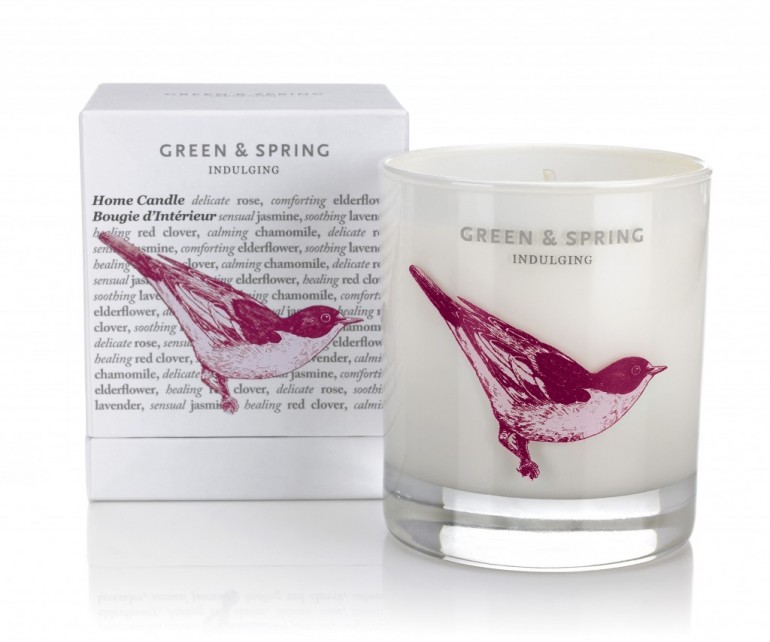 A spa day at Cowley Manor, Gloucestershire 
For a real treat this Mother's Day you can escape to the country for a day spa for two. Explore the stunning Cowley Manor country house hotel and spa, which is set in the beautiful Cotswold countryside. This is the ideal venue for an overnight stay or a few hours of pampering. You can enjoy the very best spa treatments in the C.Side spa, which was awarded 'Best Spa in a UK Hotel' by Conde Nast Traveller.
C.Side has four key rooms where you can choose from a variety of indulgent and therapeutic treatments, all of which use the divine Green and Spring products.  After a treatment or two you can lounge by the indoor pool or enjoy the gym, sauna and steam room. No spa day would be complete without a delicious lunch and Cowley have been very thoughtful and put together a mouth-watering Mother's Day menu.
For C.Side bookings contact – relax@cowleymanor.co.uk, Tel: 01242 870990 or view the website for more details – www.cowleymanor.com
A Jo Malone bespoke gift box
Finally, Jo Malone has a superb range of traditional English products to choose from that will never let you down, especially this Mother's Day. Whether you are thinking of getting your mother a candle, fragrance, lotions or body oils, Jo will have something special.
If you have the time to pop into your nearest store then you can customize a bespoke gift box to your mother's taste. If work is rather busy and you can't hit the shops before Sunday, simply place an order online or over the phone and your gift can be delivered with a personalised message inside. There are so many gorgeous gift boxes available but my favourite is Jo's Red Roses Bath Oil Glass 100ml, Vintage Gardenia Home Candle 100g and Vitamin E Body Balm 100ml, which you can purchase from the 'gift suggestions' section online.
Jo Malone's unique gift boxes range from £30.00 to £240.00 and are available at www.jomalone.co.uk or in store.