The Sloaney's essential style secrets for the festive party season
Christmas is such an exciting time of year and festive parties provide the ideal opportunity to express your style. Here are some practical tips for staying on trend during the celebrations.
Playful patterned legs
Wacky hosiery, quirky tights, whatever you choose to call them; it is officially time to explore this trend without looking like Cindy Lauper circa 1985.
There are some really fun and pretty patterns available for the party season and it is a great way to jazz up an outfit, without breaking the bank or taking a major risk with an entire ensemble. Whether it is black lace up tights from Woolford, jumbo polka dots from Marc Jacobs or crochet from Henry Holland for Pretty Polly, the selection for drawing attention to your pins has never been more accessible. If you are in doubt about whether a pattern is flattering or want to show off your curves in style then choose a vertical design to give the illusion of length.
Woolford Lace Tights £120
Save your party Choos
I recently discovered a wonderful invention whilst out prepping for a photo shoot. Rollasole pumps are a must have for every party girl's handbag.
We all love to make an entrance in a pair of five inch Jimmy Choos; but let's face it, maintaining our composure whilst hailing a taxi at the end of the night after one too many flutes of the bubbly stuff can be a challenge. Alas fear not, these divine metallic ballet pumps will give your feet much needed respite after a night of dancing and they are guaranteed to fit into any clutch.
Rollasole from £7.95
Wrap up in style
Less is not more this holiday season and you don't want to be struck down with the sniffles whilst everyone else is out having fun. Once you have slipped into that dazzling sequin party dress, make sure you wear a cosy coat and accessories.
There are some chic sets of matching hats, gloves and scarves available this season and my main tip is to have fun with your accessories. If you opt for a safe colour like black or navy, glam it up with a vibrant coat or cheeky, colourful knit.

Joseph Coat £550
 A burst of colour
The colour pop trend is a great way to get festive and inject some Christmas cheer into an understated outfit. Adding a splash of red or pink lippy for after office hours is a great way to refresh your look.
Glam up a little black dress by adding statement jewellery. Chandelier art deco designs are huge this season and their presence will continue through to spring. So, if you splurge on those diamond earrings they will certainly remain relevant next year. Jewel tones like emerald green, ruby red, sapphire or citrine colours are a lovely way to make that transition from desk to dinner and flirt with your vintage streak.
Earrings from Boodles £35,000
Creative customisation
Finally, I love to get the most from of an outfit. Don't look at it as recycling; rather reinvention and channeling your creative side. There are so many parties, yet such little time to go shopping for each one. Before you get caught in a wardrobe panic, think how you can re-work your favourite staple pieces.
Take some inspiration from Alexa Chung and add a collar to a simple LBD. Gemma Lister has created a beautiful embellished version for £50 that is perfect for adding a glint to your neckline.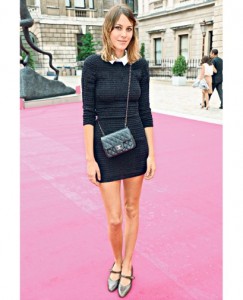 Merry Christmas my lovelies x