WIN tickets to the Gaucho International Polo at London's O2 Arena!
On the 21st of March, London's O2 Arena will play host to one of the most unique sporting and music events of the year. The Gaucho International Polo will see this high-octane sport interspersed with live music to create an electric atmosphere. Two international Arena Polo matches will be merged with exclusive performances from Grammy award-winning band, Bajofondo, who will open and play throughout the tournament.
Action in the arena will include Scotland taking on Welbeck Group's Ireland, before the titanic clash between IG Index's England and Argentina. Britain's finest player, Jamie Morrison, will go head-to-head against the Royals' favourite star, Nacho Figueras.
The Gaucho International Polo is not just about sport and music; it will also feature tastings from some of Argentina's finest wine producers. Fashionistas should don their white jeans for the occasion as these are currently the most stylish item of clothing in the polo world, with enthusiasts such as Prince Harry wearing them at matches around the world. With this in mind, a pound will be donated to the British Forces Foundation in recognition of every guest arriving in such attire.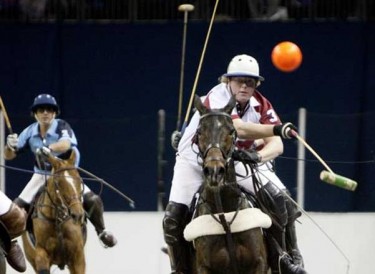 For your chance to win two tickets to this spectacular event, simply sign up to The Sloaney by clicking here or follow us and retweet the competition on Twitter.
The entertainment will not finish after the matches and to celebrate the occasion, Royston Prisk will present the Gaucho International Polo Players After Party at indigo2. The headline DJ, Sam Young, will be on hand to ensure a seemless mix of music while guests sip champagne and cocktails, before dancing the night away. Tickets can be purchased for £17.50 in advance or for £20 on the night and all applications for the After Party should be directed to Royston by emailing him HERE or phoning 0779 971 1336.
The Gaucho International Polo takes place on 21st March 2012 at London's O2 Arena. Doors open at 5.30pm. Polo matches start 7.15pm with live performances from Bajofondo throughout. The Afterparty will begin at 9.45pm. To purchase tickets, please visit Ticketmaster.